Mike Boynton called his wife and children to let them know his flight was about to take off. 
He always lets his family know when he gets on a plane; part of the routine for the recently-hired men's basketball coach at Oklahoma State.
Once he said goodbye and hung up, Boynton got comfortable in his seat while sitting on the tarmac at Will Rogers Airport in Oklahoma City. He was eager to get some sleep on the 65-minute flight before a layover in Dallas.
Dark clouds hovered in the sky as rain made small thumping sounds on top of the airplane. 
Just before he shut his eyes, he heard the all too familiar ESPN theme coming from his phone.
"Da, da, da….da, da, da."
Boynton clutched his iPhone as the screen lit up. 
The notification: four Division 1 basketball coaches were arrested by the FBI in connection to a federal corruption case. One of the coaches was OSU's own Lamont Evans, whom Boynton had elevated to associate head coach after his hiring and called him the brother he never had.
His once-groggy eyes were now wide open.
"I'm thinking like, maybe I'm really tired," Boynton said. "Like I certainly didn't just read that. The FBI arrested four college basketball coaches and one of them is on our staff?"
Before he had the chance to open the notification or call someone, the airplane sped down the runway and soared into the sky. Boynton wished that it was just a bad dream for all 65 minutes of the flight. He was only six months into his head coaching career and hadn't even coached a game yet. 
It was the first of many controversies that have plagued Boynton's tenure as the head coach of OSU's men's basketball team. Just completing his third year in a season halted by the impact of the coronavirus, Boynton has dealt with more off-the-court issues than most basketball coaches would expect through their entire careers.
Upon touching down in Dallas, Boynton immediately looked again at his phone. He prayed for the news to not be true, but Boynton's nightmare quickly became his reality. 
He was supposed to go recruit prospective high school prospects, but how could he promote OSU when one of its coaches was just arrested by the FBI? Boynton had to get back to Stillwater at all costs. So he rushed through the airport, stopping when he noticed a flight soon headed back to Oklahoma City.
"For some reason, the Lord pushed me toward the gate and I just went up to the (counter) and said, 'I need to get on this plane,'" Boynton said.
The front desk workers looked confused, and asked Boynton if he had a plane ticket. He did, but it wasn't for Oklahoma City. They asked why he needed to go back to Oklahoma City so quickly, but he couldn't find the right words.
"I said 'There's an emergency and I can't really explain what the emergency is because I really don't know,'" Boynton said. 
For some reason, one Boynton himself doesn't have an answer for, he was allowed to go onto the plane and was back in Oklahoma City two hours later.
After the events of that day, Sept. 26, 2017, Boynton could never have imagined that the FBI probe would only be the beginning of his troubles ahead.
"There's no way in my mind to comprehend it," Boynton said.
A Un-"Likekele" Absence
Boynton is fortunate to be able to say that as a player he was never injured to the point of missing a game. 
However, he did miss practice – once. 
Boynton didn't pull a hamstring or jam his finger. No, he missed practice because of a pesky, eight-legged arachnid. In his senior year at the University of South Carolina, Boynton was bitten by a spider and missed one practice to get the infected bite removed. 
He played in a loss to Mississippi State on a Wednesday, had surgery to remove the pus-filled wound on Thursday and then competed against Vanderbilt two days later. To cap off Boynton's wild week, he fired in a career-high five 3-pointers in the Gamecocks' victory against the Commodores. 
Sixteen years later, Boynton still has a pea-sized hole in his right calf where doctors surgically removed the infection. 
Boynton said it's hard for him to comprehend players being out with an illness, frankly because he was never sick during a basketball season. It adds to why Boynton still can't fathom how Isaac Likekele could miss a whole month with an illness.
The Cowboys were the kings of the Big Apple when they steamrolled over Ole Miss and Syracuse in the NIT Preseason Tipoff, and Likekele played as large as the Statue of Liberty. The star point guard scored a career-high 26 points and dished out eight assists against the Orange in the semifinals.
OSU got back to Stillwater from New York City on Nov. 30, just in time for Bedlam football. More than 50,000 fans clad in orange and black cheered for Likekele and the Cowboys as they walked onto the field during a moment of recognition.
Likekele said he was doing well health-wise on Saturday and the days leading up to OSU's next game against Georgetown. However, Likekele woke up on Tuesday, a day before the game, in excruciating pain, his head pounding as if he just got punched in the face. 
He laid back down in bed, hoping to sleep it off. But once the headache worsened, Likekele knew something was wrong and called Kevin Blaske, the Cowboys' athletic trainer.
"I've never been sick in my whole life," Likekele thought to himself.
Likekele was rushed to OSU Student Health Services to be tested. He had a confused and shocked expression when a doctor told him he tested positive for infectious mononucleosis, most commonly known as mono. Boynton met with Blaske on Tuesday and learned about Likekele's situation.
"He said, 'Hey Ice isn't available for practice and he may be out for a while,'" Boynton said. "But what's a while and why would he be out for a while?"
Turns out, it was a long while.
The Cowboys practiced for the first time in Likekele's career without him. And the following day, they played their first game without him. Undefeated entering the game, OSU lost 81-74 to the Hoyas. 
And it marked the beginning of the end for OSU's confidence. 
While Likekele felt the pain of his illness, it paled in comparison to the pain he felt for not being on the basketball court with his teammates. 
"It really sucked," Likekele said. "I felt like I was playing my best basketball and the team, we were playing our best basketball. I just wanted to keep that rhythm going."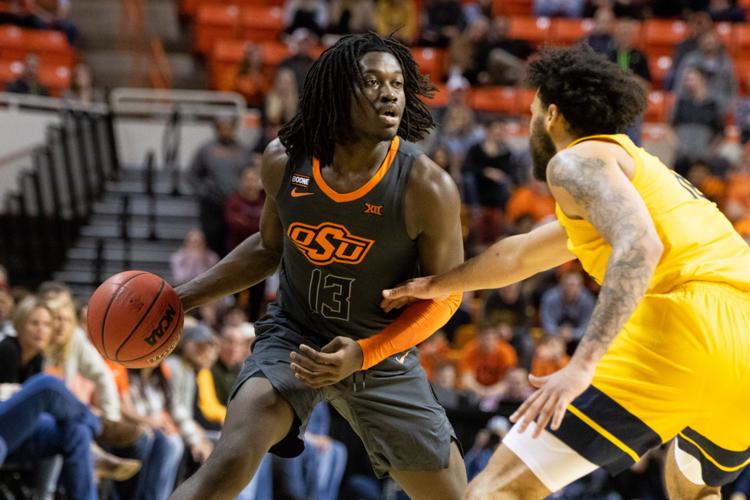 Boynton has always stayed away from interfering with player injuries. He said he gets paid to coach, not to be a doctor.
"Coach Boynton never put us in a bad position, ever," Likekele said. "If we're hurt, he'll never put us out there on the floor if we can't be out there. And, you know, he supported me on and off the court."
The Cowboys lost three of their next four games over a span of three weeks before Likekele returned for the team's nonconference finale against Southeastern Louisiana. 
However, the month away severely took a toll on Likekele physically. When a person is diagnosed with mono, they are told to rest with no physical activity.
"I did have an understanding that this is a game that takes repetition," Boynton said. "I mean he didn't do anything for a month. He didn't practice. That's a long time without physical activity."
Boynton said he tried to warn Likekele that it would be difficult in his first few games. Likekele, however, believed his time away wouldn't have a big effect on his game.
But it did, and the momentum the Cowboys carried from New York was already gone and a still sickly Likekele couldn't get OSU out of its rut once Big 12 play rolled around. One by one, OSU started to drop Big 12 games in hefty defeats. It lost by 35 to Texas Tech, 14 to West Virginia and 12 to TCU in its first three conference contests. 
The Cowboys, who averaged 74.3 points per game before Likekele's illness, slumped to a 67.7 scoring average after their third Big 12 loss. 
Although Likekele was on the court, he wasn't the same player as he was in New York. And while he eventually improved, Likekele never returned to his previous form the rest of the season, according to ESPN analyst Fran Fraschilla. 
"The truth is, even though he missed a month of playing, I thought he never really got all the way back to the player he was in November, even by the end of the regular season," Fraschilla said.
Fraschilla has been a college basketball analyst since 2003, primarily for Big 12 men's basketball. A former coach for 23 years, Fraschilla has been on the broadcast for many OSU games this season and closely watched the Cowboys' demise following Likekele's illness. 
He compared Likekele's absence to that of a football team without its star quarterback.
"It would be like Joe Burrow or Baker Mayfield or Jalen Hurts or any great quarterback because that's what (Likekele) is," Fraschilla said. "There was nobody that could replace him once he had the illness."
Freshmen Chris Harris Jr. and Avery Anderson III attempted to take the workload Likekele left behind, but it all became too much for the inexperienced players. 
Boynton hopes the Cowboys can get to a point where they can lose a player and have it not drastically impact their team as it did with Likekele's illness. It also left Boynton hesitant to correlate the illness to OSU's 0-9 start in the Big 12.
"I don't want to take it all the way there, but I also don't want to dismiss it," Boynton said. "He's important to our team. We also lost to some really good teams. I don't want to take anything away from the other teams."
Still, the consensus from many coaches is that Likekele's illness was the main factor in OSU's downturn. 
Kansas State coach Bruce Weber, who coached Likekele last summer in the FIBA U19 World Cup, said the point guard didn't have a quick return after his absence.
"(Likekele sat) out for six weeks and it's not like riding a bike," Weber said. "I can go without riding a bike for six months, go jump on it and I'm fine."
The Cowboys went on a run at the end of the season, with Likekele playing well in several wins that left OSU 7-11 in the Big 12. They had momentum but never got the chance to make a run in the Big 12 Tournament because of the coronavirus pandemic, although they did win their tournament opener over Iowa State.
Likekele's absence hung like a dark cloud above OSU's potential, but it wasn't the only woe Boynton had to face this season.  
"Isaac getting back and him being healthy as he can be and him playing with a confident mind is important for our success," Boynton said. "It's a tough balance. I'm not an excuse guy, I hope I've never come across like that but I also want to deal with reality."
"That was probably the hardest one for me that I've dealt with"
When Boynton isn't coaching, there's a good chance that he's on a plane or in a high school gym for a recruiting visit. 
Just before the 2019-20 season started, Boynton was on another recruiting trip when he got a call from one of the team's personnel.
"I get a call and they tell me, 'Hey, we may have some issues. We don't know the details, but I don't want you to be shocked by it,'" Boynton recalled from the conversation. "I got great staff members who aren't afraid to tell me uncomfortable things."
Still, it was hard for Boynton to remain comfortable when he found out the issue was about Marcus Watson. Not only a freshman on the basketball team, Watson is also Boynton's second cousin.
On Oct. 19, 2019, an unnamed female student at OSU alleged Watson raped her at his apartment. The female student was granted a protective order on Oct. 21.
And another dark cloud was cast. 
Boynton returned home from his recruiting trip and tried to find as much information about the situation as he could because he didn't want to make any assumptions. 
"We're talking about 19-year-old kids," Boynton said. "It's easy when you're not intimately involved and you don't know him to make judgments about their character."
Boynton made the decision to keep the spotlight away from the team and suspended Watson pending further investigation. After the Payne County District Attorney's Office examined the OSU Police Department's investigation, it decided to not pursue criminal charges.
Although he wasn't charged, OSU's student conduct committee ruled Watson "was responsible for non-consensual sexual assault," according to The Oklahoman's Jacob Unruh.
Watson's career at OSU ended before he ever played a game inside Gallagher-Iba Arena. On Feb. 12, 2020, it was announced that Watson had transferred to New Mexico State. Boynton said he still cares and talks to Watson, but the series of events took a toll on him.
"That was probably the hardest one for me that I've dealt with," Boynton said. "I'm not easily affected by things, but that one hurt."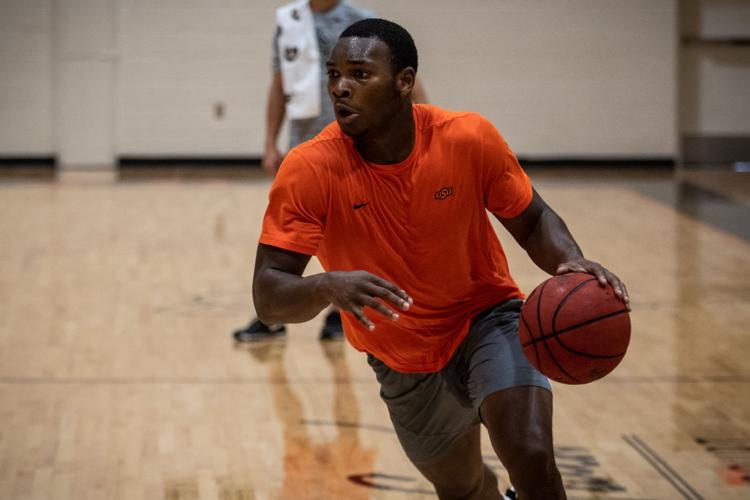 The allegations against Watson were the latest in a long line of controversies that plagued Boynton's head coaching career. 
In only three years, five players have been dismissed from the team.
Three months after the FBI probe, Boynton dismissed freshman Zach Dawson and junior Davon Dillard. 
"We had multiple conversations about how they weren't meeting (team expectations)," Boynton said. "Ultimately, your words have to have meaning. Otherwise, you don't get anywhere and you lose credibility."
Boynton believes in second chances and that people can learn from their mistakes. He believed Michael Weathers could learn from his mistakes.
Weathers transferred from Miami (Ohio) following a standout season in which he was named the Mid-American Conference Freshman of the Year. The Cowboys needed someone to take the reigns of the point guard position after Kendall Smith's career ended and Weathers appeared to be the perfect candidate.
Note that this was before Likekele became a household name at GIA. Weathers was poised to have a successful career on the court, but his actions off the court negated his opportunity. 
Weathers was arrested on Sept. 9, 2018, after he stole a woman's wallet and used cards to buy drinks at J.R. Murphy's, a popular bar in Stillwater. Similar to Watson, Boynton immediately suspended Weathers pending further investigation. On Nov. 6, Weathers pleaded guilty to a misdemeanor and avoided jail time.
He made his season debut eight days later. 
However, not even two months later, Weathers was in trouble with the law again. Weathers, as well as teammates Maurice Calloo and Kentrevious Jones, along with former OSU cheerleader Imani Patterson, were accused of vandalizing vehicles with BB guns at a party in Stillwater on Jan. 1, 2019.
Weathers didn't receive a third chance. 
On Jan. 16, Boynton dismissed Weathers, Calloo and Jones from the team. At that point, five players had been dismissed in three seasons and more had been suspended. While faced with numerous incidents, Boynton has stayed poised and said he hasn't let the criticism get to him. 
Joey Graham, a former Cowboy star and a six-year NBA veteran, has been a major supporter of Boynton since he was hired and remains a supporter to this day.
"You can't foresee these types of things, these types of situations happening," Graham said. "But as a newer coach, it's tough. You know, people at that point start to look at you, they start to question your recruiting, they start to question just who you are as a person. But I think he's handled them very well."
Graham talked to Boynton to get a better understanding of the incidents because similar to Boynton, he doesn't like to make any assumptions. However, the only assumption he ever makes is how well Boynton handled the adversity. 
Boynton hasn't had a lot of consistency with his players, with the exception of his core group of seniors. Thomas Dziagwa, Lindy Waters III and Cameron McGriff have had to deal with just as much adversity as Boynton.
All three committed to OSU under coach Travis Ford. However, Ford was fired in 2016 and Stephen F. Austin coach Brad Underwood was hired. Dziagwa, Waters and McGriff were still committed to playing in the orange and black. But, Underwood's tenure was short-lived as he left for Illinois after one season. 
Then recruits, the trio bought into Boynton and remained with him through all the controversies and dismissals.
"(Boynton) puts his morals first," McGriff said. "You don't want to win the wrong way. It's unfortunate that it had to happen here with everything that happened outside of the court, but we can only control this."
Through all the adversity and dark clouds hanging over Boynton's reputation, Graham said he believes there's some light at the end of the tunnel. 
And the light may come in the form of a 6-foot-6 guard from Texas.
"It gets worse before it gets better and I think he's on the upside now," Graham said.
Cade the Redeemer
In 2016, Boynton, who was in his first year at OSU as an assistant coach, walked in the gym at Bowie High School in Arlington, Texas, hoping to scout the future of the basketball team.
The Dallas-Fort Worth metroplex has produced many successful OSU players including Jawun Evans, Marcus Smart and LeBryan Nash, and Boynton can hope the next great Cowboy hails from there. 
Once Boynton sat down in the bleachers, he had his eyes initially set on then-junior Kyler Edwards. Edwards was a strong shooting guard who Boynton said would be a perfect fit in Stillwater. He walked over and conversed with Bowie coach Allen Gratts, who then started talking about a combo guard on his roster. 
Boynton watched the unknown player practice and saw how flawless his passes were and how he got to the basket with ease. He asked Gratts how much the player was being recruited.
"I thought he was a senior because of the way he carried himself," Boynton said. "I was thinking that if he's a senior then maybe I can call my buddies at Stephen F. Austin who maybe can recruit him."
But the unknown player wasn't a senior, he was a freshman. And his name was Cade Cunningham.
"I told (Gratts) that I need to know everything about (Cunningham) because I want him at Oklahoma State," Boynton said.
Three years later, Cunningham was no longer an unknown guard, he was the No. 1 player in the country. And OSU was at the top of his list of colleges he was considering. 
Through all the controversy OSU faced, Cunningham still bought into Boynton and his coaching and committed to the Cowboys on Nov. 5, 2019. All of the criticism and adversity Boynton faced finally paid off with Cunningham's signing. 
Light pierced through the dark clouds hovering above Boynton.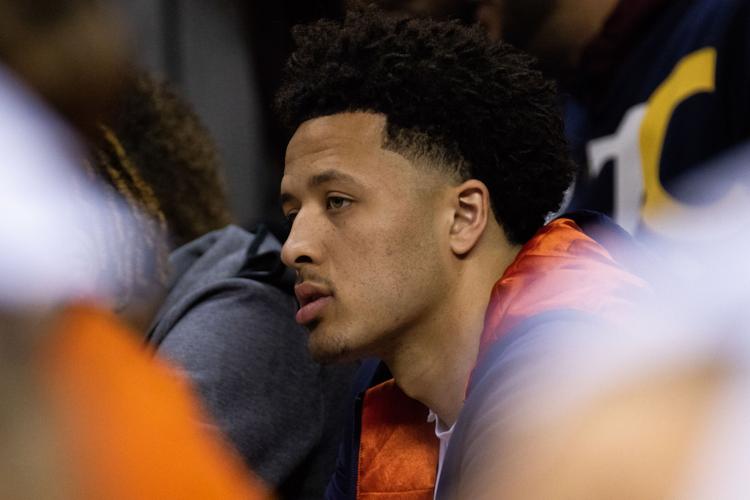 Boynton doesn't enjoy thinking about the mortality of his career at OSU, but he recognizes his job isn't secure.
"Who has a job that over time, you can't meet expectations and keep it?" Boynton said. "I tell our players that all the time. You don't get to keep your job if you don't do well at it. That's just not how this works."
Under his tenure as head coach, OSU hasn't been to the NCAA tournament, finished in the bottom half of the Big 12 every season and has faced a bevy of allegations, dismissals and suspensions.
It adds to why next season may be a make-or-break year. If Boynton can't get to the tournament with the No. 1 player in the country, what does that say about his coaching? 
Fraschilla said Boynton will be scrutinized if he fails to win many games next season.
"I think it's important that next year, they definitely turned a corner," Fraschilla said. "It's just the nature of this business at the college sports level."
However, next season will not be comparable to Boynton's three previous seasons because he hasn't had a player of Cunningham's caliber on his roster. 
Likekele is the only player that can come close to comparing to Cunningham's playing style and the two will share the backcourt. Fraschilla said Likekele and Cunningham will comprise one of the best backcourts in the country next season. 
Likekele always breaks into a big smile when he talks about Cunningham, who he calls his little brother. The pair grew up in Arlington and were on both on the gold-medal winning U19 U.S. World Cup squad.
Likekele hopes he and Cunningham can replicate their gold-medal success next season.
"That's my guy," Likekele said. "It's nothing but good vibes between me and him. We've got a good relationship on and off the court."
Though there's a lot of hype and anticipation attached to next season, it needs to translate to wins, for Boynton's sake. He'll have two of the best backcourt players in the country, a center in Yor Anei who finally got back into his groove at the end of the season, and an emerging big man in Kalib Boone. 
What would another mediocre season mean for Boynton's job? He doesn't have an answer and he doesn't want to know the answer. But if it doesn't end well, Boynton said he'll know he gave the job all he had.
"If I were to wake up one day and Mike Holder calls me into his office and says, 'You know what, unfortunately, we have to go our separate ways,'" Boynton said. "'I'm gonna look at him in his eyes, shake his hand and say 'Thank you.'"