Darrion Daniels is a coach.
He yells words of encouragement from the sidelines at Boone Pickens Stadium. He gives Oklahoma State football players pep talks when they're struggling. He offers advice before they leave for road games and often travels with them.
But Darrion isn't a member of the coaching staff. He is a 20-year-old, 6-foot-3, 320-pound senior defensive tackle for the Cowboys. 
He is also the steady voice of positive leadership for the teammates he played alongside just two months ago on Lewis Field.
Darrion's role has shifted. In practice before OSU's road victory against Kansas, he tore a tendon in his left pinkie finger and was required to undergo surgery. That injury, though seemingly small, ended his senior season.
Although Darrion has to watch as his fellow OSU defenders blitz opposing quarterbacks and close the gaps for rival running backs, his voice continually reaches them.
Before the season started, Darrion said providing the Cowboys with positivity is his purpose.
"I know how stressful it could be, and sometimes stressful situations bring out the best in people, but I know for the most part, when people are stressed, they have a lot of dark thoughts, and they always think negative," Darrion said. "I feel as if I bring the positive energy … It motivates people, and it gives them some hope that we can do anything that we want to."
But even someone like Darrion can't deflect every negative thought. His optimism was tested with news of a season cut short.
And Darrion needed reassurance from someone.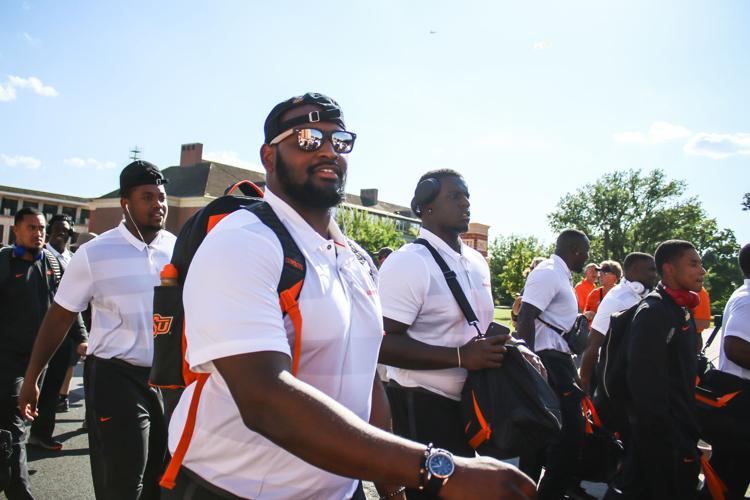 The spirited friend
Darrion sat in Enoch Smith Jr.'s apartment and prayed.
It was the day Darrion learned he wouldn't play in OSU's last eight games of the season, and he was crushed.
Smith Jr. joined his friend in prayer.
"You're more than a football player," Smith Jr. reminded him. "God has a plan for you."
Darrion's injury created an opportunity for Smith Jr., a Cowboy redshirt senior defensive tackle. Smith Jr. filled his spot in the starting lineup, but the day he sat in his apartment with Darrion, he wasn't focused on his new role.
He considers Darrion, along with other OSU defenders, his family.
Smith Jr., who started his college football career at Michigan State, arrived in Stillwater for the 2017 season. When he met Darrion and saw his massive stature, he couldn't believe his age. Smith Jr. grinned as he recalled the memory.
"I thought he was my age or maybe a little older," Smith Jr. said. "I was like, 'There is no way that you're either 19 or 20. No. I'm a grown man. I'm 22 years old."
Size wasn't the only quality that stood out about Darrion.
"The first thing that caught me with him is his spirit," Smith Jr. said. "I could tell that he was for his teammates, and he wasn't just putting on a fake facade for the cameras or the coaching staff whenever they would be around."
Smith Jr. said Darrion has helped him through personal struggles and on-field challenges. Last season, when Smith Jr. had difficulties adjusting to the Cowboys' plays, Darrion and DeQuinton Osborne, a former OSU defensive tackle, pulled him aside and boosted his morale, he explained.
The situation flipped when Smith Jr. guided Darrion after his injury. Smith Jr. compared football to a relationship, telling Darrion the sport will break his heart, but he has to overcome that.
"I feel like he's doing everything he possibly can to get back to the relationship aspect of football," Smith Jr. said. "(He is) getting himself healthy and just being that bright person that he always is."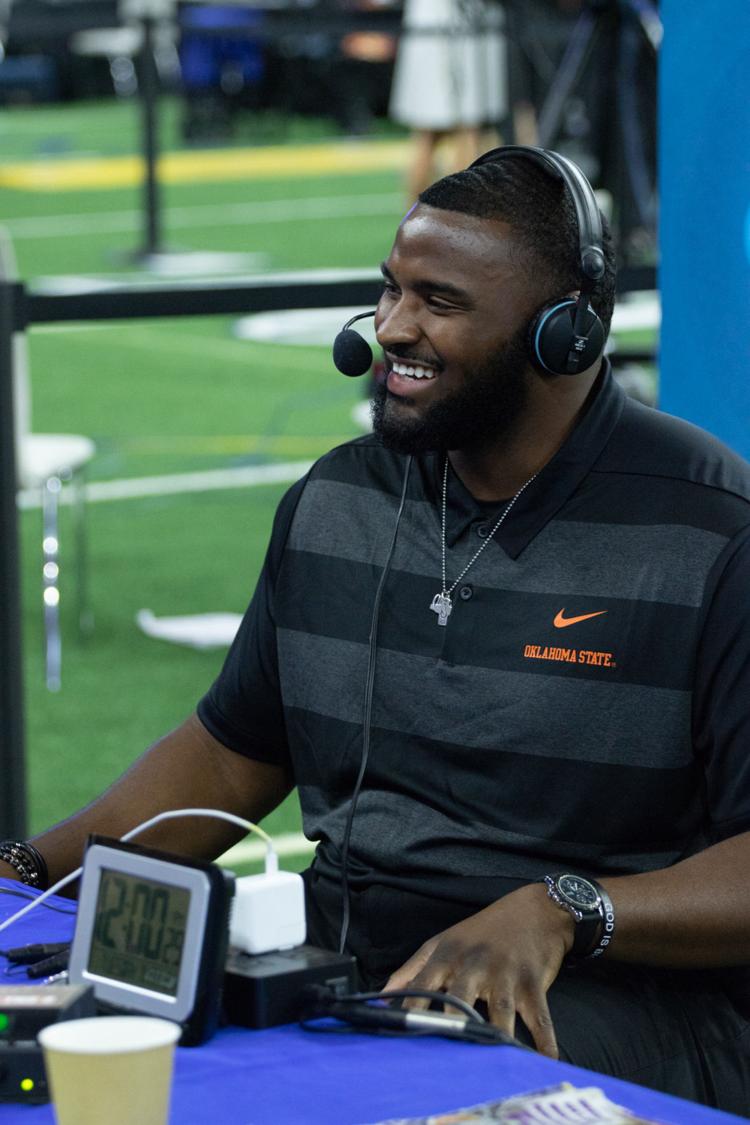 The music man
Justin Phillips couldn't suppress his jovial laughter.
As he answered questions at Big 12 Media Days in Frisco, Texas, the soulful voice of a teammate sitting on his left distracted him.
Darrion was singing again.
Reporters eagerly wanted to talk to Darrion about music nearly as much as they asked him about football. Cameras surrounded him as he calmly delivered his rendition of an R&B tune. Darrion discussed his pregame playlist. He listens to laid-back R&B and hip-hop music at first, and as game time draws near, hard-hitting rap songs from artists such as Ice Cube and Tupac motivate him.
Darrion brought his musical skills with him from his home city of Dallas.
At Bishop Dunne High School, he competed on the offensive and defensive lines. He also earned Male Vocalist of the Year honors in the Dallas-Fort Worth area when he was only a high school freshman.
Tony Daniels, his father, is a non-singer in a family of musicians. He said his wife and three children, including middle child Darrion, sing. Darrion performed in his church choir for holidays such as Thanksgiving and Christmas, and he was active in his high school's show choir.
Jim Knowles, Daniels' defensive coordinator at OSU, said Darrion is constantly singing when he is with his teammates. He uplifts them with music.
"Darrion is a guy that every day he comes to work, he wants to bring positive energy just to everybody around him," said Phillips, a redshirt senior linebacker. "He's always high-jazz, high-energy, making sure just guys are getting after it all the time, just staying positive."
Darrion's positivity, like his musical talent, comes from Rhonda Daniels, his mother, Tony explained.
"They're kind of like the cheerleaders of the family," Tony said.
But Tony put the situation in perspective for his son when his season ended. He wouldn't let Darrion continue to feel dejected about it. Tony, a former football player for Texas Tech and the Green Bay Packers, said he wanted Darrion to stay tough.
"It could have been a lot worse," Tony pointed out to his son. "It could have been a knee instead of a finger. You just gotta look at the bright side of everything, or it could have been an injury where you can't play the game anymore."
So Darrion is focusing on his vocal leadership, whether singing to make his teammates smile, speaking to ignite the competitive fire within them or encouraging OSU fans to rise to their feet and yell as the Cowboys prepare to make a big third-down stop.
Although Tony admitted he gives his son "tough love" and has high standards for him, he said Darrion hasn't let him down.
"I'm happy that he is one of those guys that can help lift his teammates up, and they look up to him," Tony said. "And he's been a positive role model."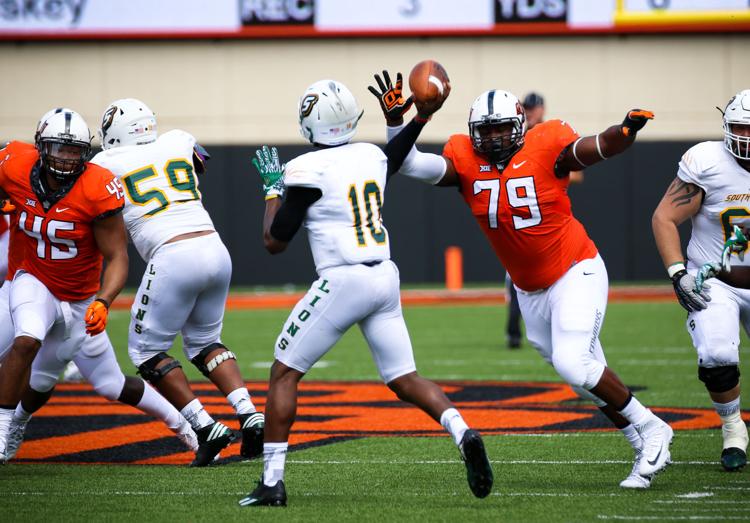 The soon-to-be graduate
Darrion wasn't always as vocal as he is today.
During his freshman season at OSU, he learned what would happen if he didn't go to experienced players or coaches for advice.
"I got cussed out by my teammates for messing up a lot of plays because I didn't ask questions," Darrion said.
Three years later, Darrion stepped into the role of a senior leader who willingly answers questions from young Cowboys, relieved to see they are eager to ask. He has often talked in more detail about his teammates than himself, quick to note their strongest attributes and standout moments.
On a team that coach Mike Gundy describes as having few vocal leaders, Darrion's outspoken enthusiasm is valued.
When Knowles was asked about the biggest lesson Darrion has taught his teammates, he had a quick answer.
"How to smile," Knowles said. "No matter how hard it gets out there, to smile."
Darrion relishes moments of victory with the Cowboys even when he can't contribute to the on-field efforts.
Last weekend, Darrion, sporting his jersey and a pair of sweatpants, beamed as he walked toward the tunnel and cheers of celebration echoed around him.
The Cowboys had just defeated West Virginia at home to secure bowl eligibility this season. It was the Senior Day that could have been his. He didn't participate in the pregame ceremony, but his enthusiasm persisted.
In December, Darrion will graduate from OSU with a bachelor's degree in marketing. His future football plans are uncertain.
NFL representatives have visited Bishop Dunne High School and OSU to talk to people who know Darrion, trying to find out if he is leaving to enter the draft. He could, or his college football career could continue.
Under a new NCAA rule this season, student-athletes can compete in no more than four football games and consider it a redshirt year.
Darrion played in four matchups.
He has to make a decision. About two weeks ago, Darrion visited home to discuss his options with his parents, Tony said.
Darrion hasn't been available to media members since his injury, but his father discussed the possibilities for the future.
Tony explained that returning to college would give Darrion a good opportunity to further his education, but he would encourage his son to go to the NFL if he was drafted in an early round.
"If you're not a first, second round (pick), then you go back to school, and you play another year," Tony said. "You get a master's degree, and the NFL will still be there."
Tony said he won't have an idea of how many teams are considering drafting Darrion until he receives the paperwork in mid-December.
One game is left in the season. The Cowboys will face TCU on Saturday in Fort Worth, Texas. In the neighbor city to his hometown, Darrion won't play, but he made the trip to Texas with his teammates.
"It's amazing because it gives us that, the extra input that coaches can't really give because he's been in the games with us, he's our same age," Smith Jr. said. "Just having him there whispering some words of encouragement on the sidelines, when you get down or whatever, it means a lot. It shows that he is all for the team, just like Three Musketeers, 'all for one and one for all.'"
Darrion won't intimidate opponents with the brute force of aggressive tackles, but he is still the glue that holds the Cowboy defense together.
His voice carries.