It has been chaotic.
With new transfer rules allowing players to become immediately eligible to compete, creating an environment on par with NFL free agency, an exponential number of players have entered their name into the transfer portal.
The turnstile rotates frequently, something worrisome to coach Mike Gundy back in April, as he offered a scenario where a player could enter the portal in June and be playing for a conference rival by September.
Gundy asked the rhetorical question of how coaches will handle it without negatively impacting college football. Yet, it seems Gundy and the Cowboys have already found the answer to that.
Since the 2018-19 season, OSU witnessed 33 players transfer out of the program, but have accumulated 11 in the same time. Despite hemorrhaging three times as many players as they add, the Cowboys have found respectable success from players entering the program.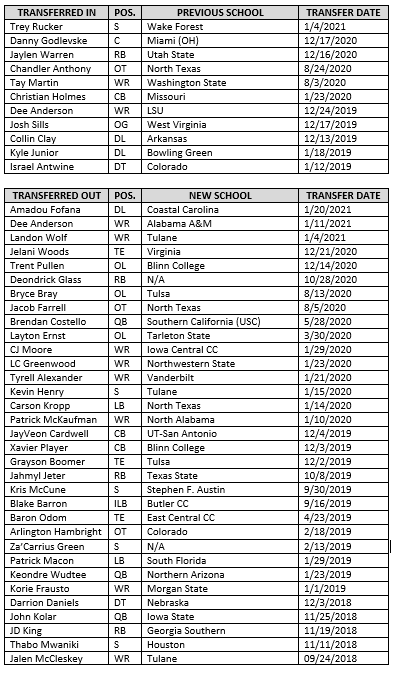 Six of those 11 start for the Cowboys this season, highlighted by running back Jaylen Warren, who leads the team in rushing yards and wide receiver Tay Martin, who leads in receiving yards.
They've also added two anchors on the offensive line, Josh Sills and Danny Godlevske, with Godlevske replacing center Ry Schneider and Sills becoming an outspoken leader on offense.
Cornerback Christian Holmes struggled in his introductory season with the Cowboys, but has since cemented himself as the starter, and currently ranks fifth on the team in tackles with 16. He also ranks second in passes defended, behind fellow cornerback Jarrick Bernard-Converse.
Defensive tackle Israel Antwine missed the opening game this season but is tied with Jayden Jernigan for most tackles by a DT at eight. Arkansas transfer Collin Clay, a defensive end, suffered an injury in 2020 and has yet to play a snap for OSU in 2021.
Coach Mike Gundy said being able to have success with the transfer portal will only help OSU in the future.
"We've been fortunate we've had a number of guys," Gundy said. "We had had a good product to sell from that standpoint, and this will even help us more."
In years past, Gundy emphasized defensive transfers over offense, but with patterns changing since 2019, the Cowboys have found premier talent to surround quarterback Spencer Sanders with.
"Forever here, we had so many offensive players, nobody could come in here and get on the roster," Gundy said. "Defensively, up until a couple years ago, we were struggling. So, guys felt like they could come in and start."
Gundy said most players enter into the tumultuous portal as a way to find more playing time, landing in the spot they find works for them best. He said it also can depend on players like Warren, who want to ascend to the highest level of college football.
The new rules are also changing how OSU recruits.
With the Cowboys' bye week, coaches return to recruiting, but will be lacking a handful of scholarship spots normally given to high school seniors. Instead, Gundy said they'll hang onto them for transfers.
"It is really the first time we've ever just come right out and said we were going to do that," Gundy said. "It is just the way the game is being played now. It is a little unusual."