Alysen Febrey rarely keeps a secret from Jordan Doggett, but she couldn't reveal how Doggett would have the opportunity to join her on Oklahoma State's softball team. 
Febrey knew a day early because coach Kenny Gajewski called her and said he planned to extend an offer to Doggett, Febrey's former teammate at Georgia. It was tough for Febrey to avoid giving away the surprise when her close friend mentioned OSU, but after Doggett heard the news from Gajewski, they could celebrate. 
"We have been talking about it since the day she's committed," Febrey said. "She is so excited to go out there, and I'm really excited to show her around, just everything with Stillwater."
Although it's unusual for best friends to be teammates at two universities, it has become common for bonds between student-athletes to influence the recruiting process. Because of travel teams, the AAU circuit and social media, their lives are increasingly interconnected before they arrive at a college. 
Recruits share tweets from others who receive offers and announce their college decisions in highlight videos for the online world to see. Commits communicate in Snapchat groups before they arrive on campus, and high school students from different states keep up with one another's recruiting journeys because of friendships they forged during summer league competition. 
Febrey and Doggett met as eighth-graders when they played travel ball together in Georgia. 
"We go way back, and I've seen her grow as a person and a player," Febrey said.
The web of longtime connections among student-athletes has changed the game of recruiting. Coaches drive the process, but the presence of a familiar future teammate can give a prospective student-athlete extra motivation to choose a school. Student-athletes are simultaneously playing the roles of recruits and recruiters. 
Mike Boynton, the OSU men's basketball coach, said he has noticed this shift, and it has worked to his advantage because of point guard Cade Cunningham. 
As the nation's top recruit in the 2020 class, Cunningham, from Arlington, Texas, exemplifies how one big-name star can inspire other student-athletes to buy into a plan for elevating an athletic program. Boynton said Cunningham has played a vital role in recruiting the majority of the Cowboys' five other signees, and his prominence in the basketball world isn't the only reason.  
"People gravitate to him because of his unselfishness," Boynton said. "He's a winner and a really unselfish player, and obviously, they know that playing with him will bring opportunities to be seen by people at the highest level of basketball. So he's been a big part of our recruiting process, and he will continue to be." 
Some of OSU's signees know what it's like to play basketball with Cunningham. Rondel Walker and Montreal Pena were Cunningham's teammates on the Texas Titans AAU squad.
Although Donovan Williams, a signee from Lincoln, Nebraska, didn't play for the Titans, he met Cunningham when their AAU teams faced each other. Williams said he thinks it was during their freshman summer.
Throughout Williams' AAU career, he encountered opponents who were especially memorable because of their braggadocio and flashy dunks to back it up. Cunningham impressed him in a different way.
"Cade's not really fancy or showboaty," Williams said. "He just wins. He's just a winner."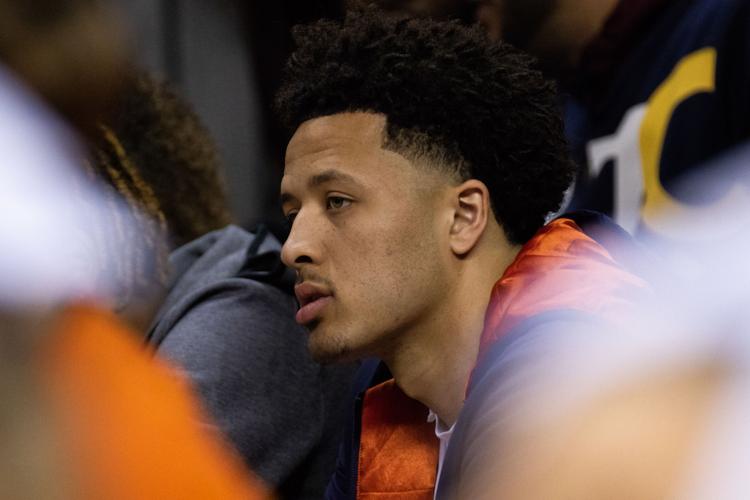 Williams considered going to Kansas State, but he said the chance to play alongside Cunningham is a major factor that persuaded him to choose OSU. Williams recognizes Cunningham is focused on preparing for an NBA career, so he said he wants to gain insight into Cunningham's training methods, nutritional habits and perspective of the game. 
Williams, who also aspires to become a pro, said Cunningham can absorb knowledge from him as well. 
"It's easy to be around people that have the same mindset as you," Williams said. "If I want to be a millionaire, I'm going to surround myself with millionaires. If I want to be a rapper, I'm going to surround myself with rappers. So it's like, why not surround yourself with people that have the same goals and visions as you?"
Boynton said Ferron Flavors Jr., a graduate transfer from California Baptist, is another signee who wanted to chat with Cunningham about how they can work with each other. As student-athletes trickle into the transfer portal, attracting veteran players has become important for teams across the nation. 
Doggett, a senior utility player from McDonough, Georgia, hadn't imagined she would get the opportunity to transfer anywhere for next season. She had expected her college career would end this year, so the idea of playing at OSU with Febrey was nothing more than an imaginary scenario.
Then sports seasons were cut short in the midst of the COVID-19 pandemic, and the NCAA granted spring-sport athletes another year of eligibility. Doggett realized one more year of college could give her a chance to step outside her comfort zone and travel farther from home, though she said she enjoyed playing at Georgia.  
"I just felt like it was time to make more of a decision for myself and look elsewhere," Doggett said. 
Febrey notified Gajewski when Doggett entered the transfer portal. Although Febrey and Doggett met because of travel ball, they grew from acquaintances to confidants during their sophomore year as infielders for the Bulldogs. 
Doggett was downhearted to see one of her best friends leave for their senior season, but because they checked in with each other nearly every day, she realized how Febrey was thriving at OSU.
"She played with confidence, and I feel like she really blossomed a lot, even more, as a person there," Doggett said. "…Whenever I could watch some of her games, I would, and she just looked happy."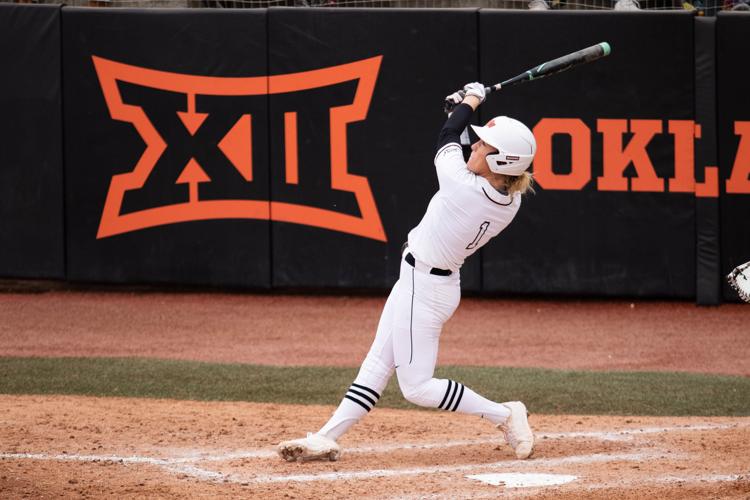 Doggett said she would have considered OSU if she didn't know Febrey, but their tight bond made the opportunity especially enticing. Doggett, who has never visited OSU, has faith Febrey will tell her what she needs to know. 
"Her being there, I think, is going to ease the distance for me a good bit," Doggett said. "And getting to know campus and all the restaurants around, and hanging out with the girls, I think it will make the transition a little bit easier on me with her there."
Because of friendships among student-athletes, parents are also often connected before their daughters and sons start playing college sports. 
Cade Cabbiness, a senior outfielder on the Cowboy baseball team, was an eighth-grader when he competed on a Tulsa-based travel ball squad with Trevor Boone and Peyton Battenfield. At OSU, they were reunited until Boone and Battenfield left for the MLB Draft at the end of the past season, and their families knew one another as well. 
"It makes it easier for (family members) to go and sit next to someone up in the stands versus just sitting by themselves and your family," Cabbiness said. 
Cabbiness said the freshman baseball players this year arrived on campus as a tighter-knit group than his recruiting class had been. He said their outgoing personalities might have been a reason for this, but he suggested the growth of social media could have also made a difference. During Cabbiness' four years at OSU, social networking platforms such as Twitter and Instagram have become more closely intertwined with recruiting.  
On Twitter, recruits can showcase their highlights, let their followers know about offers they receive and interact with other student-athletes. Reporters rarely break news about athletes' commitments anymore because athletes are spokespeople for themselves on social media.  
Cunningham has built up nearly 12,000 Twitter followers, so anything he shares will reach a wide audience. Sometimes, he has used this platform to encourage recruits to join him at OSU.  
In late March, an OSU fan tweeted a picture with Cunningham's and Williams' faces digitally cropped onto Cowboy basketball players' bodies. Williams made a quote tweet with the eyeballs emoji and mentioned Cunningham, who had a straightforward reply: "Make that move," with an exclamation point and the grinning/sweating face emoji.  
https://twitter.com/CadeCunningham_/status/1242946269926043651?s=20https://twitter.com/CadeCunningham_/status/1242946269926043651?s=20https://twitter.com/CadeCunningham_/status/1242946269926043651?s=2Nineteen days later, as the spring signing period approached, Williams made his move.
"(Social media) plays a big role," Williams said. "Especially with a guy like Cade, because he's a face of high school basketball, so if he's reposting your stuff and tagging you in stuff, it's like, 'Man, I'm really playing with him next year.'"
Cunningham retweeted Williams' commitment post, and the Cowboy Basketball Twitter account has also boosted the hype surrounding this team, using "#NewEra" in its tweets. A graphic displays photographs of all six signees and the words "Let's Work," Boynton's signature phrase, in block letters. At the top, the cutout of Cunningham is the largest, a visual representation of his impact on the group.  
Which team helped itself the most with its 2020 signing class? @DavidWCobb of @CBSSports says the Cowboys.🔗 https://t.co/sqbUxfb2f1#NewEra I #LetsWork pic.twitter.com/AEYRTFTMCQ

— Cowboy Basketball (@OSUMBB) May 1, 2020
During a time when many recruiting activities are frozen, these social media posts and connections among student-athletes are ways to keep communication going. Because of the COVID-19 pandemic, the NCAA has prohibited in-person recruiting visits through the end of May. 
Collin Oliver, a junior at Edmond Santa Fe High School, has received a slew of offers, but because of the ban, he hasn't visited every school. As Oklahoma's top linebacker in his class, he said several student-athletes have encouraged him to play football with them. 
"I haven't jumped on that boat yet because I'm not fully committed to a program," Oliver said. "But I'm sure as soon as I commit, I'll be in that boat, too." 
Oliver keeps up with Trace Ford, his former Santa Fe teammate who had a breakout freshman season at OSU as a starting defensive end. Regardless of whether Oliver joins Ford in Stillwater or decides to play somewhere else, Oliver said he appreciates Ford's advice about the recruiting process. 
Naturally, Ford has tried to talk Oliver into becoming a Cowboy. Oliver, who included OSU in his list of top eight schools, said it's a smart strategy for student-athletes to try to persuade others to join them. 
"I think it is a big factor because it lets you know that you'll be a part of something that will last forever," Oliver said. "A friendship that will last forever with your (potential) teammates that are trying to get you to their school. You know that they'll have your back through anything."
Cabbiness said he would like this trend to catch on in the baseball world. Although he acknowledged the burgeoning impact of social media, he said recruiting doesn't receive as much attention in baseball as it does in football and basketball. People in the baseball community sometimes advise recruits against posting on Twitter about all of their offers, he said.  
"I think it would be cool if you did know when guys got offers," Cabbiness said. "And you did see people like, 'Hey, let's go play at Oklahoma State together, man, and let's go win a national championship.'"           
A push from other student-athletes can help, but it can't make a decision for a recruit. It's up to student-athletes to figure out where they want to go, and Cabbiness recognizes that. His cousin, Cale Cabbiness, has committed to the OSU football team as a preferred walk-on, but Cade Cabbiness said he didn't try to sway him toward Stillwater. 
"He's got to go (with) what fits for him, what's the best fit for him," Cabbiness said. "And he had other opportunities, other places to go, but he felt that Oklahoma State was right for him."
In some cases, a place full of familiar faces is the best fit. Williams said the links among the new Cowboys should help them when they arrive at OSU. 
"When we all get on campus, we won't have to be trying to prove ourselves to each other when we've already been close," Williams said. "We already know what we're going to get out of everybody. … So it's just going to be easier to gel and just easier to bond and hang out and be like a brotherhood instead of just being teammates."
Febrey and Doggett established that familylike relationship before either of them chose to play at OSU. Because of their longtime bond, Febrey has no doubt Doggett, or "JD," as she calls her, has what it takes to compete for the Cowgirls. 
"She plays with a lot of grit and passion," Febrey said. "…Knowing JD and knowing what she can do on the field and then who she is as a person, I thought it was a perfect fit. And (Gajewski) did, too."