Think of how much work goes into planning a single birthday party. Now think about how much goes into planning a 10-day celebration of tennis.
Lisa Fischer, Oklahoma State University's assistant athletic director of event management, was one of the people in charge of planning the 2020 NCAA championship, and she doesn't do things half-heartedly.
"For me, I love to go big or go home."
 Unfortunately for Fischer, and all the other people who helped plan Stillwater's hosting of the event, they went big, but will still have to go home.
When the NCAA canceled its spring sports championships in wake of COVID-19, almost a century of planning got put on hold. 
"The idea (to host a championship) really came when we started fundraising and preparing, which was 2011-ish," said Chris Young, OSU women's tennis coach.
The Michael and Anne Greenwood tennis center was built in 2014 with the goal of bringing a championship to Stillwater, and in the fall of 2016, the NCAA recognized the hard work by awarding the 2020 championship to Stillwater. Once the bid was awarded, Fischer and her team started planning some of the ways the 2020 championship would be memorable and enjoyable for all.
In preparation for its turn to host the championship, OSU sent a group of people to the 2019 NCAA tennis championships in Orlando, Florida, to see firsthand how an event of such magnitude was put on.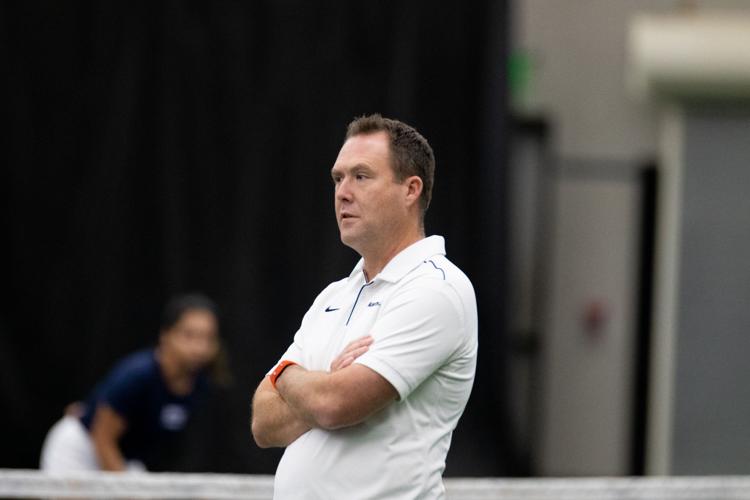 "It was great, just to visualize from another location is just invaluable and to be able to talk with the staff there," Fischer said. "We learned some things that we would want to do and some things we would not want to do." 
Things that Fischer and her group loved about the 2019 championship and would have likely implemented in 2020 were player-focused areas with training equipment and cold tubs, a covered hospitality/VIP area equipped with a fully stocked buffet and bar and large bracket boards that winning teams could pose with after putting its name in the next round.  
In the months leading up to the 2020 championship, multiple representatives from OSU athletics and the tennis programs started weekly meetings to start meeting every request in the 100+ page operations manual the NCAA sends every site hosting a championship. These meetings addressed everything from the amount of signage needed to direct people around, to food menus, to how the Orange Power Studios would work with the Tennis Channel to televise the matches. 
Upgrades to the Greenwood Tennis Facility were made both because they were required by the NCAA to host a championship and also because the tennis program wanted the 2020 championship experience to be enjoyable for everyone involved.
"In October we upgraded our lighting, we also built two new visiting team locker rooms and resurfaced all the courts," Young said. "We spent over a million dollars on facility enhancements specifically for this year's championship." 
Everyone involved in the planning of the event is hopeful that their hard work will not completely go to waste. 
"We have put a bid in for the 2023-26 bid cycle," Fischer said. "So I'm hoping there is a chance (to host another championship) and (the NCAA) will see what the championship could be like in Stillwater."