Vitin Mederos wondered why his dad wasn't the one to knock on the door.
Mederos, 10, and Victor, and his 2-month-old brother, were at their grandmother's home in Santa Clara, Cuba, waiting for their dad to pick them up. Instead, one of their father's friends knocked on the door, sat and told the boys and their mother, Odalys, their father would call in half an hour to explain everything.
Odalys Mederos answered the phone and was devastated. Her husband, Victor Mederos Sr., was calling from the Florida Keys.
Without telling anyone in his family, Mederos Sr. boarded a boat and floated 90 miles north in about two hours. He surrendered his life to ocean currents and waves and illegally stepped foot on American soil to give his family a better opportunity.
"(He didn't tell anyone) because he didn't want us to stop him, to tell him not to do it because he knew it was it was the best for us," Vitin said.
In the moment, Vitin didn't want to talk to his father. The suddenness of his father's departure was impossible for him to absorb.
"It was tough," Vitin said. "He was always thinking of the future, but when you're there you don't see it that way. You think he'd run out on us."
Mederos Sr.'s decision to leave Cuba for Florida in 2001 has ramifications in Stillwater. His son, Victor, has taken advantage of the decision. Victor is the Saturday pitcher for the Oklahoma State Cowboys and has turned hundreds of thousands of MLB dollars, a far cry from the impoverished lifestyle he left behind in Cuba.
Vitin said it was nice having his father with him in Cuba. He did not have to worry about buying groceries and providing for his family. He said the first week without his father was the hardest. He had to be strong for his mother and be a father figure for his younger brother.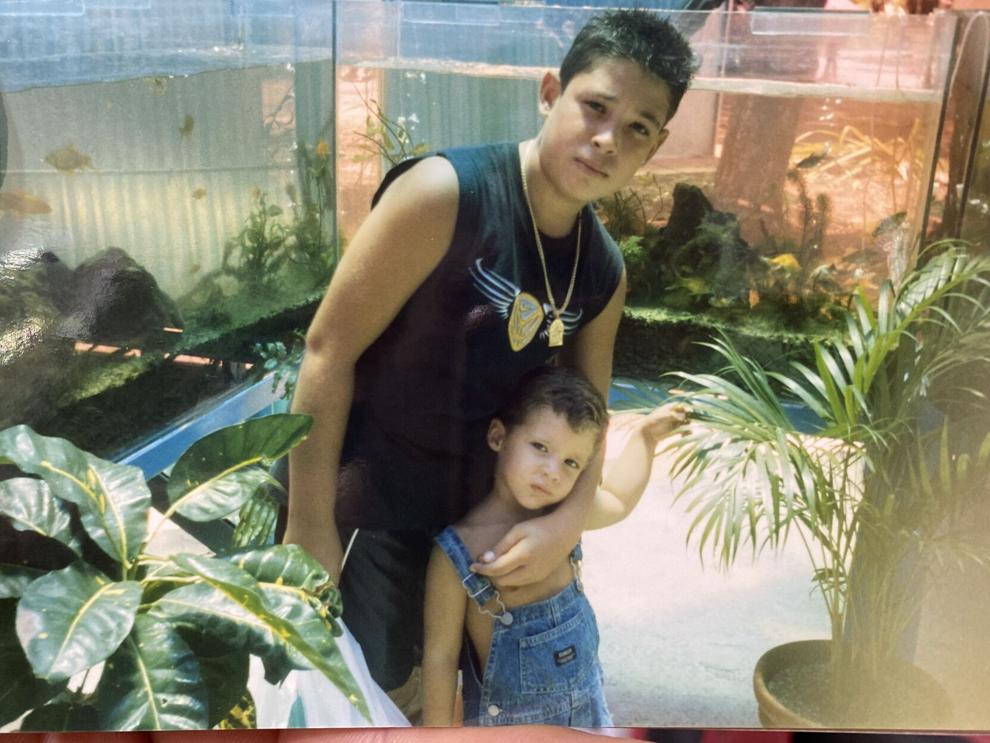 While Mederos Sr. worked in a Florida grocery store, sending all the money he made back to Cuba, Vitin was the man of the house. Since Odalys worked, Vitin was responsible for taking care of his younger brother.
He changed Victor's diapers, fed him and woke up in the night when he was crying.
"I never saw my brother as a brother," Vitin said. "To me he was my little kid."
Vitin built a wooden seat and fastened it to the front of his bike so he could pedal his brother to kindergarten. Vitin woke up at 6 every morning because he would ride 30 minutes to drop off his brother and to turn 180 degrees and pedal an hour more right by his house to attend school himself.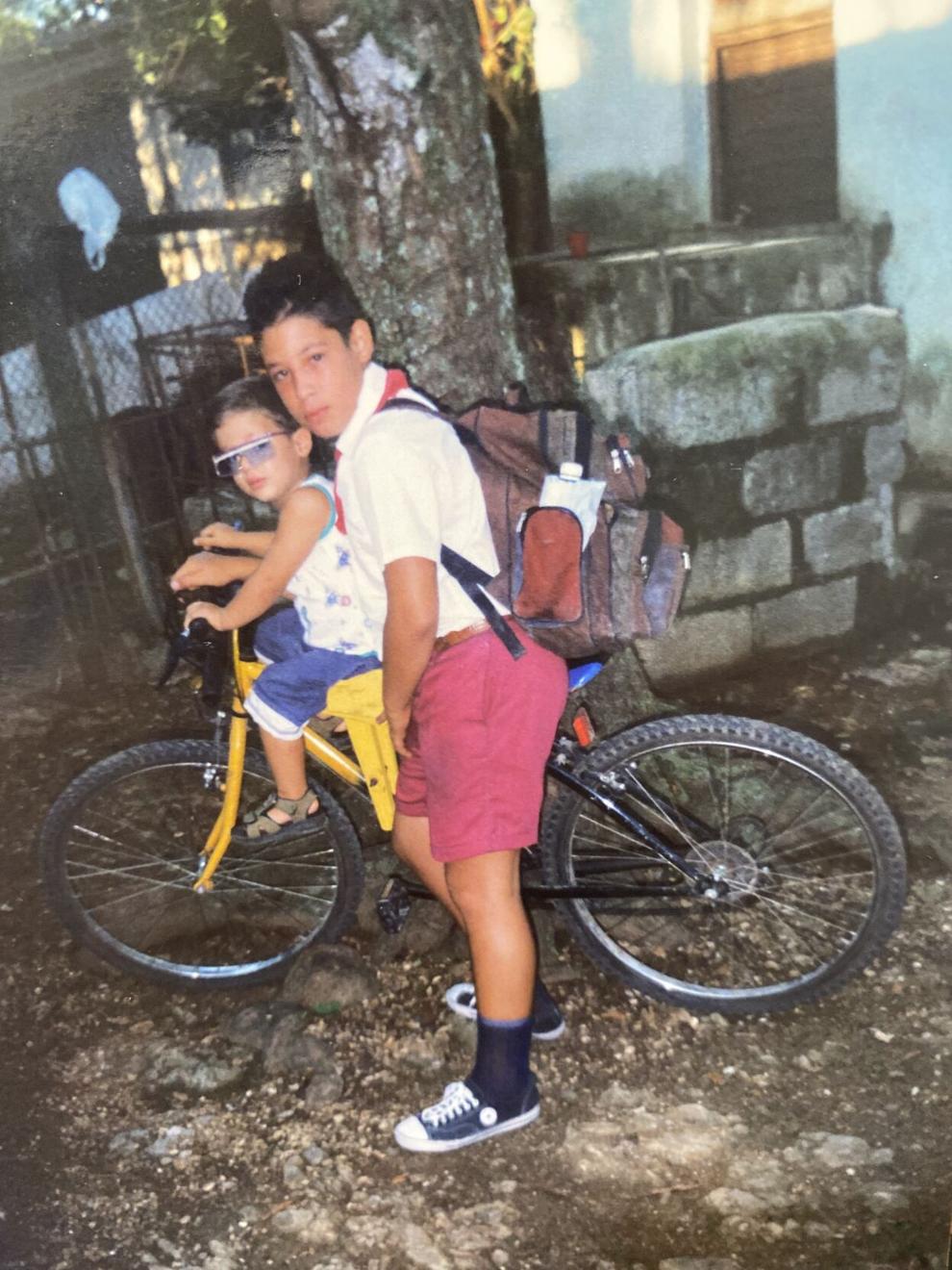 One time, Victor squirmed a little too much and fell off his perch. His foot got stuck in the tire, upending the bike and sending both boys flying. After dusting off, they got back on the ride and Vitin continued pedaling.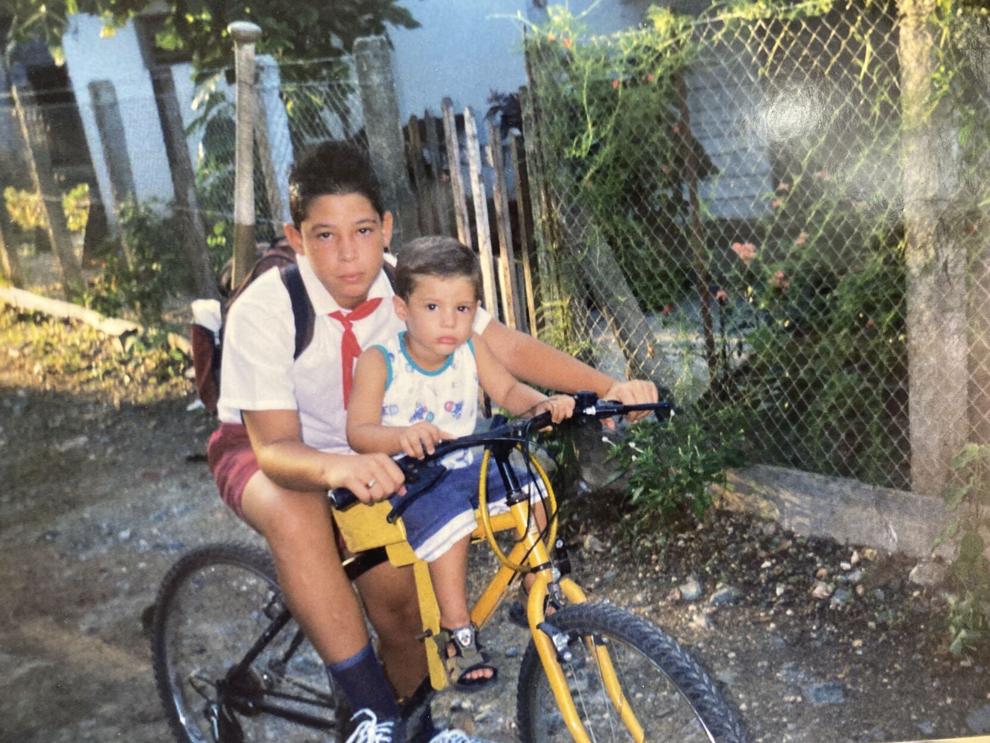 When Vitin came to pick Victor back up from kindergarten later, the kids would say, "Victor, your dad is here," because Vitin was the only person they saw transporting their classmate around.
"It was expected of him," Victor said. "Obviously, we don't want to take that for granted, all the sacrifices he made for me but yeah it was amazing now that I realize everything he did for me."
The Mederos' plan was to unite in Florida.
A year after Mederos Sr. crossed the Gulf of Mexico, he was eligible for citizenship, which he received. He called home as often as possible and once he had the proper paperwork, twice flew back to Cuba to see his family but always returned to Florida to continue saving money.
The plan had a large hang up. In the early 2000s, leaving Cuba was onerous. On penalty of imprisonment, it was illegal to leave the island without the proper passports and visas, which are difficult to obtain.
Odalys applied for a Costa Rica travel visa, which was granted because of a distant relative in the country. Her children could travel with her because they were minors.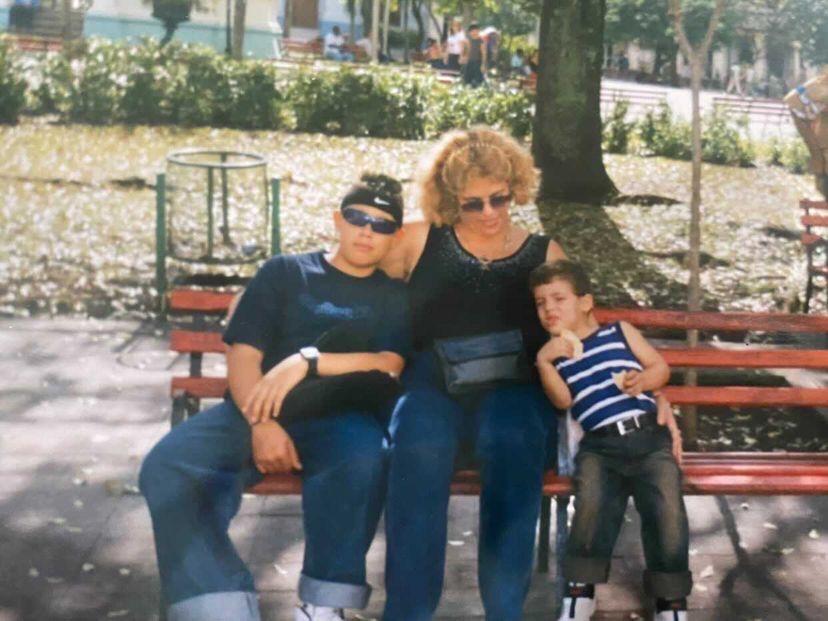 With the timing of the visa, Mederos Sr. decided it was time for his family to join him in Florida, six years after he unexpectedly left Cuba. Mederos Sr. paid a captain in the Nicaraguan military $9,000 he earned working several different jobs to guide his family to Florida. In 2008, Odalys and her sons boarded a plane to Costa Rica, leaving their small home, two bicycles and destitute life in Cuba behind.
"The only thing you think when you when you come (to the United States) or any other country from Cuba is just about the family," Vitin said. "That's the only thing you think about because there's nothing there that you will leave that you will miss."
Odalys and her sons landed in Costa Rica but had no intention of staying. They were only legally allowed to be in Costa Rica and had 2,500 miles and five borders to cross before entering the U.S.
The first border, Nicaragua, was the most difficult to cross.
Two of the guards at the border had been bribed, but a third guard, brandishing an AK-47, was not paid off. The Mederos' lay prone on the rocky terrain 20 feet away from the guard for two hours, willing him to move to a different post along the border.
It was almost too much for 5-year-old Victor, who was getting cut by the rocks. He whispered to Vitin, 'Daddy, this hurts. I can't hold anymore.'
Vitin implored his little brother to stay strong, saying there was no other choice.
"There was a time that was like, 'If this guy doesn't move we're gonna get caught because there's no way we can keep waiting here,'" Vitin said.
The unbribed guard finally changed posts and the Mederos' sprinted across the border and hopped into a car. It was one of four Central American borders they crossed in an 11-day journey to the United States. Traveling on buses, cars and on foot, the Mederos' plodded north.
The Mederos' were told to travel only at night or early morning. Odalys has blond hair, which would be suspicious if authorities questioned her. Traveling under cover of darkness was the only way to prevent being recognized and arrested.
The Mederos' were also told not to speak. Their Cuban accents were a giveaway they were not supposed to travel through Central America.
"You go through these points with police guys and the bus stops; if they know you're not from there, they can pull you over and then ask for money or they know what to do," Vitin said.
Other immigrants weren't as fortunate as the Mederos'.
The Nicaraguan guide's group started with 10 and finished with five. The others in the group ran out of money. Because Mederos Sr. paid up front, his family had enough.
At each checkpoint along the journey, someone--police, border guards, government officials-- demanded money. If someone didn't have enough, he or she was pulled aside from the group.
"When they pull you to the side you either find a way to pay them or make the money or they'll kill you and you'll disappear," Vitin said.
There was no communication with Mederos Sr. during the journey. Vitin had never seen a cell phone and had no idea how to use one. Vitin said he and his mother equally led the family through Central America. It was a team effort but Vitin, who felt responsible for his mother and brother, positioned himself strategically.
"At the end of the day, if somebody have to go down, have to be the face at the front, I was trying to have it always be me," Vitin said.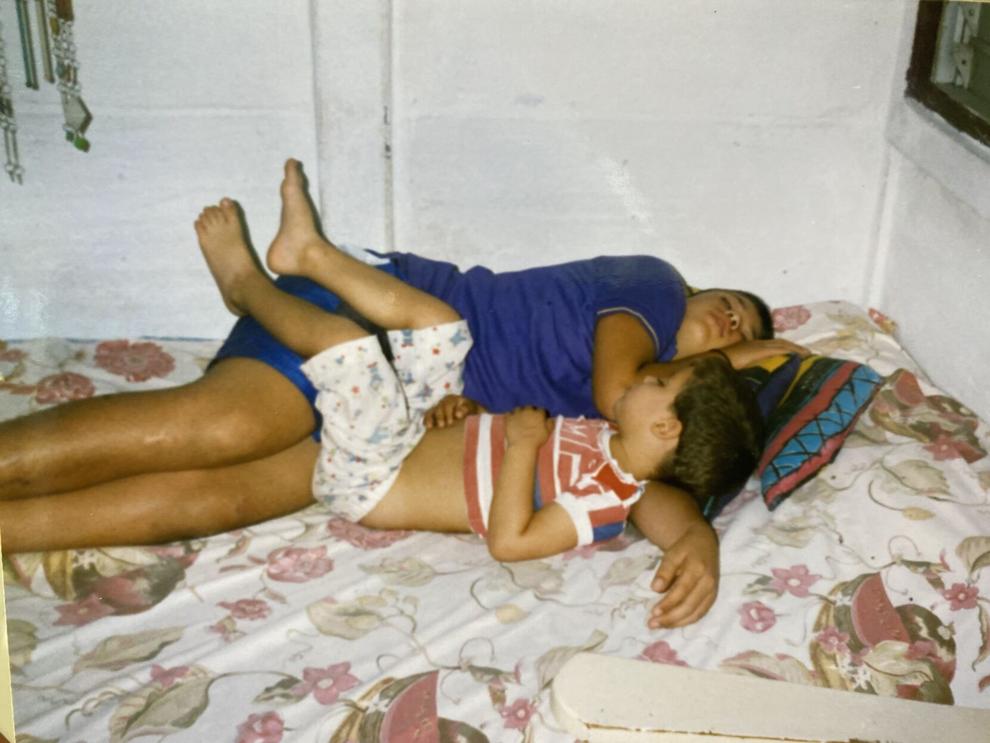 The last border, the United States, was the most joyful to cross.
The Mederos' arrived at the Texas border but still had to go through a tangled web of legal processes to gain access to the United States.
"At first, they talked to you like you're a piece of s--t, you're not supposed to come here," Vitin said. "If you don't like how this is, you can go back." 
Because they were from Cuba, the Mederos' were granted refugee status. Odalys handled the paperwork and interview with a consular official and the Mederos' were free to enter the United States.
Stepping on U.S. soil was overwhelming.
Vitin said he felt as if he were in a movie. He had never seen so many people and cars. A bustling four-lane highway surprised him the most.
"You look around and be like, 'I'll never be able to drive here,'" Vitin said.
The Mederos' flew to Miami International Airport, where they surprised Mederos Sr. He was told the flight his family was on got delayed. Vitin saw his dad first and ran to him for a hug. The rest of the Mederos clan piled in for a tear-filled embrace.
Mederos Sr. had unexpectedly left his family in Cuba six years earlier and now unexpectedly had his family with him in the United States.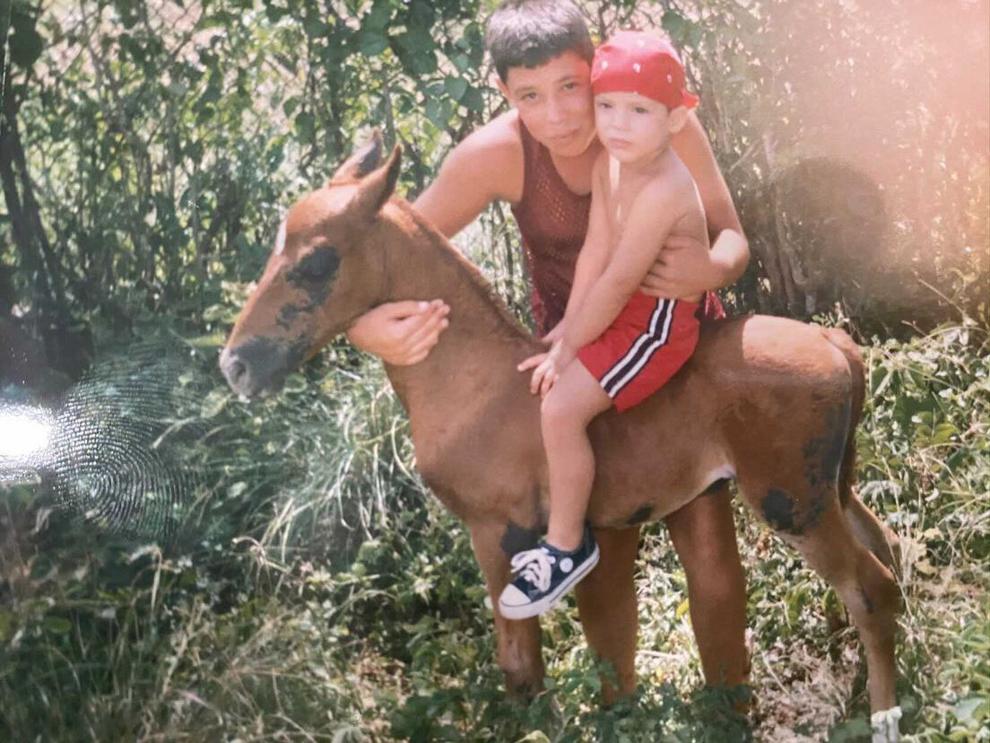 Soon after arriving in Florida, Victor started playing baseball.
He hit a home run onto the roof of a house in his first game and said his love for the game took off from there. Victor played catch with his brother in the street and started playing competitive travel ball as a teenager. At 14, he threw 87 miles per hour and won a home run derby with a 414-foot blast in the Miami Marlins Tropicana Field.
"We're like, 'Nah, this is not happening,'" Vitin said. "He grew up he was always a powerful kid. Now he's good at pitching, but before he hit like a monster."
Some scouts projected him as a first-round pick in the 2020 MLB Draft, but teams didn't meet his desired signing bonus so he honored his commitment to Miami.
Victor struggled at Miami. Over eight starts, he had a 6.08 earned run average and was moved to the bullpen. Vitin said he felt like his brother wasn't getting an opportunity to grow or work out of jams. In July, he transferred to Oklahoma State and left his family in Florida behind.
"It's kind of a decision you have to make for your career and the best thing about it is they support you with everything and that's what I love about my family," Victor said. "That's why I'm so family oriented."
Victor doesn't refer to Vitin as his dad anymore, but the uniquely strong bond created on bike rides to kindergarten and border hopping in Central America remains. Vitin, who owns a company that deals in windows and doors, video calls his brother often.
"We talk every day," Victor said. "I mean, he's basically my idol."
The conversations are far reaching, covering baseball, the challenges of life and sometimes Cuba.
"I always tell my brother, 'Remember what you got through to get here," Vitin said. "So, if you see a little bump, you've already been over a bunch of them. So just keep going forward. Keep going forward.'"