ARLINGTON, Texas一In between plaques of Troy Aikman and Larry Allen's names immortalized up high in AT&T Stadium sat West Virginia coach Neal Brown. 
He collected himself before tilting his head toward the microphone and made his opening statement. 
"Good morning, it is officially football season," Brown said. 
The Big 12, and its respective media members, descended on Arlington, Texas, for the two-day media event, unofficially seen by many as the start of the football season. 
Oklahoma State wasn't a participant in the first day of coverage, instead its conference rivals Iowa State, Oklahoma, Kansas State, West Virginia and TCU talked with the media about the 2021 season. 
Here are some minor storylines from the first day of coverage:
Manhattan and other college only towns are "gold mines" for NIL deals
It didn't take long for the topic of NIL deals to come up during Big 12 media days. College athletes around the country, including those in the Big 12, are now able to capitalize on their name, image and likeness as of July 1. 
Big 12 commissioner Bob Bowlsby said in the short amount of time since NIL rules went into effect many questions remain unanswered, but it hasn't ended the world as some thought. 
"There have been some things that have occurred that have raised eyebrows, but generally speaking, schools are managing it. There isn't the consistency that I might have liked, but it is pressing ahead."
Kansas State coach Chris Klieman said he, like many others, supports players signing NIL deals. He also sees a bright focus in towns where only the college has sports teams and no professional, or other colleges, to compete with. 
"I think Manhattan is a home run for Name, Image and Likeness," Klieman said. "We are the main story intown. Kansas State University and our athletic department and our kids are out in the community in all of our sports.So if a kid comes to Manhattan, everybody is going to know him in that community and he's going to have a lot of opportunities. So for kids that think that you have to go to the big market areas, I disagree. I think Manhattan is a gold mine for NIL."
Bowlsby on Big 12 kickoff times
Bowlsby was the first man to stand at the podium Wednesday, where he answered a slew of questions regarding NIL, playoff expansion and COVID, with an exception being about kickoff times the Big 12 gives for games. 
ARLINGTON, Texas一It promises maybe the most lucrative TV contract in collegiate history, bu…
In May, Oklahoma athletic director Joe Castiglione voiced his displeasure toward the Big 12 for scheduling the Sooners game against Nebraska for 11 a.m. CT. 
"I think Joe's position on it was a marquee game and he would have liked to have seen it played in prime time," Bowlsby said. 
Bowlsby said some fans prefer morning games to night games and vice versa. 
"(Castiglione) is entitled to that position," Bowlsby said. "We all signed the TV contract, and we can change it the next time around if we want to change it."
Reigning champs check in
It was both a throwaway line and a powerful statement.
When Oklahoma coach Lincoln Riley sat down in his chair and addressed the crowd of reporters on Big 12 media day, he started off his opening statement with a memorable line.
"Certainly good to see everybody back here in Arlington," Riley said. "Good to be back in our second home here."
It drew a slight chuckle from the crowd, but the ice breaker delivered with a smile was grounded in truth.
The Sooners are winners of six straight Big 12 regular seasons. With the conference championship game now being played in AT&T Stadium in Arlington, the comment rang true.
Two of the conference-leading nine Sooners selected to the preseason All-Big 12 Team, linebacker Nik Bonitto and fullback Jeremiah Hall, accompanied Riley to media day.
Of late, the question has not been which two teams will be traveling to Arlington to represent the Big 12 in the championship game. It has been which team will represent the challenger to the constant.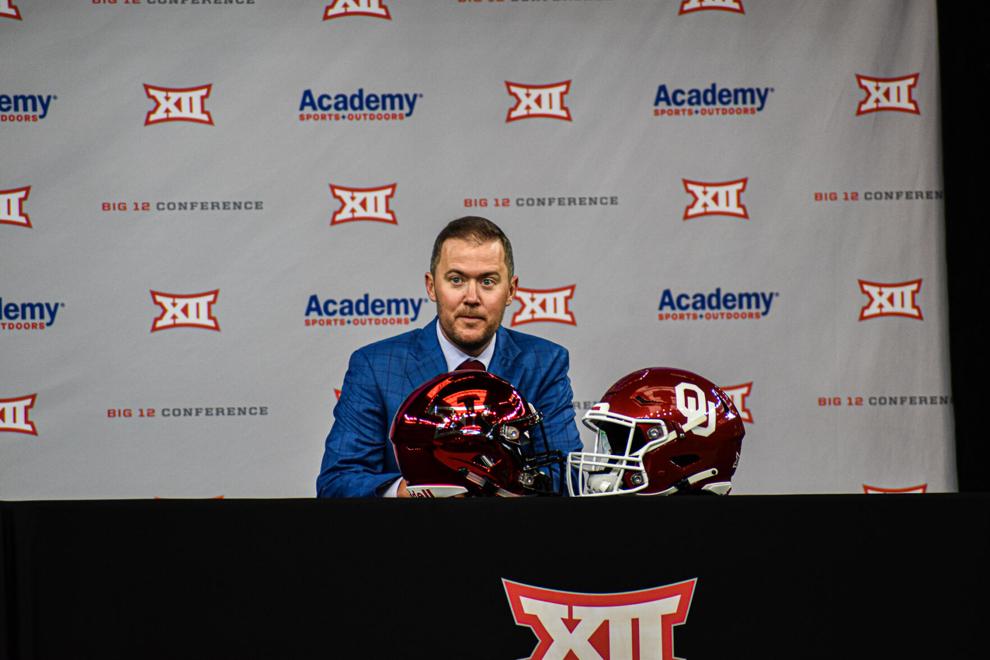 Riley was clear. Anyone who says his team getting to the Big 12 Championship game is a given doesn't know football. 
Picked to finish first in the coaches' poll, the Sooners are once again projected to make it to AT&T stadium in 2021. No wonder the line got a few chuckles. The best humor is rooted in truth.
A streak allowed to drink
A 21 year streak is in jeopardy.
Babies in Norman born on the day of Oklahoma University's last football national championship might not be old enough to drink, but they could have cause to celebrate. 
The Sooners are ranked at the top of ESPN's college football power rankings and are picked by many to win the 2021 national championship. They are projected to return seven starters on each side of the ball and two on special teams. The Sooners also boast preseason Heisman Trophy favorite quarterback Spencer Rattler.
Oklahoma coach Lincoln Riley pointed out that high expectations not out of the norm for his team. 
"I mean, this is Oklahoma. Every year is the year to (win a national championship). It takes a lot to get it done," Riley said.
Sooner linebacker Nick Bonnito commented on the idea that this season's OU team is among the best ever assembled.
"I think that's a little bit of a stretch just because we haven't played a game yet, but I can definitely see what you guys are saying for sure," Bonnito said. "There's so much talent, so many guys I could point to and you guys haven't seen their full potential yet. I can definitely see why these comparisons are being made."