Correction: The year Lance Troester was supposed to be 2006, not 2016.
In the aftermath of serious pay cuts throughout the Oklahoma State athletics department, names and faces of those impacted — some longtime OSU employees — have become clear.
OSU athletics announced Wednesday that approximately 232 of 241 employees would be taking salary reductions, furloughs and/or layoffs.
In documents obtained by The O'Colly through an open records request, the names and salaries of the 10 employees laid off were revealed.
The full list is as follows:
Patsy Armstrong, assistant athletic director/women's basketball operations, has been in Stillwater since 2018. 
John Barr, director of football operations, joined Cowboy football in 2009 after spending years as an assistant football coach across the country.
Stephanie Beavers, associate ticket manager, joined OSU just one year ago.
Mack Butler, director of operations, returned to Stillwater in 2009. He had the highest salary among the 10 at $220,500.
Brandy Esposito was the director of wrestling operations.
Mike Groce, coordinator of football recruiting, was going into his seventh season with the Cowboys.
Barry Hinson, special adviser to basketball coach Mike Boynton, has opted to stay on as a volunteer.
Kate Pollard, director of equestrian operations, was in that same role at Kansas State until its final season in 2015-2016
Victor Romero, director of baseball operations, joined OSU's full-time staff in 2017. He was a catcher for OSU during the 2012 and 2013 seasons.
Lance Troester, assistant athletic director/men's basketball operations has been in Stillwater since 2006.
Athletic director Mike Holder and every head coach took voluntary pay cuts, but nine assistant coaches did not.
Those pay cuts ranged from 2.5% to 25%.
Football coach Mike Gundy and the aforementioned Boynton both took 25% cuts — largest among coaches. Gundy's salary dropped from $5.25 million to $3,937,500 and Boynton's from $1,850,000 to $1,387,500.
"These cuts were painful and not at all based on performance," Holder said in a press release. "They are byproducts of the unfortunate situation in which we find ourselves."
The list of coaches, who were all football assistant coaches, that did not take a pay cut is as follows:
Offensive coordinator Kasey Dunn 

Defensive coordinator Jim Knowles

Defensive line coach Joe Bob Clements

Offensive line coach Charlie Dickey

Safties coach Dan Hammerschmidt

Tight ends coach Jason McEndoo

Running backs coach John Wozniak

Quarterbacks coach Tim Rattay

Defensive line coach Greg Richmond
"I am especially thankful for the coaches who had the protection of a multi-year contract, but still volunteered to participate in the pay reductions," Holder said.
The list of all OSU coaches and their salaries before and after the pay cut is as follows: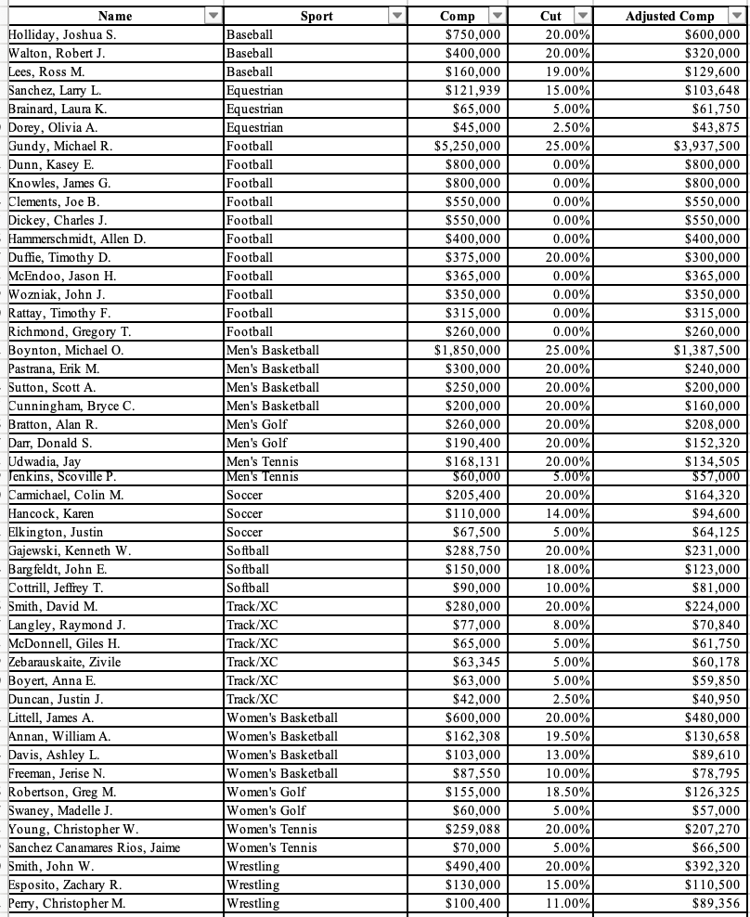 Sixty-six employees will enter OSU's furlough program on Sept. 16.
"These cuts don't solve the problem.  We are still facing a budget deficit estimated to be around $30 million, which may require additional measures in the coming months.   However, we exist to serve our student-athletes," Holder said. "Their academics, health, safety, and their ability to compete remain our top priorities and will not be compromised."