Berry Tramel counted eight other passengers on his flight.
Three of them his coworkers from The Oklahoman, the remaining five strangers. The pilot entered the cabin, looked at the nine people aboard his plane, and uttered:
"You're the last line of defense."
A startling statement but telling of the times. Tramel, then the sports editor for his newspaper, was traveling to College Station, Texas to cover Oklahoma State's game against the Texas A&M on Sept. 22, 2001. It would be OSU's first game since the terrorist attacks on Sept. 11, 2001.
"It was a big plane, seated however many, 80 to 120 people. It was very eerie," Tramel said. "It was very eerie, nobody in the airport, nobody on the plane, it was very strange."
It wasn't a difficult choice for Tramel and his colleagues to board a plane, a mere 10 days after a cell of Al-Qaeda militants hijacked four planes, crashing them into the Twin Towers, Pentagon and attempted to hit the U.S.  Capitol.
In a meeting prior to leaving for the game, discussions of whether to drive of fly were had, but there was a resiliency to board the plane from Tramel.
"We were a little but fired up, to say they can't stop us from living the way we want to live," Tramel said.  "We're not going to stop doing the things we want to do like getting on an airplane. It was a sort of defiance."
In the wake of the largest attack on American soil, the defiance carried over onto Kyle Field in College Station.
The United States and Texas flags swayed in the brisk September air at half-mast. Fans had brought in flags themselves, a Texas flag draped to the left of the famous 'Home of the 12th man' sign at Kyle Field. An American hung over the 'H' in 'the' in the massive sign.
The largest American flag wasn't one swaying in the wind, but the stadium itself. A group of five TAMU students created a massive campaign to honor the 2,996 people who lost their lives during the attacks, printing red, white and blue T-shirts to raise money.
If you're ticket was for Kyle Field's top tier, you'd buy a red shirt. The middle tier represented the white, and the lower bowl was relegated to blue.
The group, which organized and executed the plan in just 10 days, sold 70,000 shirts for five dollars a-piece. Through poster sales and donations, they raised $180,000 and donated it to the New York Fire and Police Benevolence relief funds.
The shirts read: "In memory of 9-11-01 – Standing for America – Aggieland, USA – September 22, 2001."
Terry Don Phillips, then OSU athletic director, had relaxed his call for Cowboys fans to wear orange prior to the game, even putting a blue shirt on over his white dress shirt. His orange and black tie still popping out of his collar.
More than 82,000 fans pushed aside concerns of another imminent attack the terrorists had threatened in the days following to attend the game.
"The stadium was as packed as I'd every seen a stadium," OSU wide receiver Rashaun Woods said. "(With the coordinated shirts) in all the sections, it was pretty phenomenal."
With a larger stadium, there was a level of fear from individuals to attend the game, but Tramel said it the thought didn't weigh heavy on him.
"I didn't have any (fear)," Tramel said. "There was some trepidation for some people, whether it is family or friends. I don't think there was among us, but I think there were some people who were concerned."
There wasn't a better school for such an event. Until 1964, Texas A&M was an all-male military school, and in 2001, graduated the fourth-most officers, behind only Army, Navy and Air Force.
Prideful patriotism continued to ooze into the stadium when the A&M band took the field. The Fightin' Texas Aggie Band, known for its constant movement when performing, stood stationary as it performed "The Star-Spangled Banner", the flags rising to the top and peaking before returning to position at half-mast.
The band belted out "God Bless America", also motionless.
"It was emotional for everybody," Tramel said. "There was a lot of pent-up energy. The Aggies have big crowds coming into the game, but you could tell it was different. There was a little bit of a more somber attitude."
Les Miles, then coach of OSU, had sent his players out to the field to absorb the atmosphere, a rare occurrence. Linebacker Terrence Robinson was one of those players.
"As a player, coming out and seeing the red, white and blue, it was about unity," Robinson said. "I remember walking out of the locker room going to the game and even some of the A&M fans were being supportive."
The fans might have opted against the maroon colors of Texas A&M, instead donning America's colors, and the flag might have been flapping at half-mast, but the game had an atmosphere of returning to normal.
"It felt like we were getting back to normal, a little bit," Robinson said. "Everything was back to the way it used to be."
The game itself proved to be lackluster. The Aggies defeated the Cowboys 21-7. OSU running back Tatum Bell mustered the lone Cowboys score, Robinson snagged an interception from Aggie quarterback Mark Farris, and Cowboy quarterback Aso Pogi threw for 110 yards.
The Cowboys season record fell to 1-2, the Aggies to 3-0. A&M won its sixth consecutive game against OSU, the Cowboys remaining winless against the Aggies since the Big 12 was formed in 1996.
The teams combined for 439 yards of total offense, with fumbles on each side. The Cowboys were heavily penalized, earning 11 flags to TAMU's four.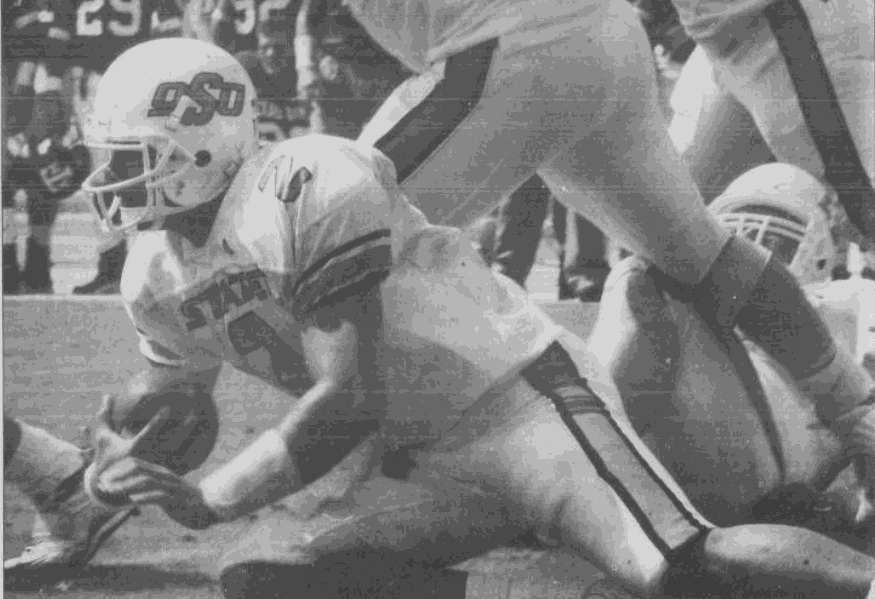 The outcome of the game didn't matter to anyone. Someone had to win just because the rules require it. For the players, coaches and fans, this was the definition of being more than just a game.
Tramel called the game "therapeutic" to have football after the previous Saturday's game had been canceled.
"For me, it felt like I was playing for something," Robinson said. "It felt like I was playing for more than just OSU, it felt like I was playing for more than just Terrence Robinson. I felt more like I was playing for the country."  
Robinson's fear he'd felt had subdued since the attacks when he touched the field. He was able to just play football for a few hours.
"I think my mind and especially being that young at the time, my mind was so set on going out and playing football," Robinson said. "Not to lose focus on what happened in our country, but my mind was just totally set on going out and playing football."
The game, despite being another addition to the Cowboys loss column, was a strong change of scenery compared to where the players were a mere 11 days prior.
Woods was walking through Bennett Hall, headed to class when he saw a large group of students gathered around the televisions in the common areas.
"I walked by like 'what is everybody looking at on the TV right now?' I had class in 15 minutes," Woods said. "Next thing I know I walk by another TV and it is packed. At that point I realized that something serious just happened and I definitely paid attention to it."
Robinson, enjoying a Tuesday morning, walked through the student union when he saw the second plane slice into the south tower in New York.
Classes were canceled at OSU that day, leaving students, like Woods and Robinson, glued to television sets for the remainder of the day. Cancelations were rampant shortly following the attacks.
Flights were grounded. People were told not to come into work. For Tramel, Bob Stoops, then head coach at the University of Oklahoma, had practice and his press conference quickly canceled.
"I was mowing my lawn at about 9 a.m. in the morning," Tramel said. "I came in and flipped on the TV while getting ready to take a shower and that was probably 9:20 and of course all the TV's were on it already so that is how I learned."
Tramel drove into work on Sept. 11, quickly presented with the idea many Americans were having. What should we do?
Robinson and Woods struggled with the same question. Robinson said he had fear for the safety of the United States. There was fear and anger piled on top of confusion. Nobody wanted to leave their houses, to be in large crowds or to attend an event.
Robinson recalled his first flight following 9/11.
"I flew somewhere after that and I just remember being very, very cognizant of my surroundings," Robinson said. "Just being aware of everything around me. All that stuff was very important to me then."
---
The Cowboys would go on to finish the season 4-7. Their season closed with a 16-13 victory over Oklahoma, then ranked No. 4 in the country and primed for a Rose Bowl appearance.
The Texas A&M game a primed memory in the heads of all whole attended. Tramel, a sports editor. Robinson and Woods players on the team. The fans in their color-coordinated shirts. They all came together for not a football game, but an event of solidarity.
Mike Gundy, OSU's offensive coordinator in 2001, somberly recalled the events of 9/11.
"That was the first time in really my generation that we had what would be a real terrorist attack because we hadn't had a real war in a long time," Gundy said. "I kind of swallowed it like "I can't believe that could really happen', it was scary."
20 years later, the Aggies "Red, White and Blue-Out" is still remembered. This past Saturday, the Aggies hosted Kent State and resurrected the concept to honor the 20th anniversary of 9/11. Fans once again bought red, white or blue T-shirts, sitting in designated sections, in remembrance of not only the game, but the attacks.
For Robinson, age 21 at the time of the attacks, the game, and event, put a new perspective on his life.
"It puts a lot of emphasis on just life and family," Robinson said. "For me, my whole motto is to create memories. I found this saying a while back that says 'fathers tend those gardens that you seeded, and be a friend when a friend is needed' and that is kind of my motto now.
"Just going back on what happened on 9/11, it is really, extremely important that people keep those important to you close, extremely close."