DUNCANVILLE, Texas — Vernon Grant Jr.'s smile illuminated. And it became genetic.
Vernon Grant III is just like his dad — energetic, full of life and an unwavering human spirit. Which is odd, considering the two barely knew each other.
Grant III was only 8 months old when his father, Grant Jr., was unable to survive injuries suffered from a car crash in his hometown.
But the boy who grew from the shadow of having no father became a person as bright as his dad in almost every way.
Including the smile.
*****
Vernon Grant Sr. didn't have a second thought on what name he wanted to give to his son.
"There always needs to be a Vernon on this earth," Grant Sr. said.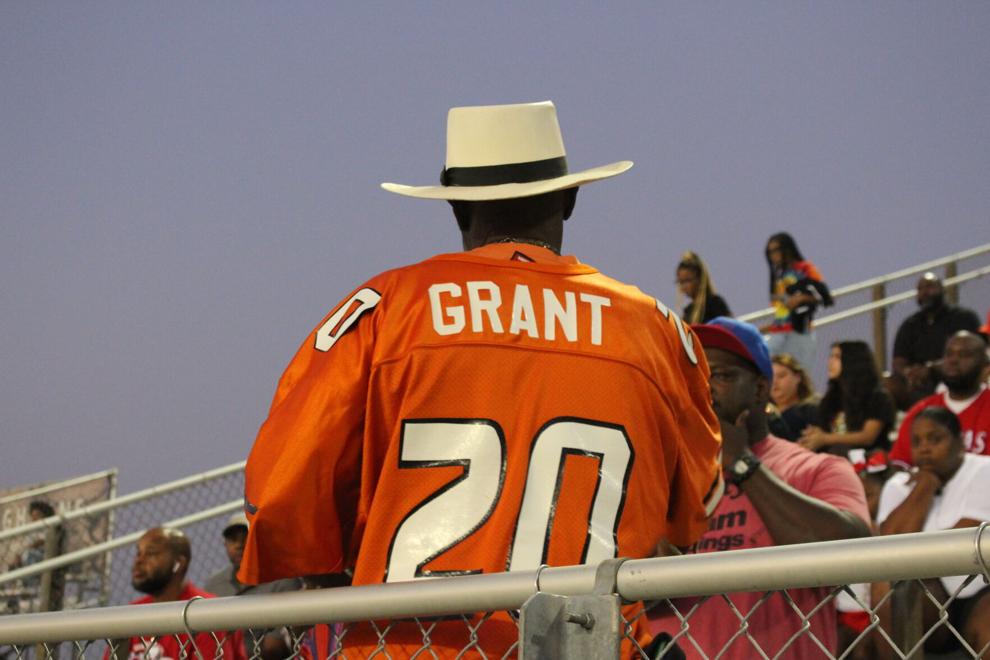 The Grant family members describe themselves as outgoing people everyone wants to be around, and Grant Jr. personified the extreme of their nature.
Since childhood, they say Grant Jr. carried an exuberant personality who loved family, enjoyed every aspect of life and brought others up with an infectious smile. On someone's darkest day, those close said Grant Jr.'s smile could bring people back to life with charm and sympathy.
Whether it be jumping on his cousin's bed from excitement to helping uncles with work, Grant Jr. became a treasured, irreplaceable member of the family and community.
He transferred his joy to sports.
At Duncanville High School, Grant Jr. led the Panthers on the track, and on the football field.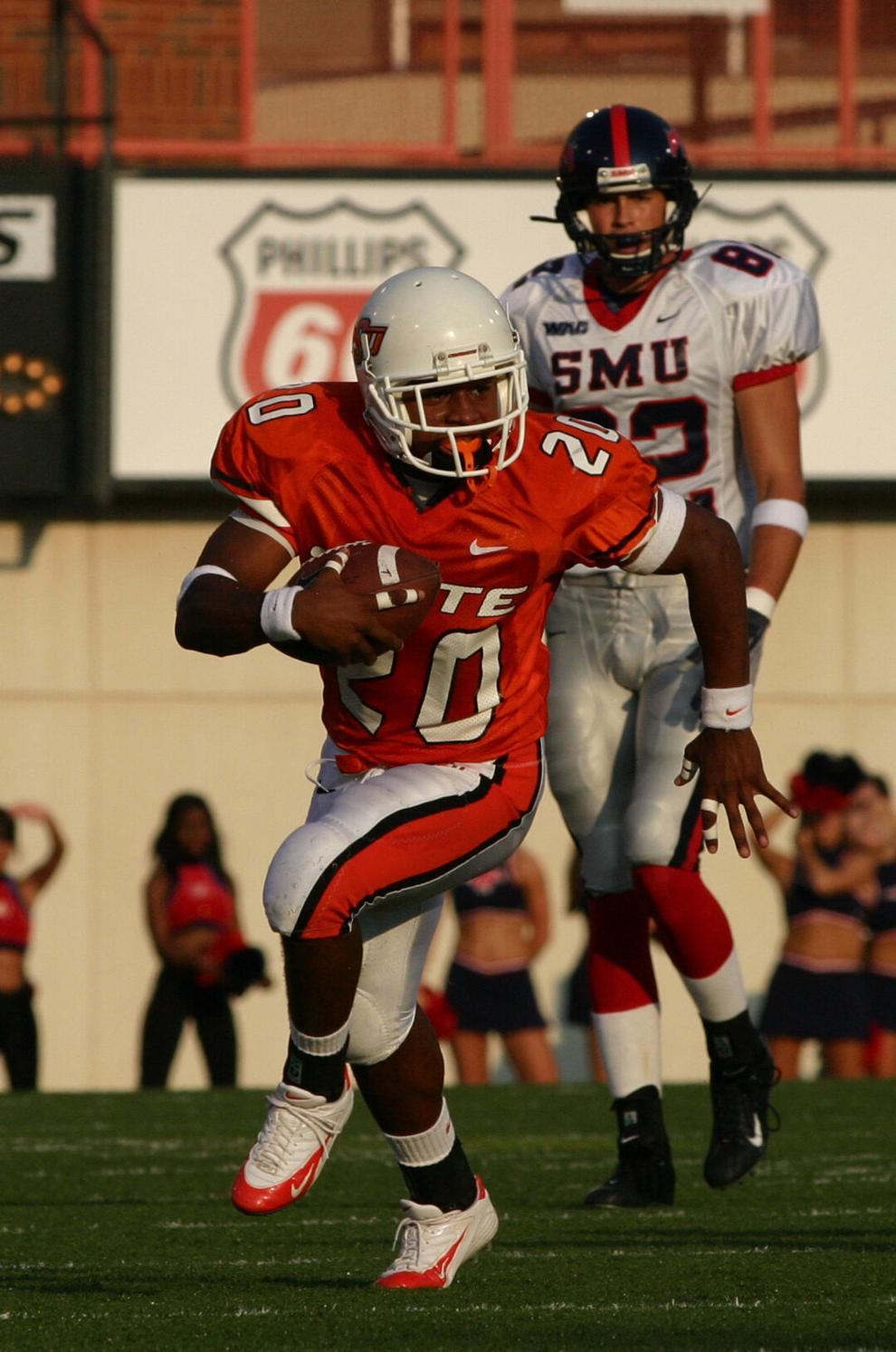 "Even as ninth graders, we just enjoyed life," said Daniel McLemore, lifelong friend and teammate of Grant Jr. "He was so joyful. At practice we flew all over the field, made jokes and laughed. He brought excitement to the game. If you were having a bad day he would come over to you and smile.
"That smile brightened your day."
Grant Jr. wasn't just the over-excited teammate, he was the star of his teams. On the track, Grant Jr. helped set the school record for the 4x100 meter relay, a mark that stood for more than 20 years.
As a defensive back on the south-Dallas suburb's powerhouse football program, Grant Jr. became a player his teammates loved, and opponents hated.
"In elementary school he won an oratorical contest," said Phynice Brown, Grant Jr.'s aunt. "He was vocal. He was also a leader. When he hit the field, he had a big mouth. His teammates would have to tell him 'Let them see what you could do.'"
So he did both.
Grant Jr. earned the mark of a four-star rated recruit and committed to Oklahoma State for football in 2002.
In his time at OSU, fans became well-aware of No. 20.
Right before kickoffs, Grant Jr. ran onto the field, pointed at the crowd, waved his arms in the air and received the attention of the 50,000 fans at Lewis Field, raising the volume in the stadium single-handedly.
The on-field antics and level of play made Grant Jr. a fan favorite. In an era long before NIL, fans in attendance sported his jersey in support for their beloved player.
Everywhere he went, Grant Jr. drew others to admire the spectacles he created.
"On game day he came with a lot of energy, and he got everybody hyped up," said Anthony Grant, his cousin and former teammate. "He brought so much energy to the field, and he was one of those players that everybody loved to play with."
Off the field, Grant Jr. didn't change from his younger years.
In the classroom, Grant Jr. had dreams of becoming an engineer, even while playing football. Professors said they admired his effort while his family appreciated his high grades, even if his loved ones did not understand when he would try to teach them complex concepts and systems.
His leadership qualities appeared more often as the level of play became more serious. It was a trait he always had — something instilled from his father — but the way he carried it out wasn't as intense.
"We used to have morning workouts and one day he came into my room, turned on my light while I was in a deep sleep and started jumping on my bed yelling 'Wake up, it's time to get to work,'" McLemore said.
"He had that kind of energy."
*****
In late May 2005, Grant Jr. traveled home to Duncanville with a goal.
The Stillwater and Dallas celebrity visited his hometown for the weekend to spend time with family before the start of his senior season at OSU. Eight months prior, Grant Jr. suffered through the loss of his mother, Vanessa, but also experienced joy with the birth of his son, Vernon Grant III.
It was a much needed return home.
"I told him, 'I want you to touch as many people as possible,'" said Laveta Grant, Grant Jr.'s aunt.
But another tragedy went unseen on the horizon.
On May 23, 2005, Grant Jr. assisted his uncle, Jeff Scott, with his trucking company. For the 22-year-old's all-day effort, Scott wanted to treat his nephew with some cash before a return to Stillwater the next morning.
After work, Scott drove to the ATM with Grant Jr. trailing in a separate car.
"He was following me. I turned left at a light, and I expected him to come up behind me. And he never did," Scott said.
Near 9:45 p.m., another car battered Grant Jr.'s at an intersection near Interstate-45 in south Dallas.
Scott checked his rear-view mirror and inspected the damage.
The collision swung Grant Jr.'s car from the junction to the embankment of the highway. Scott rushed his frayed nephew's body to Baylor University Medical Center in Dallas and began making phone calls.
Within minutes, most of the Grant family stormed into the operating room in tears. Others couldn't manage to face the dire situation.
"When we went to the hospital, I stepped to the room's door, but I stepped back," Laveta said. "I would not go in. He was like my son. It hurt me so bad."
Those in the room were disoriented, distressed and boisterous in agony.
Grant Sr., at the sight of his shattered son laying on the operating table with blood exiting his body from every orifice as doctors simultaneously attempted to resupply Grant Jr.'s body and mood in the room, couldn't formulate words. Only his lips moved.
"Is he going to make it?" Grant Sr. mouthed.
"No," the nurse demonstrated in response.
At 10:47 p.m., Grant Jr. was pronounced dead.
His smile couldn't comfort the wailing family.
It was gone.
The funeral was grand, a fitting goodbye for Grant Jr.'s larger-than-life character.
More than 4,000 people from Duncanville and Oklahoma attended the service. Some donned Grant Jr.'s No. 20 OSU jersey. The support from both communities helped the ailing family.
Professors sent letters, fans sent gifts, and one couple, whom the Grant family has never met, sends a notable donation to Grant Jr.'s foundation every year.
"They never forgot him," said Patricia Grant. "His name will always be remembered."
Also in attendance, 8-month-old Vernon Grant III, a child now without a father. But his family would make sure he would be loved, just as his father loved him.
*****
Even with handling duties as the assistant cheer director for Duncanville High School, LaToya Moore finds time to watch her son play football.
And Grant III creates opportunities for the two to meet on the sideline.
After recovering a blocked punt in a game against Cedar Hill, Grant III took the ball and gave it to his mother as a souvenir.
"It's a turnover, why give it back?" Grant III said.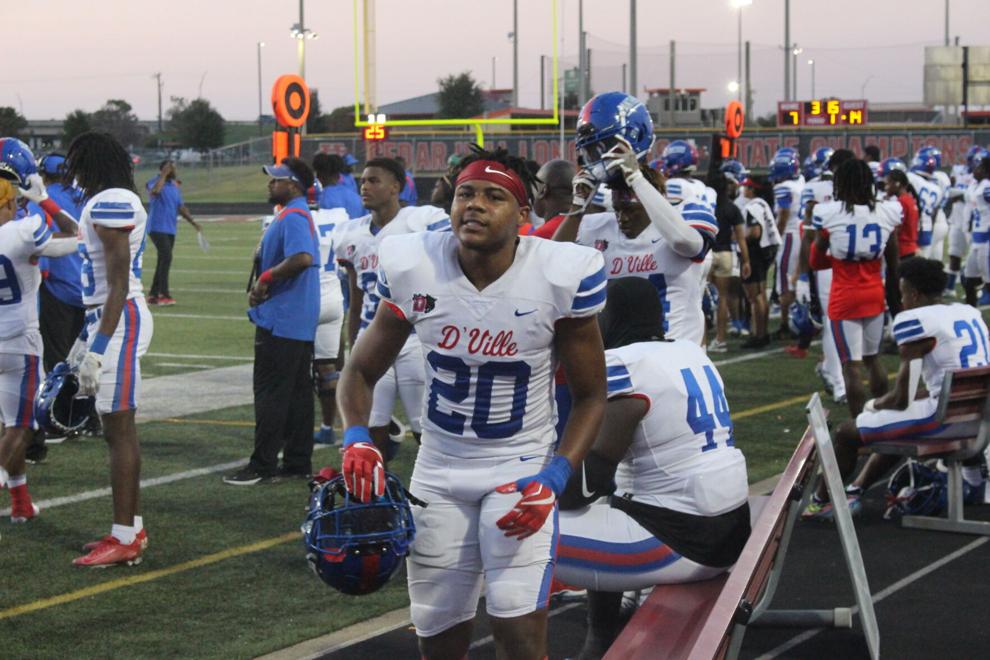 Since the ball belonged to the opposing team, Duncanville was penalized 15-yards for the act.
But Grant III did not care. He plays football for those moments with his family.
From the moment he first held a football, Grant III knew he was going to be the latest member of the family to be a football player.
Raising the young boy without his father was difficult for the entire family, but they made through the challenges for Grant III's sake.
Moore took charge as a single mother, raising her son as a lone parent. But when Moore would be in school or at work, Grant III's great aunt, Vickie, volunteered to babysit.
Knowing he needed a father-figure, McLemore, Grant III's godfather, Anthony and Scott collectively stepped up to fill in for the late biological dad.
As he got older, the family noticed the similarities between Grant Jr. and Grant III despite not really knowing each other.
In fact, they believe the two are identical. Even their smiles.
"Looking at them, they are so much alike," said Brown. "They have the same efficacious smile."
The smile the family lost that fateful night returned with Grant III to give the family a new source of joy.
Now in his senior year at Duncanville High School, playing on the same field his dad did 20 years prior, Grant III could be mistaken for his father.
"He's a leader," Vickie said. "He's very motivated to achieve whatever he puts his mind to. He doesn't like to listen to anything negative. Whenever people tell him, 'You can't do that,' he'll say 'Oh I can.'" That was just like his dad. They're like David, they think they can take down any giant. (Grant Jr.'s) spirit is just like him."
With another member of the family carrying on their love for football, the Grant's have escalated their support for Grant III. When Grant Jr. played, they displayed signs in the stands. Now, they bring large banners and tapestries of their shining son.
Even 21 years after Grant Jr. was crowned Duncanville's Homecoming king in 2001, Grant III carried on the royal succession, winning the same title in 2022.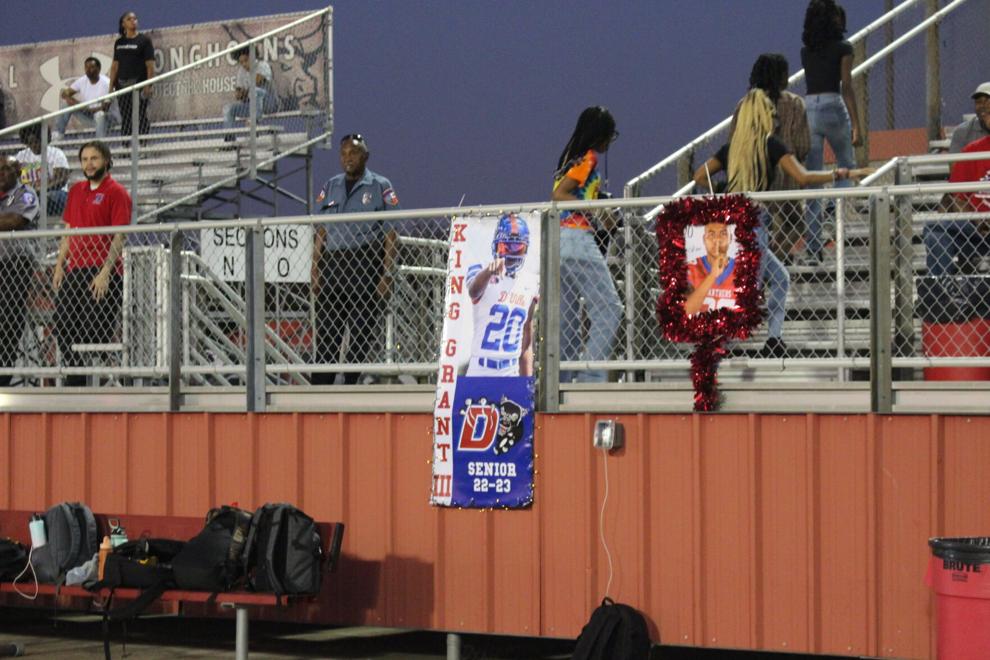 The strange similarities were beginning to become miraculous.
As his high school career winds down and college looms, Grant III only has one dream. A dream passed down from his father: Play football for OSU.
The Grant family did not push him to pursue college football, some would be happy with whatever path Grant III wanted to follow. He chose to pursue football and OSU on his own will.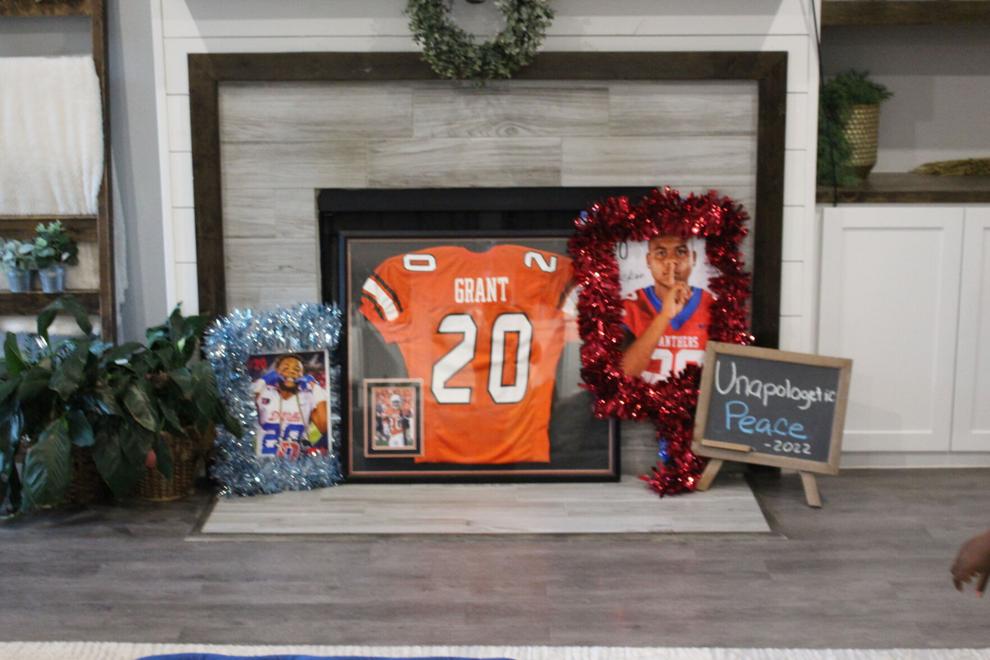 The loss of Grant Jr. shocked the tight-knit-family and brought them to the depths of despair. But after Grant III grew up and brought the same energy, love and passions as his father, both he and the family know the legacy his dad left needs to be carried on to be at peace.
"Our family has some unfinished business," Laveta said. "We want (Grant III) to follow in his dad's footsteps, but we want him to take it higher. So his dad can look down and watch."