EA recently announced it would be bringing back the NCAA football video games back. In accordance when that, The O'Colly put together what it thinks the ratings might look if the game were to drop this year.
Team overall: 83
Offense: 77
Quarterbacks:
Spencer Sanders- 84 overall
Sanders showed immense improvement in the 2020-21 season, which was good enough to earn him a mid-80 ranking. Sanders has the ability to be a star quarterback with his athleticism and speed. His arm strength and accuracy are lower than some Big 12 quarterbacks but still rank near the top of the conference.
Shane Illingworth- 73 overall
Illingworth's arm strength and accuracy rank near the top of the Big 12, but he lacks the same athleticism as Sanders.
Running backs:
LD Brown- 88 overall
Speed and big play ability are two things that help make Brown into a top running back on the roster.
Dezmon Jackson- 80 overall
Jackson possesses a rare combination of speed and strength that makes him dangerous to opposing defenses.
Dominic Richardson- 75 overall
Only a freshman, Richardson is further into his progression than other freshmen, especially with his speed out of the back field.
Wide receivers:
Brennan Presley- 77 overall
Presley is a budding young star who showed his abilities in the Cowboys' bowl game with a three-touchdown performance. Presley will have an increased role and more opportunity to showcase his talent. What Presley lacks in size, he makes up for in speed, elusiveness and route running.
Braydon Johnson- 73 overall
It's no secret Johnson possesses elite speed, but he has questions about his catching and route running ability.
Tay Martin- 73 overall
Martin didn't get as much playing time as expected in 2020 but has size and ball catching ability on his side as his top attributes.
Cowboy Back:
Logan Carter- 75 overall
When he received targets, Carter showed promise to be an offensive weapon for the Cowboys, but he also has solid blocking ability to help the run game.
Left tackle:
Jake Springfield- 73 overall
Springfield saw his first action in 2020 and provided a solid blocking piece to the unit who settled in toward the back half of the season, especially in run blocking.
Left guard:
Josh Sills- 93 overall
Sills moved to tackle from guard mid-season, but should move back to his true position and provide a great piece in the pass and run games as one of the top linemen in the conference.
Center:
Tyrese Williams- 68 overall
Williams has not seen much playing time and his uncertainty is the biggest reason for his lower overall.
-or-
Danny Godlevske- 68 overall
Godlevske transferred to OSU this semester after starting at Miami (OH), but like his competitor, Godlevske's uncertainty is the main reason for his ranking.
Right guard:
Hunter Woodard- 71 overall
Woodard learned on the fly in 2020 and showed talent, especially in run blocking, which opened up toward the end of the year.
Right tackle:
Hunter Anthony- 73 overall
When Anthony has been able to play he's been a solid piece on the Cowboys O-line. Coming off of an injury and having to replace Teven Jenkins, Anthony will be critical for OSU. Anthony possesses size and ability to play guard and tackle and grow into one of the top offensive linemen on the roster.
Defense: 86
Defensive ends:
Trace Ford- 89 overall
Ford underwent knee surgery after going down during the Baylor game. His recovery will be one of the most important stories to follow in the offseason. If he comes back close to 100%, he will once again be one of the Big 12's best pass rushers.
Tyler Lacy- 87 overall
Lacy will have a greater responsibility as the leader of the line if Ford is limited but has the talent and leadership required to do so.
Defensive tackles:
Israel Antwine- 77 overall
The Colorado transfer has a high ceiling but will need to prove himself in an elevated role on the defense.
Sione Asi- 76 overall
Asi is in a similar situation to his partner on the interior of the defensive line: high ceiling but unproven.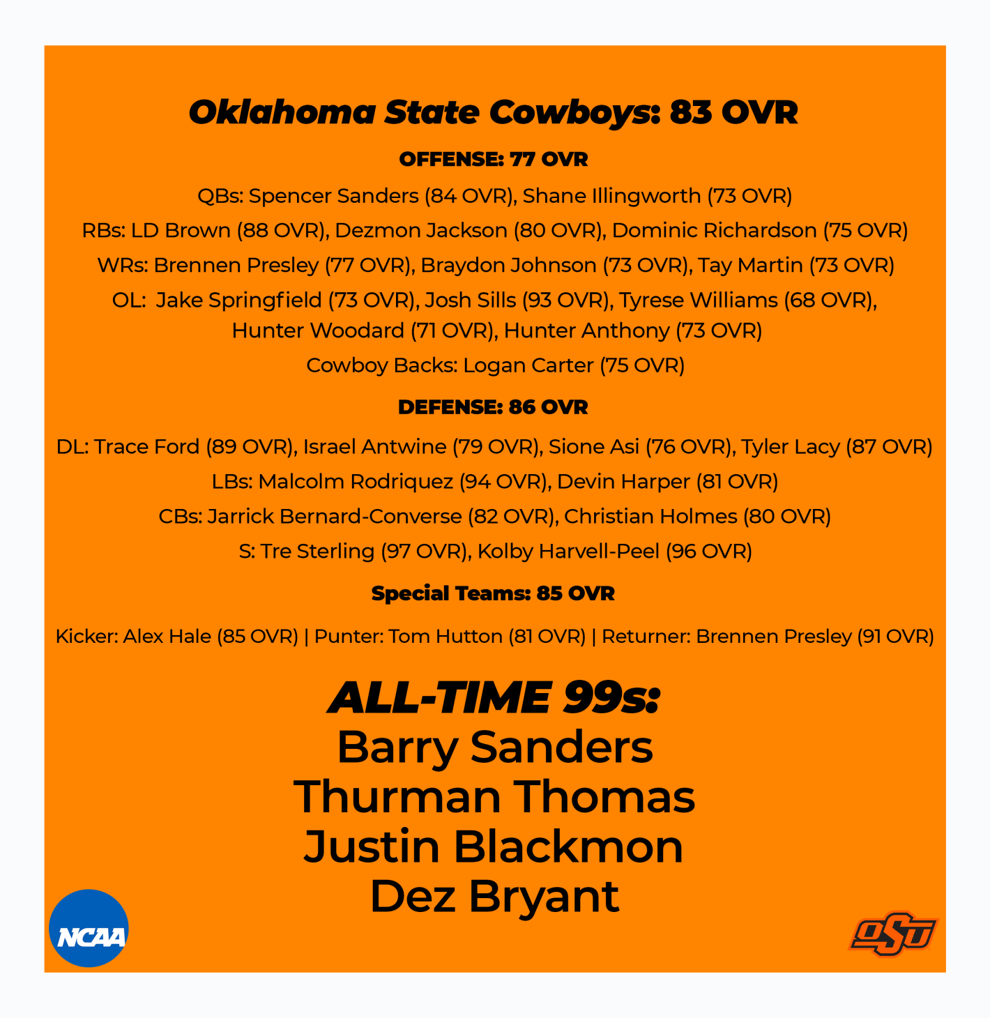 Linebackers:
Malcolm Rodriguez- 94 overall
Rodriguez is the leader of the defense. He's a complete linebacker who is exceptional at run stuffing and can also be drop back in coverage. He added over 20 pounds of muscle, which helps him deliver devastating hits, but his speed and agility still make him lethal in an open field.
Devin Harper- 81 overall
Harper is inexperienced as a starter, sitting behind Rodriguez and Amen Ogbongbemiga, but is quick and sudden when he is in the game.
Cornerbacks:
Jarrick Bernard-Converse- 82 overall
Rodarius Williams was OSU's biggest loss on defense, so Bernard-Converse will need to step up next season.
Christian Holmes- 80 overall
Holmes is the classic gambling cornerback who regularly makes plays or gets burned for a long gain, no in between.
Safeties:
Tanner McCalister- 84 overall
McCalister made the biggest play of the season opener, breaking up Tulsa quarterback Zach Smith's pass with a minute to play, and Cowboy fans will want to see more of that.
Tre Sterling- 97 overall
Sterling was arguably OSU's best defensive player last season. He consistently made the biggest plays in the biggest moments. The definition of explosive, Sterling's athleticism allows him to win matchups against the conference's best receivers. He can also take down running backs behind the line of scrimmage when he is used as an extra blitzer.
Kolby Harvell-Peel- 96 overall
Harvell-Peel is one of the highest-rated defensive players, he's as an aggressive tackler and absolute ball hawk.
Special Teams: 85
Kicker:
Alex Hale- 85 overall
Hale was one of the top kickers in the conference before an injury took him out for the season early, Hale's accuracy and power provide a solid option in the kicking game.
Punter:
Tom Hutton- 81 overall
Hutton showed a lot of improvement in his sophomore season, his leg power has the ability to be one of the top in the conference despite being the oldest punter in the conference.
Returner:
Brennen Presley- 91 overall
Presley showcases elite speed and elusiveness and provides the Cowboys with an explosive returner.
OSU ALL-TIME 99 Club
Thurman Thomas
Look at OSU's Ring of Honor and say Thomas shouldn't be here with a straight face.
Barry Sanders
No explanation necessary.
Justin Blackmon
Blackmon was OSU's greatest receiver in a long list of greats and had one of the best two-year stretches in the history of the sport.
Dez Bryant
A close second to Blackmon, Bryant was considered the best receiver in the nation and a Heisman contender before he was ruled ineligible in his final season as a Cowboy.