Anthony Montalvo couldn't wait to start his workout routine at the makeshift gym in his backyard.
Montalvo, a redshirt freshman on Oklahoma State's wrestling team, doesn't have access to Gallagher-Iba Arena during the COVID-19 pandemic. Instead, he and his roommates are doing everything they can to bring the high-energy atmosphere of their campus weight room to their house.
Various pieces of fitness equipment, including a squat rack and a weight bench, are lined up on the porch. Music, usually rock or rap, pumps through the speakers as the five wrestlers encourage one another to keep lifting. During a time when team practices are prohibited, these grueling workouts provide Montalvo with joy, even when his muscles are aching.
"My whole house was like little kids on Christmas when we got our little weight set in the backyard," Montalvo said.
This is the new normal for student-athletes who are determined to stay in shape as the novel coronavirus continues to spread. To enforce social distancing measures, the Big 12 has banned in-person team activities, including practices and training sessions, through May 31 or until there is supplementary counsel regarding athletics regulations, according to a conference news release.
The City of Stillwater and OSU have also taken steps to protect people from COVID-19. OSU's campus is nearly empty because classes have moved online, and for the rest of the semester, campus buildings aren't open to the public. Under Mayor Will Joyce's emergency proclamation, fitness centers and a range of other nonessential businesses should remain closed through April 30.
It's a challenge for student-athletes to stick to workout schedules and meal plans with limited resources, but they are relying on innovation and work ethic. John Smith, OSU's wrestling coach, said this tough time has an upside for his team members because it teaches them about self-discipline.
"We've just got to be creative, keep a good attitude," Smith said. "And you figure out ways of maintaining your strength, and what it does, it builds confidence. You're doing some things on your own. You're out there trying to create an environment where you maintain your strength, you maintain your level of conditioning."
Initially, the Big 12 prohibited team activities from March 13 until March 29, but as the number of COVID-19 cases in the United States rapidly climbed, the conference extended the ban through May. The new regulations took hold March 30.
With no more on-campus classes or sporting events for the rest of the semester, many student-athletes returned to their hometowns, but Montalvo and others remain in Stillwater. Regardless of whether they are one mile from campus or hundreds of miles away, they can't have in-person meetings with coaches and other staff members, including sports dietitian Jenny Boynton.
Instead of offering advice to student-athletes when they stop at her office or greet her in the training room, Boynton has had to share nutrition tips via text message.
"It's one of those things where you just really hope that you have instilled some good little nuggets of knowledge," Boynton said. "And they're relying on those to get them through until they get back to campus."
Similarly, strength and conditioning coaches are creating workout plans from a distance.
The Big 12 has barred "virtual or online supervised physical workouts and skill instruction," according to the news release about the updated regulations.
Although this means strength coaches can't lead training sessions during live videoconferences, they can and do maintain regular contact with student-athletes. Gary Calcagno, a strength and conditioning coach at OSU, works with wrestlers as well as the football team's wide receivers and quarterbacks. Calcagno has designed and distributed individualized workout plans based on each student-athlete's accessible space, usable equipment and fitness needs.
"I'm constantly checking in with them just to see how things are going," Calcagno said. "And if they're bored with the workout, I'll make them a new one."
Keeping track of a varied collection of exercise programs is no small task, but OSU's strength and conditioning coaches have a system for staying organized. Calcagno's typical day involves communication with supervisor Rob Glass, the assistant athletic director for athlete performance, and Glass has arranged the football players' information in a spreadsheet.
Jarrick Bernard, a sophomore defensive back, said the football coaches use an application called Teamworks to relay mass messages to student-athletes. This gives Glass an effective way to share fitness regimens, Bernard said.
"It's basically the same thing we were doing while we were there, like weightlifting and running and conditioning and stretching," Bernard said. "So, much hasn't changed. It's just we're not there to do it with him."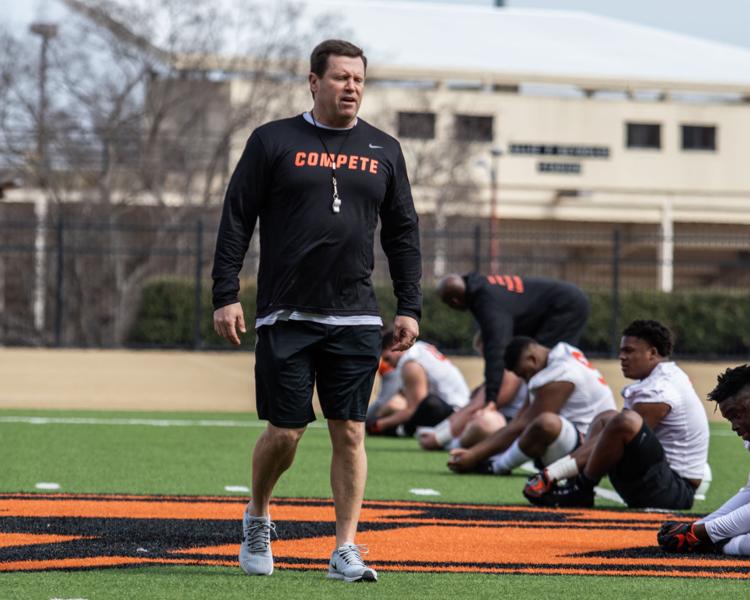 Although some workout methods have stayed the same, the friendly competitiveness and collaboration that inspire student-athletes in team settings are missing when they train alone. Hannah Webb, a junior defender on the OSU soccer team, said it's more challenging to work out when she can't feed off her teammates' energy.
"Definitely the hardest part is, when you're with your team and we're in Stillwater and we're practicing, there's a certain level of intensity that's really hard to replicate on your own," Webb said.
Without in-person instruction from coaches and pep talks from peers, Webb has turned to someone else to help her push through practice sessions.
When she goes to a youth soccer field in her hometown of Mansfield, Texas, her father joins her as she brushes up on passing and crossing skills. The field is typically vacant when they arrive, so they can practice social distancing and enjoy some time in nature to take a break from staying at home.
"Usually, the weather's been so nice in the mornings, so it's been a really nice getaway from the indoors," Webb said.
Montalvo, who is from Clovis, California, doesn't have to travel anywhere to exercise because of the workout space he has in Stillwater. He, Christian Bahl, Jalin Harper, Bennett Sherrer and Gavin Stika followed Calcagno's instructions, scrambling to find any fitness equipment they either had with them or could get from their families. After about two weeks, they had assembled their gym outside their house.
Although many wrestlers focus on shedding pounds to make weight, Montalvo, a second-team All-American at 184 pounds, has a different goal.
"I've always gone out there and scrapped and held my own, so I think just continuing to get stronger and fill my body out, I still have a lot more room to grow," Montalvo said. "I sure can get a lot stronger."
Calcagno said it's generally ideal for wrestlers such as Montalvo to bulk up to 20-25 pounds above their target weights during the offseason. This way, they can build muscle foundations and then cut weight in a healthy manner starting in the summer.
When Smith has team meetings twice a week on Zoom, the popular videoconferencing service that is keeping groups connected during the COVID-19 pandemic, he can get some clues about the wrestlers' fitness levels.
If they are willing to show their faces, then it's probably a good sign.
"I noticed in Zoom meetings that the individuals that have been really taking care of their weight, they always come on, and you see them," Smith said. "And then you don't see a few of them that don't come on (with video). Then you just hear their voice, so that kind of tells us right away that things aren't real good with a few of those guys."
Smith said he isn't excessively tough on them about it. They don't have to worry about weigh-ins for a while, and he recognizes how it's tempting for them to eat some extra snacks while they are bored and cooped up at home.
This doesn't mean the wrestlers can get away with skipping workouts. Not everyone has the setup Montalvo and his roommates have created, but student-athletes with little or no access to gym equipment can shape up in other ways. Body-weight exercises such as pushups and situps require no workout equipment, and heavy items in someone's house or yard can replace barbells and dumbbells.
"Maybe picking up big pieces of logs, and you're lifting logs over your head," Smith said. "You're really having to kind of go caveman and find ways of maintaining your strength because unless you have access to weights at your home or a friend's home, you're not getting into a place where you're probably likely to get into a weight room and be able to utilize a weight room."
Sydney Pennington, a junior infielder on OSU's softball team, has hunted for objects that double as weights. After a Google search, she realized cans of food would work as small dumbbells. Her roommate Gabby Sprang, a junior pitcher, loaded a Tide detergent container with sand for workouts that involve something a little heavier.
Although Pennington doesn't have the batting cages or field needed for softball practices, she is sticking to her typical schedule as much as she can.
"I'm trying to just not sit down and watch Netflix all day," Pennington said. "I'm trying to keep the same routine a little bit as I did when I was going to class and going to practice. Obviously, it's kind of hard, but I'm just trying to stay active and find things to do."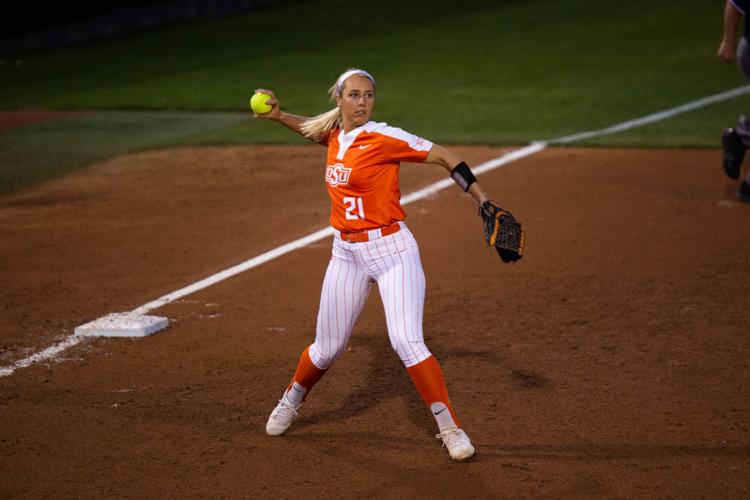 When Pennington isn't incorporating canned food into her workouts, she is often focused on cooking. From muffins to soup, her nutritious dishes are helping her maintain a healthy lifestyle.
This is something Boynton has encouraged student-athletes to do. Before campus closed, she had told the softball players about simple recipes that would provide them with the protein they need. Some student-athletes have taken protein powder and shakes home with them, and to-go meals are offered near the training table once daily for those who continue to live on campus.
For student-athletes such as Kalib and Keylan Boone, twins on the Cowboy basketball team, this extra food is especially important because they are working to gain weight before their sophomore season. Boynton said a healthy sleep schedule during this time of social distancing can positively influence eating patterns.
"It's very, very easy to sleep in, just have one or two meals a day," Boynton said. "And for somebody who still needs to gain another 15 pounds, you need to have more eating opportunities through the day rather than just two meals. So it's really just trying to keep everybody on some kind of productive schedule."
Boynton said the student-athletes are generally maintaining good eating habits despite the strange situation they must navigate. Along with making sure returning student-athletes are well-conditioned for their upcoming seasons, Boynton will soon need to introduce her dietary advice to newcomers.
Her husband, Cowboy basketball coach Mike Boynton, has assembled a recruiting class that includes five-star guard Cade Cunningham, but no one is certain when team activities with the 2020 signees will be able to start.
To keep the new team members from missing valuable preparation time, Jenny Boynton will chat with them on the phone about nutrition recommendations, and the staff will share information about team workouts, Mike Boynton said.
"We'll try to make it as normal as possible given the very unusual circumstance that we're in," Mike Boynton said.
During a time when student-athletes can't play the sports they love, they are focused on not only physical health but also mental health. Webb said the soccer team has virtually met with a sport psychologist, and activities such as team Zoom calls remind student-athletes they are never alone. Sometimes, Webb looks at photographs from Cowgirl soccer matches, cherishing the happy moments she would love to experience again.
"Definitely, this time, it makes you sad, and it makes you miss it," Webb said. "But it also motivates you to be the best that you can be when things start getting back to normal."
For Montalvo, keeping himself away from Gallagher-Iba Arena is the most difficult part of his new lifestyle. He yearns to walk into the weight room, to wrestle on a mat again, but all he can do is drive past the familiar brick building. When it's finally time for a team practice, he will be ready.
Until then, an assortment of fitness equipment waits on his back porch, inviting him and his roommates to keep pursuing their goals with no complaints.
"I think me and my roommates are making sure to eliminate every excuse that we could have to (not) keep working out and keep getting ready," Montalvo said. "The mindset for me is just keep moving, keep doing my schoolwork … and just keep in mind my goals and aspirations and why I'm not home and why I'm in Stillwater."