Freshman Cowboy tennis player Matisse Bobichon came to play for Oklahoma State for many reasons, one important reason was because of his friend since his pre-teen years, Etienne Donnet.
Bobichon and Donnet both come from Lyon, France. Bobichon came in along with Henrik Korsgaard as the new Cowboy players in 2021.
The two French tennis players go way back and have a marvelous friendship.
"E.T.'s one of my friends since we were all 13 or 12, so I was really excited to join Oklahoma State because he was here and it was part of my decision to go there because he went there," Bobichon said. "I'm really excited to be part of the team with one of my good friends, that's so nice to be in the USA with a good friend. We love tennis."
Donnet and Bobichon trained in the same club before they came to OSU. They trained for about two to three years.
The coaches asked him for his advice on who to recruit for the 2020-21 season.
He knew exactly who to look for.
He thought of his friend and now current teammate, Bobichon.
"Even when he was 14, his forehand was very, very good," Donnet said. "He grew up and he's more colorful, he's fun."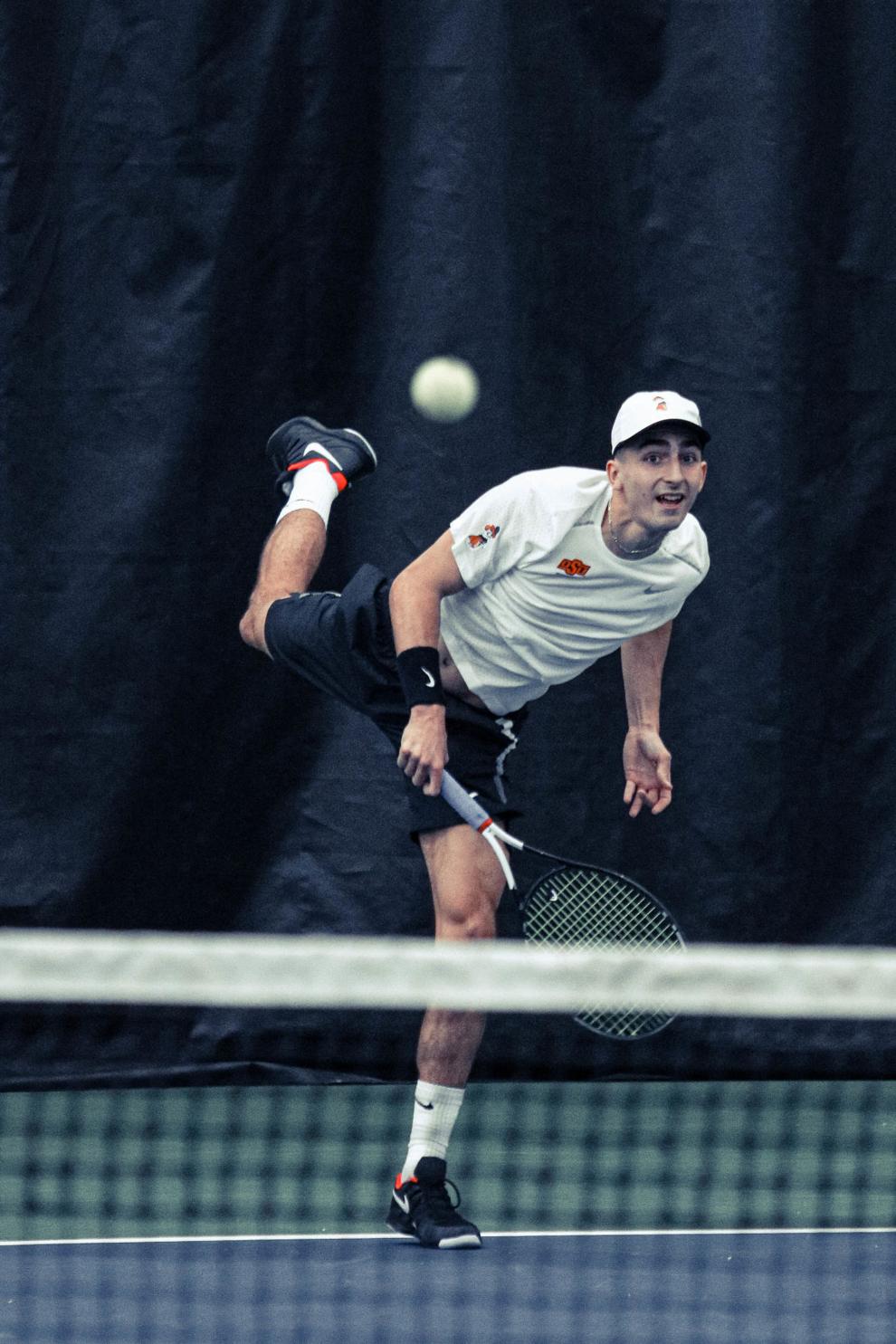 Donnet knowing the freshman more than anyone else on the team, he said he can expand his game to higher potential.
"He has, of course, things to work on like everybody, but I think he's very good and he has every gear in his game to be a very good coach, player, even professional player," Donnet said.
Interim coach Scoville Jenkins knew their connection and explained their game and why they're special to the game.
"You know, (Etienne) last year coming in, he is a great competitor and loves tennis, you have to get them off the practice court," Jenkins said. "Matisse is the same way, but Matisse is a little more showman and it's very very exciting to watch him play and watch him be excited because he can play some great tennis."
The passion of any sport is what athletes are all about to the game.
Jenkins said that both players bring that to the matches.
"That's one thing about E.T. and Matisse is they love the game of tennis and so, when they love it, they're so excited to be out there, they're getting fired up, they're getting pissed off," Jenkins said. "They make everybody else better."
With Bobichon being one of the few youngsters on this roster full of veterans, he said that he's not only learned from his friend from Lyon, but also from his older teammates.
"The rules are different, the atmosphere is unbelievable, I learned to never give up," Bobichon said. "I'm not playing anymore for myself only, I'm playing for myself and the team. They're trying to make sure that I'm going to play for them. They all are big brothers to me."