Like in any good friendship, someone almost broke their nose.
OSU women's soccer senior Gabriella Coleman instantly recalled the time in high school where she almost broke her, then her teammate's, Sarah Fuller, nose.
The D'Feeters Soccer Club was doing a regular shooting drill to close out the final 15 minutes of practice. Coleman, a forward, hammered a shot toward Fuller, who was goaltending. The shot was sent with so much force that when Fuller saved the shot with her hands, she effectively punched herself in the nose.
"I was like, 'Please lord don't tell me that her nose is broken,'" Coleman said.
Fuller paused practice for a moment.
"Hang on, hang on, hang on, my nose is doing some kind of thing. No, I think it is just bruised, but you hit it really hard," Fuller said.
The team called an end to practice while Fuller proceeded to forever etch the moment in D'Feeters lore by pointing her phone camera at Coleman saying: "She almost broke my nose."
Coleman and her club soccer teammate, Fuller, have remained close friends to this day, even after Fuller jokingly accused Coleman of attempting to break her nose.
They met in Coleman's sophomore year of high school, and their athletic journeys have been tied together ever since. In November, Fuller's journey became front page news after she kicked off the second half for the Vanderbilt football team, becoming the first female to participate in a Power FIvecollege football game.
Fuller had appearances on national television, gained thousands of followers on social media and heard her name on dozens of talk shows. Even after all that, Coleman is still friends with the same Fuller who she grew up playing club soccer in Farmers Branch, Texas.
"All the fun times I had with Sarah were great," Coleman said. "There were some funny memories."
The in-game highlight Coleman remembers most fondly was when she and Fuller teamed up to score a goal, a rare accomplishment for a forward and a goalie to share.
"I can remember, Sarah actually assisted me on a goal," Coleman said. "Sarah had a goal kick, she kicked it all the way up to midfield. I got it, and then I just shot it from (the middle of the 6-yard box). It was unreal because she was like, 'That's my assist.'"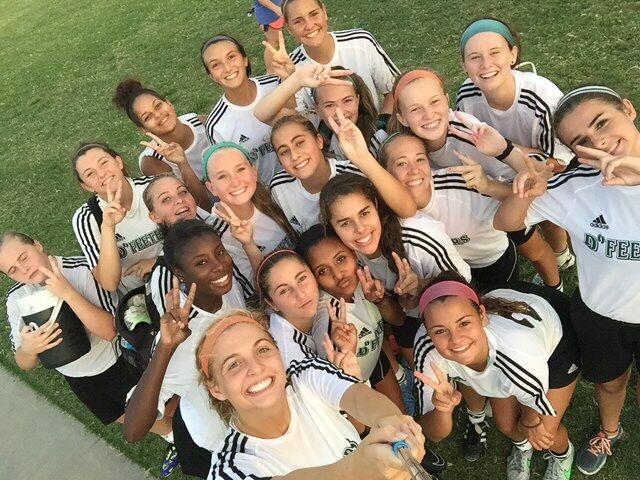 It was the first time Coleman had ever been assisted on a score by a goalkeeper, so after she scored, she was a little shocked. Coleman said she was looking around like "what just happened?"
And then she saw Fuller running down the field in celebration.
D'Feeters coach Hugh Bradford said every day he got to work with the team during those years was a highlight.
"While (everyone on the D'Feeters) was able to laugh and joke with each other, they were also each other's biggest competition in terms of pushing each other to achieve the ultimate goal of playing in college," Bradford said.
Even at a young age, both Coleman and Fuller had a quality that separated them from other players on their club team.
"(Gabriella) was very competitive, and it didn't matter if it was in practice or in a game," Bradford said.
"Sarah was the same thing; she was very very competitive. I remember she made a save in one of our games where she went in the crowd and actually knocked out one of her own teammates getting to a ball. She was very competitive in the environment and wanted to be the very best and was willing to do whatever it took."
In the play Bradford described, Fuller was defending against a ball that was crossed in the box, so she entered a group of players to punch the ball away. In the scrum, Fuller's knee struck the head of one of her teammates, knocking her out and leaving her with a concussion.
"Her teammate paid a price, but that's what you need to expect from your goalkeepers," Bradford said. "Not everyone is willing to put themself in harm's way to keep a goal from being scored or to help their team win."
The same competitive fire that caused Coleman to play with unending determination in practice and caused Fuller to accidently concuss her own teammate is the same fire that helped them both get college scholarships. Coleman to Mississippi State and Fuller to Vanderbilt.
While both playing in the SEC, in 2018 the former teammates called each other an opponent.
"It felt a little weird and different because I was so used to having her on the same team as me," Coleman said. "I was like, 'Dang I have to go against her this time.'"
It was a rough game for Coleman and Mississippi State. She was on the field when the Bulldogs surrendered the deciding goal in the last stages of the game that cost her team a win.
They both cherished playing against each other in a collegiate match, but when Coleman transferred to Oklahoma State, the in-season matches were no longer likely. Fortunately for their friendship, Coleman and Fuller continued to remain tight because of what they did in the offseason.
Neither player had branched too far away from their familiar Texas roots, they lived only 45 minutes from each other and trained at the same soccer facility in Plano, Texas.
Coleman said she sees Fuller there often over winter break when both players are back from school, and in the summer, they train together nearly every day.
It is at these training sessions in Plano where both players unwind and reflect over what a wild ride the last two months have been for Fuller. In fact, the first full conversation they had since Fuller's accomplishments was in this hometown retreat.
"(Our first conversation) was good," Coleman said. "Sarah was excited and said, 'Tt's a lot.'"
"I bet, you're a celebrity now," Coleman responded.
Although Fuller might be seen as a celebrity to those on the outside, its different for Coleman and the people who have known her the longest.
"But to all of us, we still see her as Sarah Fuller, old teammate, friend, best keeper ever, hard working person, that's how we see her," Coleman said. We all don't treat her differently; she is still the same Sarah."
Coleman addressed the people who look at Fuller's meteoric rise to fame as a publicity stunt she orchestrated to make herself famous and to change the way she is talked about.
"I know some people who don't know Sarah could possibly think that she could be cocky and everything about it, (but) she's not," Coleman said. "If you actually get to know her, she's a pretty chill person."
Coleman said that across all of women's college soccer, there are probably some women who are jealous of Fuller and the opportunity she got. There is not a hint of that sentiment on the OSU Cowgirl soccer team or from Coleman herself.
"I (told Sarah), 'You're the person who got to make a difference, it could have been anybody else, but it got to be you,' and I'm so proud of her for that," Coleman said.
Fuller never expected to get an opportunity to kick a football in a Power Five game, but when she got the opportunity, she couldn't turn it down.
"I knew she wouldn't pass that up if it was something, she was capable of doing and she proved that she was capable of doing it," Bradford said.
Since taking that opportunity, Fuller's life is forever changed, but one thing that has stayed the same is her friendship with her old club soccer teammate.
On that November afternoon in Missouri, many people watched a girl kick off the second half of a football game. Coleman watched someone whose nose she had almost broken, who had assisted her as a goalkeeper and who trained with her every day of the summer kick off the second half of a football game.
The moment Coleman saw Fuller trotting out from the sideline to begin the second half meant more to her than it possibly could have for almost anyone else watching the game.
"I was like, 'Gosh, my friend is about to kick off in a Power Five game. I have a friend who's making history.'"