Mike Gundy is the highest-paid coach in the Big 12.
On Friday, the Oklahoma State University Board of Regents approved an increase in Gundy's contract, resulting in his annual salary ballooning to $7.5 million. Gundy will be awarded a $1 million raise in annual compensation and a $1 million bonus for remaining with the program.
Gundy's $125,000 raise in salary will also be retained.
"There is an unprecedented change occurring in college athletics," said athletic director Chad Weiberg in a statement. "Investing in our successful football program at this time is an investment in the future of OSU athletics and the continued growth of Oklahoma State University."
Gundy initially was schedule to make $5 million in 2022.
Since 2010, Gundy elevated OSU to the 10th winningest program in the country. A two-time Big 12 coach of the year, he has guided OSU to 16 consecutive bowl games and won the 2011 Paul "Bear" Bryant Award, a national coach of the year award.
"This next-level commitment from our president, Dr. Kayse Shrum, athletic director Chad Weiberg and our Board of Regents is a monumental step in solidifying Cowboy Football for the future as a national brand," Gundy said in a statement.
In late October, Gundy signed a perpetual five-year contract. The language of the contract allowed Gundy to automatically receive a one-year extension after each season to keep him permanently on a five-year deal.
Gundy's $7.5 million is the largest known contract among Big 12 coaches. Baylor and TCU are private universities, and its coach contracts aren't public knowledge.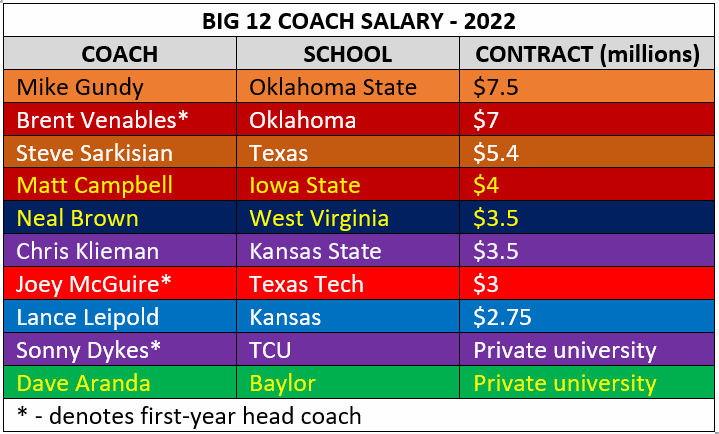 Gundy also edged out new Oklahoma coach Brent Venables by $500,000 with the raise. 
"We've already established OSU Football as a contender on the national stage," Gundy said. "My excitement with our administration and their vision has me looking forward to long-term success on and off the field."