It was Kale Davis' first year at Westmoore High School, and the junior pitcher had been dominating every opponent he faced in Oklahoma.
But this was going to be the real test.
Westmoore headed to Mississippi to face DeSoto Central High School, a talented squad with — at the time —  the No. 1 freshman in the country and six Division I-bound players. Former Westmoore and current Mustang coach Patrick Kenedy said he remembers how impressed everyone was with DeSoto's talent, but his mind swung in a different direction.
"I was thinking in my head, 'Well, Kale's pitching, so we'll see,'" Kenedy said.
Then Davis took the mound.
"We play this team, and I think we get down 8-0 or 6-0 or something in the first or second inning, and I think, 'Man, I don't know how good Kale is,'" Kenedy said.
Davis, the now highly touted freshman OSU pitcher, was frustrated. He had glassed every opponent prior to this game, so going down early came as a shock to him. Kenedy said it was the first time Davis had to deal with adversity that season.
And he did — quickly.
"We turn around and come back and beat them like 9-8 or something," Kenedy said. "I guess that would be the defining moment that, 'OK this kid is really good.'"
From there, Davis only got better. 
After a successful junior year, he took it a notch higher as a senior with a 9-1 record, 0.36 ERA and 94 strikeouts in 58 innings. He topped it off by being named the Gatorade State Baseball Player of the Year in Oklahoma.
Davis was the No. 2-ranked prospect in the state, according to Perfect game. After mulling over a jump to the MLB, Davis settled on going to OSU where he hopes to further improve his skillset.
The freshman pitcher already has gobs of talent, but there's more to the picture.
"I'm a man of God, but I'm a person who's willing to do anything for the people around me," Davis said. "I think I'm a dog on the field, hard worker, man of my word and somebody who's going to be remembered for not just my game, but my ability to go out and help others in a positive way, not a negative way."
Fueling the fire
Davis has been playing baseball since he was 3 years old, but even he didn't envision that as a lifestyle.
"If you had walked up to the people around me my freshman year and said, 'Hey, Kale is going DI and is going to be one of the top pitchers in the country,' they would look at you and say, 'What are you talking about?'" Davis said.
 "That's just how crazy it was."
Davis has always loved baseball, but for a majority of his life, it was only a hobby. Now professional baseball appears to be his calling.
It wasn't just something that happened overnight — Davis credits his work ethic.
"Every day you get up, you got to work at mastering your craft," Davis said. "That's what you put in your body, that's what you do, etc. If you want to be a good baseball player, a good athlete in general, your work ethic needs to be better than anyone else's."
Kenedy said Davis puts in a lot of extra work that people didn't see and that Davis went beyond the norm to be the best he can be.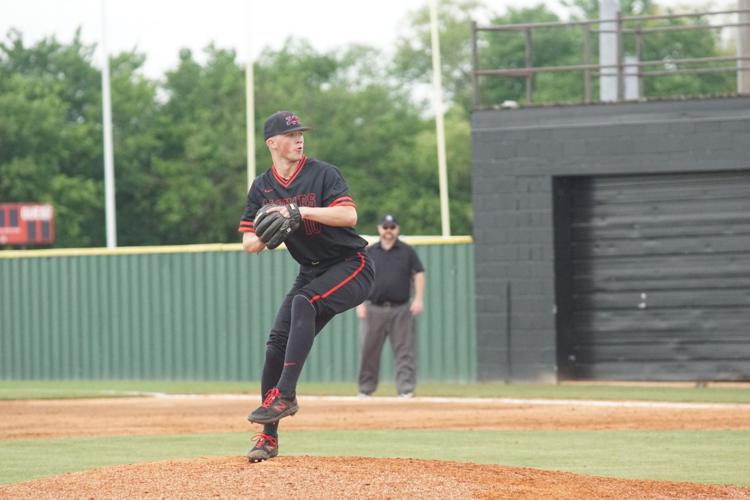 "Kale is almost a perfectionist, and sometimes that's hard being an athlete because things don't always go the way you want them to," Kenedy said. "He's always striving to get better, even though he is good."
Kenedy talked about how it's difficult to have that mentality in baseball, given the nature of the sport — pitchers don't strike everyone out, batters don't hit every ball.  Getting a hit on one out of every three at-bats is considered a success.
Still, Kenedy said that Davis' perfectionist mentality allows him to handle adversity and fueled that desire to excel.
"The thing that separates me from the others, is the moment I step in the locker room or I step on the field, nobody is taking my spot or changing who I am or telling me I'm someone I'm not," Davis said. "Because this is me as a person, you're not going to change the person I am. I'm Kale Davis and you're not going to change my name."
Davis has worked tirelessly to get to where he's gotten, but he's also got a serious mentality when he approaches baseball.
"It's kind of bad to say, but I let go of the man I am off the field right there," Davis said. "I turn around and I say, 'Alright, look you turn into a dog now, this is where you become a different person.' It's like you unleash everything you work for, then it's like you're trying to kill the batter. It's like you're trying to get him out, no friends, no passengers."
The pathway wasn't always so clear, but Davis said words of motivation he got along the way from various coaches who saw his potential helped spark his confidence.
The drive to succeed is evident every time Davis opens his mouth. 
"He's been brought up the right way, to work hard and be humble," Kenedy said. "It's hard to do that when you become really good. The staying humble aspect of it and being true to who you are in the way you're raised. And his parents have done a really good job of raising him and teaching him between right and wrong."
The man off the field
It's been quite a journey for the talented pitcher, but his life goes beyond athletics. Even in the sport itself, Davis sees himself as much more than a baseball player.
"My dad's always told me, 'You always represent the name on your back,'" Davis said. "Through middle school and high school, I think I've always been that even-keeled person, never been too high, never too low. But I mean that's the biggest thing to me is that for my family. It's making a name for them, but it's also representing something bigger than myself."
Baseball is clearly a priority for Davis, but he said he understands there's a life beyond the sport.
Davis values academics — evidenced by his 3.78 GPA in high school. 
"At the end of the day, baseball can be taken away at the snap of a finger," Davis said. "I could get my arm shot off or my arm could stop working and everything like that can just fall. The fame, anything like that, it's in the present now and gone tomorrow. When you wrap yourself up in that, it can really hurt you; it can hurt your confidence too but it can hurt you mentally because you're relying on the success or the fame."
At OSU, Davis is a sociology major with a minor in journalism. He said sociology helps him understand people better, while the journalism route was to pursue another passion — writing a book.
That sociology degree runs even deeper. Davis said it helps him on a baseball field. It helps him gain perspective to separate off the field issues with how he performs in a game.
Davis has propelled himself on and off the field to become this person, and he's had immense support from his family, particularly from his father, Steve, who mentored him and even coached him.
"(My dad) always told me to be humble and remember the people that got you there," Davis said. "Just always remember how you did it. Never be bigger than yourself, or be bigger than God or bigger than how you were created and just as you were raised."
Family is extremely important to Davis and plays a huge role in his life, but there's only one thing bigger than that — God.
Davis holds two things above all else — in one particular order.
God first, family second.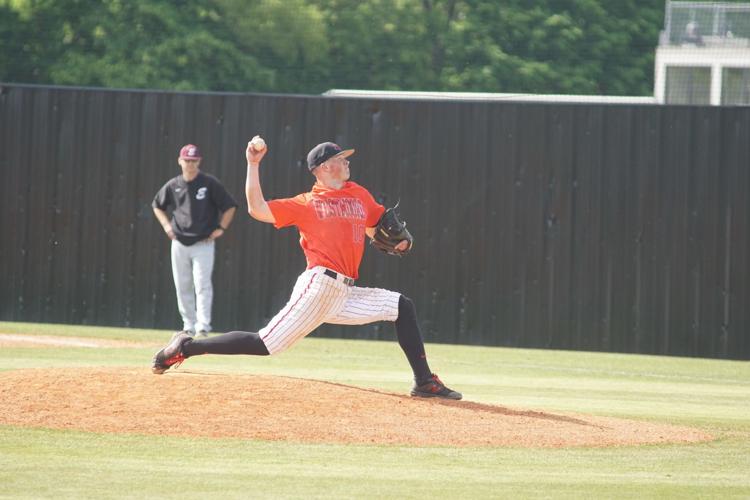 "If I see joy in my future and I see my game going through God first, that alone will take me to other levels beyond baseball," Davis said.
Davis has his beliefs and values in line, and he said it's important to him to be a good friend and person. He always makes a point to be there for people whether they need a ride or just plain old advice.
"Kale has always been a big brother to me since we met junior year," said Kennethen Khamnguon, a high school friend. "Outside of baseball, he is just like any other person that likes to hang out with friends and family."
Aside from friends, Davis had a great relationship with his high school coach that went beyond just baseball. Kenedy said Davis' personality is what allowed for such a strong relationship between the two.
When they talked, it was about more than sports, it was about life.
Even in class, Davis showed his true colors.
"He's very open and friendly to everybody, regardless of race or ethnicity or anything like that," Kenedy said. "He treated everyone equally, and it was pretty neat for a guy of that caliber, in terms of how good he was at baseball. You wouldn't have known that (he was a really good player) by him just sitting in the classroom, treating everyone the same. He's just a really nice, neat kid."
Tristen Robb, another friend of Davis, holds him in high esteem.
"Kale is a close friend to me," Robb said. "He was very humble and kind and a good friend to have."
But even with how highly regarded he was off the field in high school, Davis' talent was too large to ignore.
Colin Whittern, who met Davis their junior year of high school, said Davis was looked at as a leader and competitor on the field. Off the field, it was a little different.
"Kale Davis is one of my brothers," Whittern said. "For the time we've known one another it's felt like years. We fight like brothers and make great memories as brothers. He's helped me strengthen my faith, and has been with me through the toughest times in my life. Not everyone has someone like that in their life."
The next chapter
Davis stands content with his decision to go to college and attend OSU. He said he's learned a lot and continues to hone his skills on the baseball field.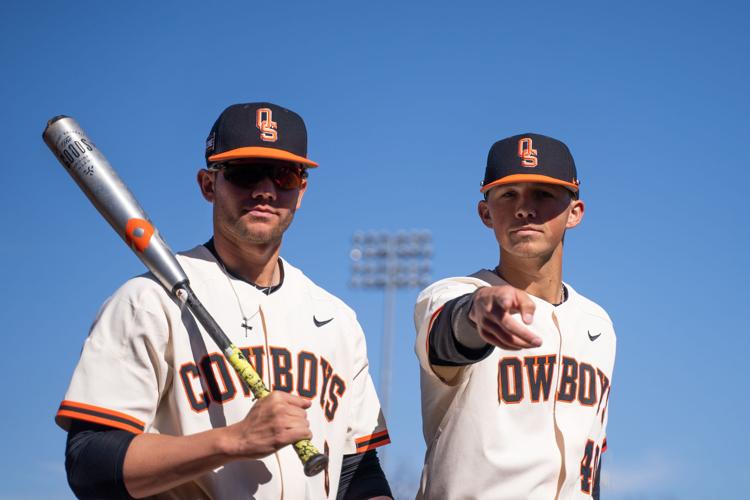 When Davis was choosing what college he would go to, OSU coach Josh Holliday's presence was a huge factor in Davis choosing OSU. And Holliday continues to have an impact on Davis, beyond just coaching.
"He's a great guy, and he's a father figure in everybody's life," Davis said. "He's pushing you every day to do things that you never have done in your life, and that means growing as a person, on and off the field, but it's also making you think while you do it too. 
"That's why baseball is the hardest sport to me. Because you have to learn how to fail more than you succeed. You don't see that a lot."
With COVID-19 cutting the season to only 18 games, there wasn't much time to see what Davis was capable of in 2020. Although, his work ethic and drive could push him even further.
College is a time to learn, mature and flourish. 
For Davis, it's been the right decision. It's given him a sense of security as he continues to grow as a player and a person.
At the end of it all, through whatever has happened in the past, Davis is grateful for the journey he's been through.
"It's built me as a person because I realize what it's like when you have nothing," Davis said. "I can be fine with that. I feel like that's what helps me as a person outside of baseball. It's the fact that if this game goes away, it'll sting for a little bit. I mean, it's the game I love, and I'm pretty good at it. But one day it's going to end for me. So knowing that I have what I have now, I can sleep at night."