Before Caleb Etienne played a snap at OSU, he searched for motivation.
Weeks after arriving in Stillwater, his motivation was born. Literally.
After home games, Etienne trots off the field, removes his helmet and gazes toward the stands, searching for his now eight-month-old son — his reason to keep playing.
Amid a congregation of fans at the spring finale a week ago, Etienne held his son, Caleb Jr. in his arms. Etienne hugged his girlfriend, Sataizha Buckner White.
"It's motivation so that's somebody who I'm gonna go work hard for every day," Etienne said. "That's my why."
To Etienne, his role, his home and his responsibilities are new. Much like off the field, he's improving each day. Since moving to Stillwater in June 2021, Etienne slowly figured out a new style of play.
He spent his freshmen and sophomore years at Fort Scott Community College and Butler Community College in Kansas. Butler did not play a single game during his sophomore year because of COVID-19.
Unlike his Cowboy teammates, he didn't have any chances for development.
"I had a long break, so I just had to grind and just get in my playbook," Etienne said. "It took a toll on me. I just had to trust the process and leave it up to the man above."
Caleb Jr's birth marked an entire change in Etienne's life.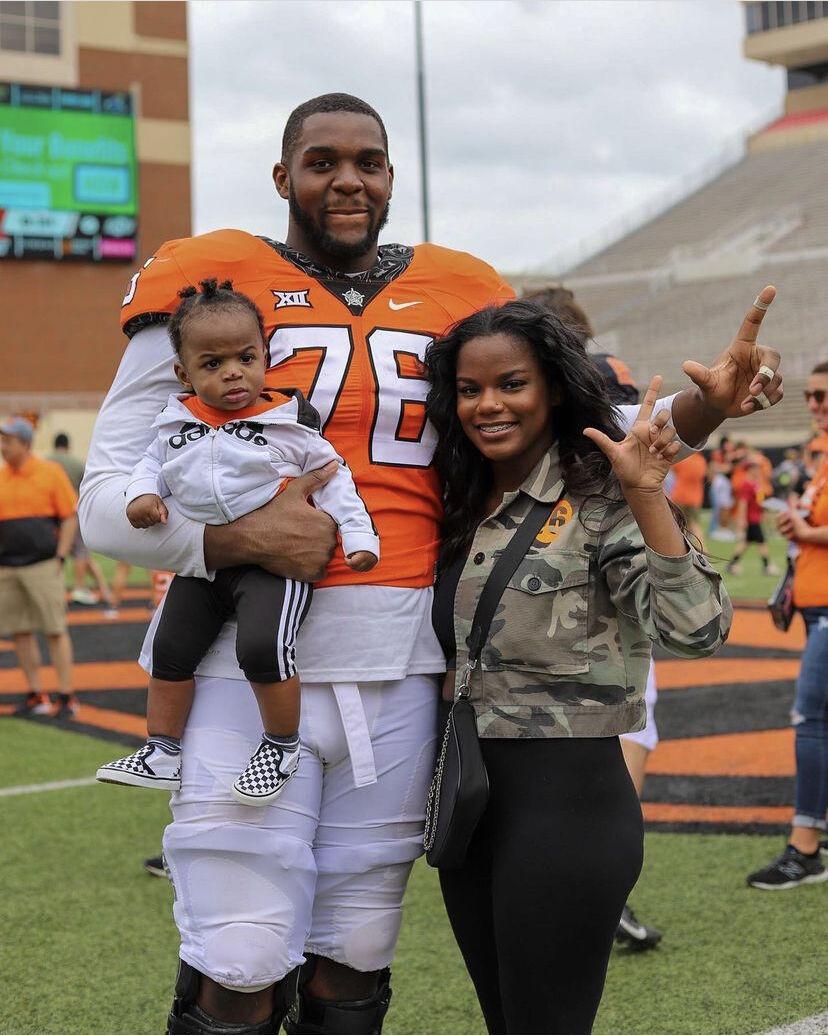 After spending time in junior college, his goals were soon to be realized.
"It makes me happy," Buckner White said. "I know he wanted this for a long time obviously coming from JUCO and being here living his dream. It's great to see him finally get acknowledged and be able to just play the sport that he loves."
In his first year at OSU, Etienne appeared in three games. He needed to make extra conditioning efforts to adjust to Big 12 football. He cut 40 pounds since the summer and immersed himself into the playbook.
Etienne and Buckner White work together, caring for Caleb Jr. Buckner White is an online student at OSU-Tulsa, allowing time with her son.
"The baby is with me when he's at practice but once he's out of practice, he helps out and we're just together," Buckner White said. "We manage it well."
With the conclusion of spring football, coach Mike Gundy sees plenty of improvement from Etienne.
"He doesn't overact, doesn't panic and he can become more aggressive, which we all know all he's got to do is be just somewhat aggressive," Gundy said. "He's going to be in good shape because of how big he is."