The drought continues.
Sixteen years have passed since OSU won its last NCAA wrestling championship. The Cowboys remain the winningest team in college wrestling, but not in recent memory.
A once promising season crumbled with injuries. AJ Ferrari, the team's emotional leader and defending national champion at 197 pounds, ended his season in a car crash. Ferrari's crash paired with a left knee injury for Travis Wittlake, a returning All-American, resulted in a burnt out squad.
As the schedule's difficulty increased, the workload displayed flaws.
A few weeks ago, Missouri snapped OSU's streak of nine consecutive Big 12 titles. On Sunday, OSU placed 14 at the NCAA Tournament — its second worst finish in program history.
After the team returned from the NCAA Tournament in Detroit, John Smith's 32nd season as head coach automatically started.
"I think I've spent 12-hour days here just cleaning things up," he said. "Meetings after meetings and just being self-aware that it's not where we want to be. For that reason, the next four months for me is going to be real important that we clean a lot of things up and we get people's attitudes back in the right place."
Entering the second half of the season, OSU consistently ranked No. 3, creeping behind Iowa and Penn State. An undefeated first semester brought expectations and optimism for a 35th national title.
That all changed on Jan. 24.
Ferrari and cross-country runner Isai Rodriguez had been involved in a collision on Highway 33 near Perkins. Neither sustained serious injuries but Smith decided to rest Ferrari for the majority of the season.
The team, lacking Ferrari, carried on. Losses piled up. Four in a five dual stretch. Daton Fix, OSU's 133-pounder and 174-pounder Dustin Plott nabbed All-American honors.
"It's no fun getting to celebrate by yourself," Fix said after his semifinal win a week ago. "Having all those people with you and encouraging you and pushing you, it just makes it even sweeter in the end whenever you get to go back and celebrate with them."
Someone had to step up. But no reinforcement could make up for Ferrari's production. Anthony Montalvo, Ferrari's backup, received right ACL surgery in November. Gavin Stika, a redshirt junior, bumped up a weight class and wrestled for Ferrari.
"He's not a 97-pounder," Smith said about Stika. "He's an 84-pounder. In today's age of how competitive it is, you can't bump someone up and put them in a position to have success. I have a lot of respect for Gavin."
Naturally, injuries were the main cause for OSU's drop in production. A sharp decline from the Cowboys' third place finish at the 2021 NCAA Tournament. Recruiting isn't a problem. According to FloWrestling, OSU's recruiting class of 2020, which included Ferrari, was the nation's best.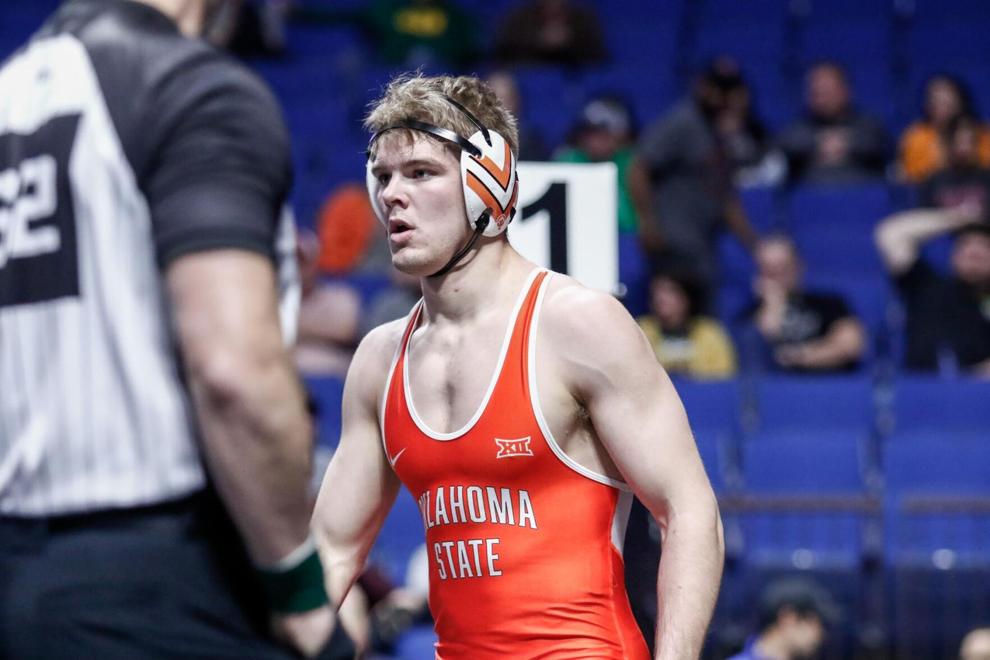 Health and execution lacked. A few fans, like Richard Clayton, understand the circumstances and accept the result of a poor season.
"I'm fine with this year's results," Clayton said. "I want to see us back in the championship hunt and think we're just a few wrestlers from getting there. People are failing to realize we left 20-plus team points on the board at 197. You throw that on, we were in the top six or seven."
But Smith keeps motivating.
"I think we all feel the pain of not performing like we hoped to perform," he said. "When you feel that pain, sometimes your chin drops. We can't let chins drop right now. We need to keep heads high, and we need to be the program that we're capable of being."
The frustration seeped into the Cowboy fanbase.
"Anxious is probably the right word for me," Matthew Keith of Stillwater said. "I've been optimistic about the future with all these recruits coming in, but I feel that Penn State will bring even more transfers to load its roster."
Penn State and its Big 10 counterparts have recently dominated college wrestling. OSU was the last non-Big 10 school to win it. Sixteen years ago.
"For that reason, it takes everybody now," Smith said. "There ain't no jacking around. It takes everything. It takes everybody. I've made some mistakes and I'll personally be responsible for it that allowed some things that probably shouldn't happen, happen. My fault. It's not anyone else's fault. It's my fault."
Smith has achieved every possible accolade in wrestling. In turn, he's created a meticulous recipe for success. But on Wednesday, no one dissed Smith more than himself.
"I'm not a GOAT right now," he said. "I feel like a mouse."