Sinclaire Johnson didn't have to choose between leaving college early to become a professional runner or staying to earn a bachelor's degree in economics.
Online courses have allowed Johnson, an Oklahoma State senior, to tailor her class schedule to her on-the-go lifestyle as a Nike track athlete. She is enrolled in 12 credit hours so she can graduate in May, but she has eliminated stress about missing class for track meets and bouncing from lectures to workouts.
"With this semester being where I was going to be traveling a lot, I just knew it was going to be easier to be all online," Johnson said. "So this is the first time I've ever done all online."
Although OSU student-athletes rarely take the all-online approach that has helped Johnson during her first spring as a pro, this doesn't mean they are limited to classrooms and lecture halls. Because campus is closed to prevent spread of the novel coronavirus, the OSU student body shifted to the virtual classroom after spring break, but before that, many student-athletes were accustomed to taking multiple online courses to make their busy schedules work.
Internet-based learning gives them a flexible option during semesters packed with rigorous practice sessions and frequent trips. Marilyn Middlebrook, OSU's associate athletic director for academic affairs and director of academic services for student-athletes, said most student-athletes register for in-person classes and pepper online courses into their schedules when they need them.
For golfers and others who constantly travel, this need becomes apparent.
"Sometimes, they're gone the equivalent of maybe 15, 18 times a semester," Middlebrook said. "Ideally, they should be in online classes if possible just simply to accommodate their schedules."
When Middlebrook started her job about 23 years ago, she couldn't advise student-athletes to enroll in virtual courses. The web was in its youth in the 1990s, and OSU offered no online classes.
Alan Bratton, the Cowboys' golf coach, finished his career as an OSU golfer in 1995 and said he remembers taking missed exams before and after traveling. Bratton said professors typically allowed him to complete tests when he returned, but Middlebrook said some students faced challenges before the advent of online learning.
"We had times when students would fail a class because of absences, period, so we had to be very cognizant of the teachers and their policies before the students could even enroll," Middlebrook said. "There were majors that couldn't be taken, so it was difficult."
Although it's sometimes like a puzzle when student-athletes and their advisers design class schedules that leave space for practices and travel days, the virtual classroom has broadened their range of possibilities.
About a year ago, online courses made it possible for then-Cowboy Viktor Hovland to balance working on school assignments and golfing as an amateur in PGA Tour events, including the Masters Tournament.
Similarly, internet-based learning helps Johnson split time between school and athletics as she trains for competitions against seasoned professionals. Johnson, who lives in Stillwater, can devote her afternoons to conditioning and focus on schoolwork whenever she has free time. As long as an internet connection exists, the classroom is accessible.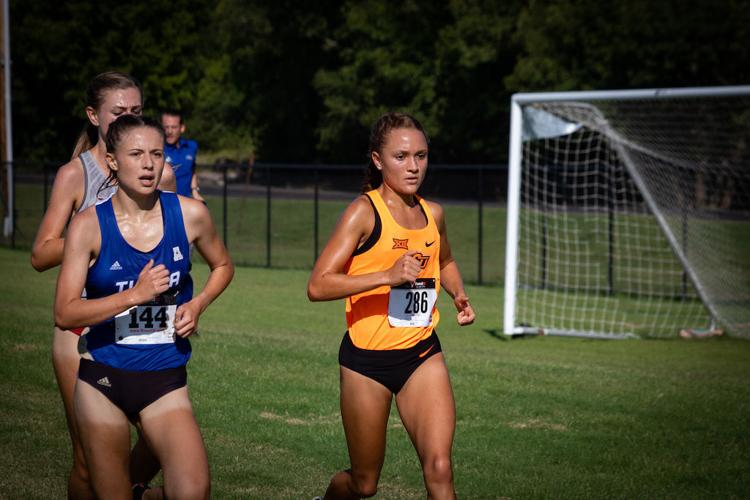 Rasmus Neergaard-Petersen, a sophomore golfer and economics student from Denmark, takes classes online and on campus. Neergaard-Petersen said it's important to enroll in two or more virtual courses for each spring semester, when tournament play typically carries the Cowboys to places that include Hawaii, California and Mexico.
Online learning helps him not only as a student but also as a golfer, he said. If professors post assignments early, then he can make sure his work is done before he spends several days at a tournament.
"That's going to allow me to focus more on the golf," Neergaard-Petersen said. "Because I know, 'OK, I've taken care of the school; I don't have to worry about that this week.'"
Sometimes, student-athletes must complete online exams on the road, but the university takes steps to enforce academic integrity standards.
Thomas Dziagwa, a senior guard on the OSU men's basketball team, said learning specialist Amy Randolph travels with the Cowboys and proctors tests. Dziagwa, who is majoring in liberal studies with minors in religion, philosophy and sociology, said he and his teammates have had study hall time after morning shootaround at away venues.
"We usually have a media room that we go to in the hotel that we rented out for our time there, and the whole team goes there," Dziagwa said. "And (Randolph is) the one that has us for the next hour."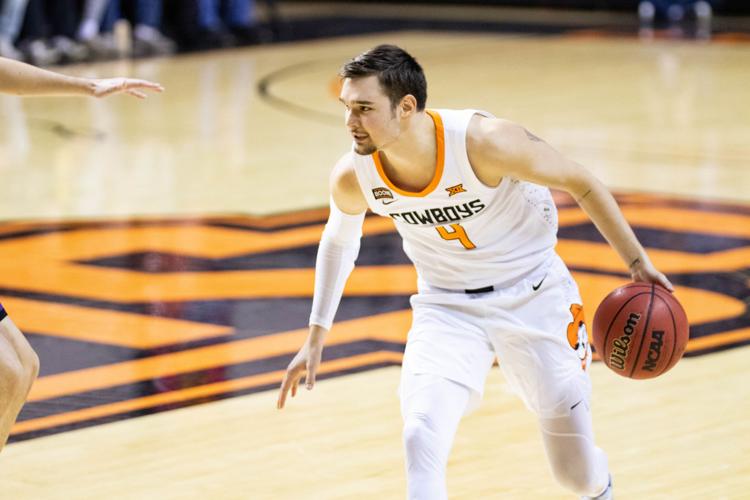 Although Dziagwa said his in-class instructors have been cooperative and accommodating when he has been absent for road games, missing class can cause stress for student-athletes.
"They're not going to change the way they do lectures and stuff just because we're gone, so it's just harder to keep up," Neergaard-Petersen said.
Online courses not only keep student-athletes from fretting about absences but also provide them with flexibility in their day-to-day plans. Johnson said the change in her lunch routine is the best plus of virtual learning.
When Johnson ran for the Cowgirls, she prepared rice bowls before 9 a.m. classes and brought them to campus, where she ate three hours later during a break in her schedule. At that point, the food was sometimes mushy, but she needed it to energize herself for demanding afternoon workouts.
With all classes online, Johnson has had the freedom to decide when to grab lunch and where to go. Although she spent some time in the classroom during her first semester as a pro, she made the switch to online for the spring semester so she could focus on track season.
"I can really just gear my day toward my run or my workout and then just fit everything in afterwards, whether that be class or whatever else I need to do that day," Johnson said.
Because Neergaard-Petersen enrolled in two online courses for this semester, he had only one in-person class each weekday morning. His time in the classroom fit between his 7 a.m. workouts and noon golf practices. After long afternoons at Karsten Creek, he could complete assignments for virtual classes in the evenings.
Although online courses let student-athletes structure their routines around practices and trips, virtual education isn't a foolproof system. Middlebrook said teams have sometimes had to deal with poor internet connections away from Stillwater and hotels that make guests pay for Wi-Fi. Johnson said she tends to get sidetracked when she is learning at home instead of in a classroom, but working at a coffee shop or studying with a friend improves her focus.
"Finding places where I can limit the distractions and just devote one to two hours (to school), I find myself being a lot more productive," Johnson said. "Especially if there's other people around me doing schoolwork as well."
Bratton said if he had been able to take an online class at OSU, the structure of the course would have probably determined whether he liked it. He said a class with video instruction would be better than one that involved no lectures.
"It would be great to have been able to watch or re-listen to the lecture rather than just getting notes from someone else or having to just jump into the book on my own," Bratton said. "But I think I would take more traditional classes because I feel like … that's part of the experience, is being in a class."
Some majors are better suited to the virtual classroom than others are. Jarrick Bernard, a sophomore defensive back on the OSU football team, is pursuing a degree in pre-veterinary animal science, and he has to make sure his in-person science labs don't conflict with practice. This semester, he has studied food processing in an online agriculture course called Farm to Fork, but some classes on his degree sheet usually aren't offered virtually.
Bernard doesn't have an overall preference between online and in-class learning.
"It depends on the class," Bernard said. "Because some classes are better online, and some are required to be in person, like chemistry, animal science, classes like that."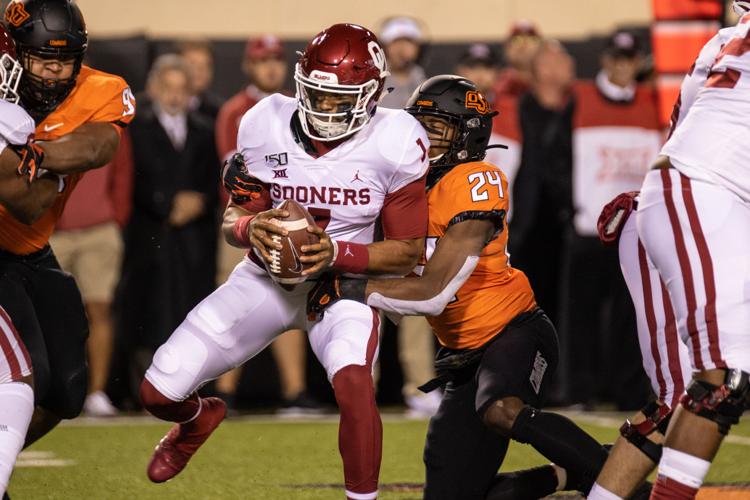 Other courses revolve around open dialogue among classmates, which is mostly lost in the virtual classroom. Online discussion boards allow students to share their perspectives and reply to one another, but written paragraphs can't replicate in-person conversations, which are central to courses for all of Dziagwa's minors.
Although Dziagwa has incorporated one or more online courses into his schedule each semester before this one, he said he favors being present in class over using a laptop for distance learning.
"I prefer hardcovers; I take my notes pen and paper," Dziagwa said. "I'm kind of old-school when it comes to learning."
For Dziagwa, meeting people outside the athletics bubble is part of life at OSU, and on-campus classes give him the chance to do that. Dziagwa said he enjoys connecting with students who aren't athletes.
"It just adds value to your perspective and to your life," Dziagwa said.
Neergaard-Petersen said his two in-person classes this semester gave him enough time on campus to experience life as a traditional student, though that isn't his priority.
"For me, personally, it's way more important that I'm able to know, 'OK, I can get all my work done in my classes and get the grades I want,'" Neergaard-Petersen said. "Even when I'm only going to be there half the time because of tournaments."
For the rest of this semester, no student will hurry across campus from class to class or sit at a wooden desk in a room filled with peers. School is online, and student-athletes are in the same situation as other OSU students.
Instead of conducting experiments in science labs, Bernard must do assignments based on YouTube videos of lab activities. Because student-athletes can no longer go to the academic center, their sport counselors are available for virtual office hours.
"We have set times with them that we call them on FaceTime or Zoom, and we go over our stuff to make sure we're staying on top of everything," Bernard said.
Neergaard-Petersen said the transition is probably smoother for him than it is for some OSU students because of his familiarity with online classes. Middlebrook said she would love for every class to be in person, but she recognizes how technology has altered the landscape of higher education for student-athletes and others.
"I'm very progressive in my thinking in that one needs to go with what the population demands," Middlebrook said. "…I think online classes are here to stay, so we need to do our best in making certain they're providing the same education that they would in the classroom and that academic integrity is upheld, that they're getting a quality product as they would have in the classroom."