Brian Stark grabbed a piece of notebook paper and a pencil on Jan. 8, 2011.
Stark, 10 at the time, wrote two words in the middle of the top margin:
'Golf schools'
The two underlined words were followed by a list of 16 schools Stark would like to attend and play golf.
He did the same again on May 3, 2012, this time with only 15 schools making the cut.
The two schools at the top of both lists were easy decisions for Stark, Oklahoma State followed by Stanford.
"I opened my eyes and saw what Stillwater is all about and Oklahoma State golf, that's where I wanted to go, always."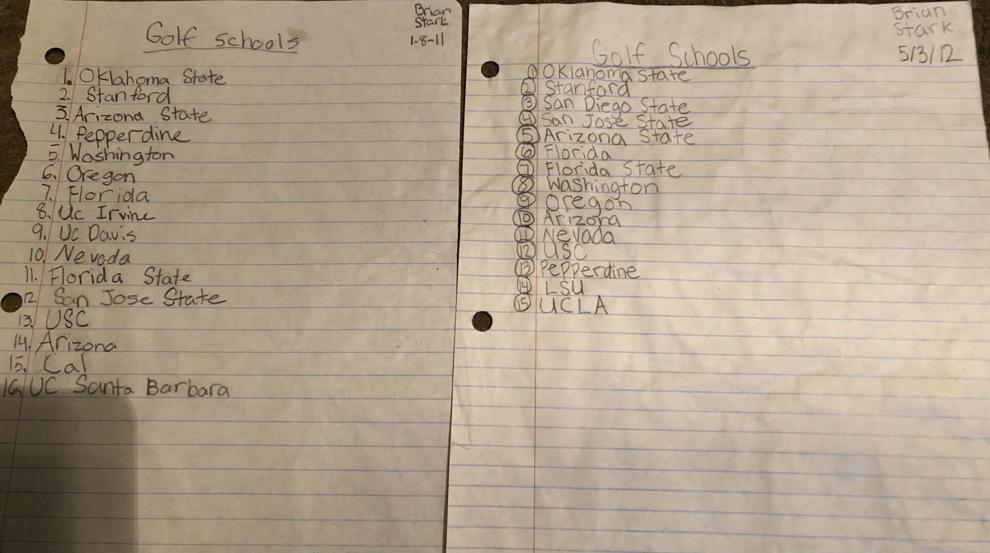 Stark is now a junior at OSU more than a decade after he wrote his original goal of playing golf in college with lofty expectations for his season.
"For myself I set four goals I want to achieve, first team All-American, two plus wins, top three in the PGA Tour University rankings when they come out in the summer (2022) for me and school related getting above a 3.5 GPA," Stark said.
Throughout his junior golf career he would rep a 'Swingin' Pete' driver cover and then a Stanford tree on his 3-wood, for his dad, Scott, who played quarterback at Stanford.
New PING covers with 'Swingin' Pete' took over for the old headcovers, which had to be replaced often due to wear and tear over the five years of use, but the beginnings of his journey is still remembered.
"It's pretty cool to see what I was able to accomplish (getting to OSU), and just to see where I can go from here."
Throughout the 2020 season Stark was a solid piece in the Cowboy lineup in eight of the 11 regular season tournaments for the Cowboys.
Stark however, was not in the lineup for the Big 12 Championships or the first round of the NCAA Regional for the Cowboys.
OSU coach Alan Bratton made the decision to substitute Stark into the regional lineup after the first round of the regional. Stark took advantage of the opportunity.
Just a few days before Stark broke Viktor Hovland's Karsten Creek course record.
With a 4-iron shot on the 18th hole in his first round Stark was a powerful force for the Cowboys.
Stark shot 65 and 68 in his two regional rounds, which was good for 11-under.
"The course record, 62, out here (at Karsten Creek) helped, and of course playing well at the regional, 65,68 in those two rounds felt really good. I just seemed to build on from that."
Stark's game was just beginning to take off.
"Golf swing has felt good since regionals, even before regionals honestly. It's been a nice stretch. It's kind of nice to see some good results this summer and see the progress I've made," Stark said. "I'd known I made some progress prior to the summer, but hadn't seen the results I would've liked."
From there, Stark began his powerful summer, which included a quarterfinal appearance in the U.S. Amateur. The success on top of the regional, Stark said he could credit the added push to the final round at the Sunnehanna Amateur where he shot 66, 4-under par.
"I finally seemed to let some bad demons go out and play my game. I feel like I kind of carried that round through the summer," Stark said.