Grace Ventura insisted on capturing a photograph of her father on his first day of school.
Robin Ventura, 52, stopped in front of the door at his house in Edmond. The left strap of his gray-and-black backpack, which had contained pitching reports and hitting reports when he managed the Chicago White Sox, rested on his left shoulder. He said a picture wasn't necessary, but he agreed his daughter, who graduated from college in 2017, could take it.
"He laughed at me, but it was something I felt like I needed to get," Grace Ventura said.
Then her dad left and drove about 45 miles to Stillwater. It was Jan. 13, the first morning of the spring semester at Oklahoma State University, and Robin Ventura was embarking on an out-of-the-ordinary adventure in a place he knew well.
After competing on a gold-medal-winning Olympic team, earning six Gold Glove awards and spending time in the major leagues, Ventura is resuming the college career he started in 1985 at OSU. His renewed undergraduate status is giving him more than progress toward a general Bachelor of Science degree; it's allowing him to coach baseball players at the school where his success as a third baseman skyrocketed.
Ventura moved from Arroyo Grande, California, so he could become the Cowboy baseball team's student-assistant coach.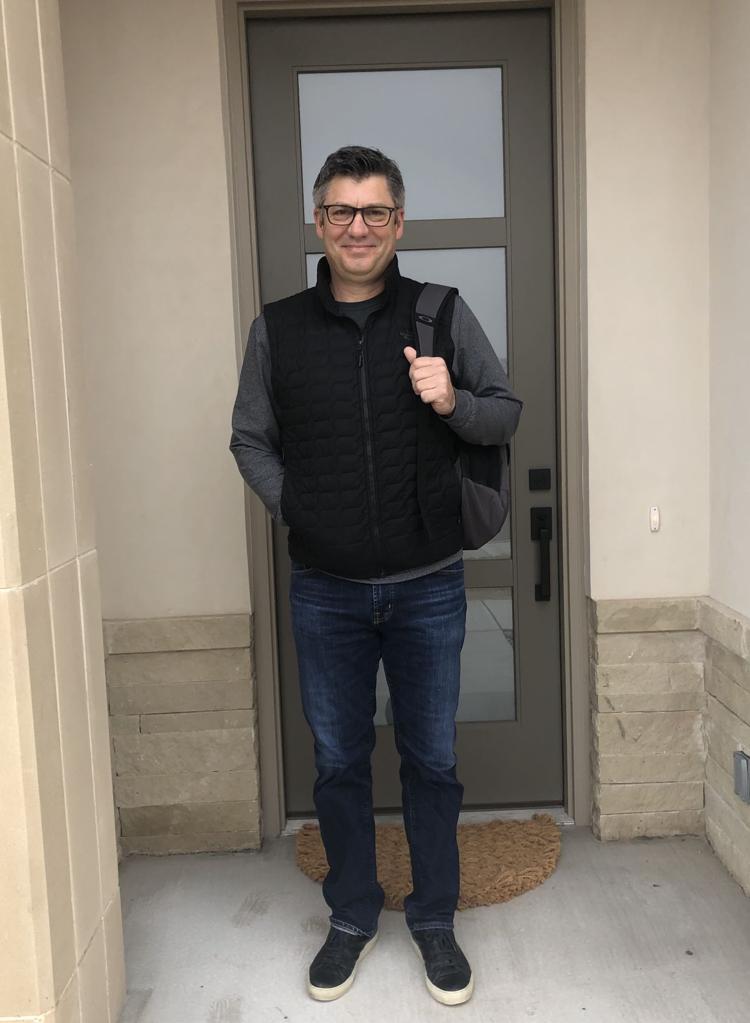 "It's definitely not something that people would think, 'That's the normal path,'" Ventura said. "It's not the normal path, but I've always done stuff that's kind of a little off-center, and just picked something up and (done) it."
College has changed drastically since Ventura studied business at OSU from 1985-88. Instead of trekking from one edge of campus to another, Ventura, who is enrolled in four courses, logs into his classroom portal and adds comments to discussion threads. Two of his classes are online, and his two independent study courses involve online work and meetings with professors.
To prepare, Ventura went to the academic center in Gallagher-Iba Arena and devoted a couple of hours to learning about Canvas, OSU's online learning management system. Instead of relying on the Canvas calendar, he writes a weekly checklist so he can keep track of his assignments.
"I'm just trying to be as organized as I can," Ventura said. "Because a lot of the time is spent here (at Allie P. Reynolds Stadium)."
Although he has had to adjust to navigating the virtual classroom, coming back to OSU was natural for him. He traveled about 1,500 miles from Arroyo Grande, but familiar faces and places have reminded him why it's easy to call Oklahoma home.
During the fall, Ventura visited Stillwater and went to OSU football tailgates with a group of friends, which included several former Cowboy golfers such as E.J. Pfister, Willie Wood and Bob Tway. Sometimes, OSU baseball coach Josh Holliday joined them, and in September, they discussed the idea of Ventura's returning to OSU.
At first, they regarded it as a funny hypothetical scenario instead of a practical option. From 2012-16, Ventura managed the White Sox, and since then, he had spent leisurely time traveling and golfing with family members and friends. Coaching at his alma mater hadn't been on his agenda, but each time Holliday suggested it, Ventura took it more seriously.
"Careful what you're joking about," Ventura said. "It might happen."
Holliday couldn't hire a coach, but there was one way Ventura could get involved. If Ventura were to come back to OSU, then he would fit the requirements for a student-assistant, Holliday explained.
Student-assistant coaches must enroll at the school where they most recently were student-athletes, according to NCAA rules. They either must have no eligibility left in the sport they played or must be unable to continue playing the sport because of injury. Unless they have one semester or quarter left and can finish their degree program as part-time students, they must be full-time undergraduate students or full-time graduate students.
Ventura hadn't played baseball for any university other than OSU, and he isn't eligible to blast home runs out of the park or make perfectly timed throws from third base for the Cowboys. When the White Sox drafted Ventura, he hadn't finished his undergraduate program, but 32 years later, he could get his degree and become a student-assistant.
"That was kind of the golden ticket," Holliday said.
Ventura said he doesn't think he would have traveled to a random school to work with student-athletes, but OSU is unique because of his connections with the coaches.
"There's just certain things that all lined up for this to be kind of a perfect situation for me," Ventura said.
Ventura didn't have to worry whether his family would want to go to Oklahoma or stay in California. His four children are grown, living in places ranging from Texas to Australia, and he and their mother are divorced. Although Ventura enjoyed his independent lifestyle of golfing and traveling, he said he realized nothing was stopping him from moving away from Arroyo Grande.
"I've had spurts where I wasn't (really) busy," Ventura said. "And then you just get to a point where you're like, 'All right, I want to go do something again.'"
He turned down opportunities to return to professional baseball. He could have worked in a front office or coached a minor league team, but he was waiting for something else.
"I wanted something totally different," Ventura said. "And when this came up, I was thinking, 'Well, this is totally different.' This is outside the box."
He announced his unusual plan to Grace Ventura, his daughter who lives in California. As his usual road trip sidekick, she decided to go with him and stay in Oklahoma for a couple of weeks.
Jan. 10, the Friday before his first day of school, they embarked on the 22-hour drive from Arroyo Grande to Edmond. Then they unloaded the moving truck, cramming Ventura's belongings into the garage at his new home. Folding chairs and a fold-out table have served as makeshift living room furniture until he has time to spruce up the house, but he has designated his home office as his study space.
Although several of Ventura's golf buddies live near him in Edmond, that isn't the only reason he chose to live outside Stillwater. He said he enjoys driving, as he did when he managed the White Sox, so he can mentally plan his day while he is on the road.
Marilyn Middlebrook, OSU's associate athletic director/academic affairs and director of academic services for student-athletes, helped him design a class schedule that works with his travel routine and his coaching commitments. Because he hasn't declared a major, he is tailoring his Bachelor of Science program to his varied interests.
At 52, he isn't concerned about learning how to start a business anymore. Ventura is studying topics that range from agricultural leadership to brewing microbiology, which looks at craft beer brewing through the lens of science.
"Because of his commuting back and forth and doing his job, he needed to have more of it online," Middlebrook said. "And so I told him, I said, 'Online didn't exist when you were here, so we might want to chat about what you're going to have to do for an online course.'"
Ventura's transition hasn't been completely smooth, but he is adapting. During the first week, he lost his Wi-Fi connection at Allie P. Reynolds Stadium when he was taking a timed quiz. Grace Ventura encouraged him to email his professor to explain the issue, and fortunately for Ventura, he had the opportunity to redo the assignment.
Without Wi-Fi at his workplace, he has learned to bring printouts of class materials so he can review them. He has no office or desk at the stadium, so he waits until a coach isn't working on a desktop computer and uses it when he needs to do homework.
When Ventura isn't taking online quizzes or replying to classmates' posts, he is sharing his baseball wisdom with the Cowboys. Rob Walton, OSU's pitching coach who was Ventura's teammate in 1986, explained how Ventura's even-keeled demeanor translates from his playing days to his coaching career.
"I know his personality," Walton said. "People gravitate to it a little bit because it is calm, but when he speaks, it has meaning behind it. ...When he tells you something, you listen because he's not one of those guys that likes to hear himself talk. He's going to tell you something that's going to help you."
Josh Spiegel, a redshirt freshman catcher from Jeannette, Pennsylvania, said when he spends time with Ventura and hears him speak, he can see why Ventura was able to accomplish what he did at OSU. Although the Cowboys respect their student-coach, they can also crack jokes about taking some of the same classes as him.
"It just keeps everybody loose with him," Spiegel said. "So it's not like, 'Oh, he's Robin Ventura, the big-time baseball guy.' He's just Robin Ventura, the person, and I think that just makes him more like one of us than just, say, a coach or something."
Carson McCusker, a senior outfielder, is in Ventura's brewing microbiology course. McCusker said he has replied to Ventura's online discussion posts.
"I always mess with him," McCusker said. "Like, 'Hey, man, I'm a huge fan,' and stuff like that."
Ventura recognizes people are having fun with the idea a former big-league manager and Cowboy recordsetter is in college again. After the OSU baseball team's Twitter account announced Ventura's return, his cellphone lit up with constant messages from friends. At a Cowboy basketball game that weekend, when public address announcer Larry Reece introduced Ventura, the crawl line on the big screen read only, "Robin Ventura, student assistant."
"We'll have some good laughs about it, but that's why college campuses are beautiful places," Holliday said. "This is where you can come back and kind of plug back into the student body and fit in and just be normal from that standpoint."
Ventura isn't sure how long he will stay. Because not all of his credits from the 1980s apply to his curriculum, he is about two years away from earning his bachelor's degree. He has no definite postgraduate plans, but like many college students, he is taking everything day by day.
"I think it's just part of the journey, enjoying where you're at and what you're doing," Ventura said. "I'm not the normal student. They're getting their degree, and they don't really know what's out in front of them. I don't either, but I'm not sitting there thinking, 'All right, I've got to graduate and I've got to find a certain kind of job that goes with (my) degree.' Mine's a little bit different, but I enjoy the learning part of it and just doing different things."