Oklahoma right fielder Jace Bohrofen couldn't help but laugh when the Oklahoma State students harassed him during Tuesday night's game from the corrals in O'Brate stadium, so he had to cover his face with his glove.
Bohrefen and other opposing teams' right fielders have been the victims of an obnoxious crowd at O'Brate Stadium.
Lively crowds filled the stands at Allie P. Reynolds Stadium for many years, but O'Brate Stadium has been a game changer for Oklahoma State baseball. The $65 million stadium was opened on Feb. 24 and has brought a lot of excitement to the program.
The corrals might be the most recognizable nuance of the new stadium, located above open seating in the outfield. These 16, $1,500 corrals are tented areas fans rent for the year and can bring food to grill and ice chests.
Coach Josh Holliday was a big leader in setting up the corrals. Holliday said it looks fun from the dugout.
"Mainly those first three sections in right field from the visitor's bullpen headed north," Holliday said. "They always seem to be pretty consistent and pretty engaged in what's going on. Our players love it. I love it, and obviously it seems like the students are enjoying it, too."
The sections Holliday is referring to are below the right field corrals where the students sit. Fraternities rented out those sections, which makes for one big party next to the visitor's bullpen.
There is no limit to the number of people in the corrals or seating below, so they get loud.
"What an honor for our players to have our fellow student body out here rooting for them," Holliday said. "It's one of the things we wanted to be a part of this new facility, and I feel like we've got a place now that the students really look forward to coming, and socializing and rooting for their school."
The corrals have created a place for students to gather, which is something Allie. P Reynolds Stadium didn't offer. This gives students an excuse to socialize more during a time when there aren't as many places to be social.
Josh Draeger, a member of Sigma Alpha Epsilon fraternity, said the corrals are a great opportunity to hang out with new people, and they give him something to do on the weekends.
"If I can catch a ballgame at 2 o'clock on a Sunday, I'm there," Draeger said. "Baseball is a boring sport for some people, but to be able to bring in your own food, alcohol and just hang out builds a better atmosphere for the baseball game."
Unlike football or basketball games, baseball is a sport where fans can sit down and relax more while watching the game. Baseball is typically a warm weather sport, which is also a plus for fans.
"People can enjoy the nice weather because it's finally warming up, so everybody's happy to be outside in the sun," Draeger said.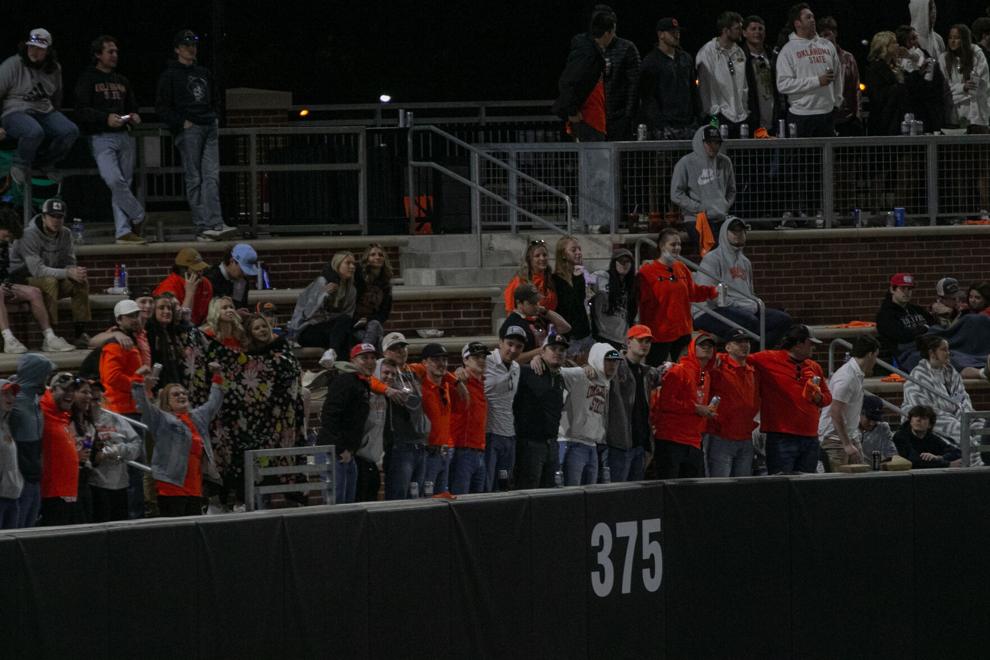 That section of the stadium was modeled after Dudy Noble Field, the home of Mississippi State. That stadium also has little sections for students in the outfield similar to the corrals in O'Brate Stadium.
Most SEC schools place a high financial importance on baseball, and until O'Brate Stadium, this was something that was missing from OSU.
"When you look at colleges like Mississippi State, Ole Miss or Arkansas, you realize their whole spring is dedicated to baseball," Draeger said. "I feel like OSU has been lacking that in the past couple years, but the new stadium, and especially the corrals, have made it something awesome for students."
Whether it's cheering the umpire jogging out to pick up a fallen beer can or harassing the visiting team's right fielder for dropping a fly ball, the students constantly have something to get rowdy about other than the game.
The corrals aren't just for students though. In left field, families rent them.
EJ Pfister, a former golf pro, bought a corral in left field for his friends and family.
"I like the ability to cook in there and bring in our own food," Pfister said. "We weren't really that big of baseball fans to be honest until Robin [Ventura] moved to town. Now, everyone's excited to go to the games."
Although most of the experiences with the corrals have been positive, there are a couple of things Pfister has not been pleased with.
The lack of a scoreboard facing toward the outfield is the main issue. The big screen in right field is the only place to keep track of balls, strikes and outs, making it difficult to know what is going on.
"The only thing I would say is that it's very difficult to see pitch count, outs and there's nothing to look at unless you get up and look behind you to the right," Pfister said. "That would be really the only complaint I have. For us it's all about family, and it's much easier to get our family in there."
Many fans who don't have a corral are interested in buying one for future seasons after seeing the advantage of having one during games.
Ty McCune said he is interested in buying a corral in future seasons after seeing the fun it can be.
"I absolutely love the corrals and the atmosphere it brings to the game," McCune said. "You hear the crack of the bat, the catcher's mitt catching the baseball, and I think that's just the perfect atmosphere for a true sports fan."
Loud and obnoxious is something that hasn't been seen at OSU baseball games like basketball or football games, so the players appreciate the excitement.
For the players, seeing their fellow students and fans in the outfield get into the game gives them an energy boost.
"It's been one of the cooler additions to our program," said infielder Dylan Gardner. "They are definitely a huge momentum swinger for us. They put a lot of pressure on the other team. It's added a really unique element to O'Brate Stadium and to our program in general."
The opposing teams outfielders get the worst of it.

Students find their names on the rosters and yell at them constantly. Whenever there is a pause in the game, students chant, "right, left, right, left" for each step the right fielder takes.
"Giving the students a place to go and hang out and add an element to our game has been awesome," Gardner said. "It's awesome to hear them cheering us on in a big moment and getting after the other team when the pressure is on."
For OSU outfielders, they feed off the energy. When they make a great play, they expect to hear a roar of sound come from the seats behind them.
"There is nothing better than having those guys out there having your back and cheering you on," said outfielder Cade Cabbiness. "It brings a lot of energy for me and everyone else. That's what I love so much about the corrals, is what it brings to baseball, and to the stadium, and for OSU as well."