Colin Carmichael and Karen Hancock collected paintbrushes, gallons of orange and white paint, a trailer and a team.
What the Oklahoma State soccer coaches didn't have on that warm July night in 2001 was permission.
Carmichael and Hancock never officially asked if they could repurpose, or "take," the old Cowgirl softball press box. It had been out of use for a while, replaced by a newer one.
After softball renovations, the wooden two-story shed sat empty in a parking lot, presumably, Hancock and Carmichael thought, destined for the trash heap.
Or a fresh coat of paint and a new home on the sideline of the soccer field.
"We weren't sure we would get permission otherwise to do it, and we just wanted to take care of it," Hancock said. "We went and bought the paint and just went to town painting it."
Carmichael, Hancock, former volunteer assistant Robby Hagemann and former OSU golf coach Amy Weeks hitched the ratty press box to the previously commandeered trailer. They towed it over to the soccer field and worked by the light of their cars' high beams — less conspicuous than the stadium lights.
"We decided to ask for forgiveness instead of permission, one of those deals," Carmichael said. "I felt pretty good if Amy was involved because she had some pretty good connections to get us out of trouble if we needed to."
When morning came, all but a few were bewildered at the sight of the press box, sporting a fresh white coat of paint with orange trim, that had appeared where a tent usually stood as the only source of shade.
Carmichael said it was a great addition to the then fledgling soccer program.
Over time it deteriorated. The lone press box on the south end of the field was exposed to every type of weather Oklahoma could throw at it. Eventually, looking inside one of its six exterior rectangle windows revealed a suspect floor.
"We think we did a good job, and I'm not sure if they ever repainted it," Hancock said. "It just held up as long as it held up. Until eventually structurally the wood was starting to rot and it became an eye sore. But for a place that didn't have anything it was like, 'We'll take it.'"
Early days
Like the repurposed press box that housed writers and sports information directors who chronicled the early days of the program, the history of OSU soccer itself has been defined by a committed team of people getting an opportunity and taking it.
Nothing about starting a program, or painting in the dark, was easy. The first step, Carmichael found out, to both things they did was assembling a team.
Hancock was the first OSU soccer head coach from 1996, the programs inception, till 2006 when she moved to an assistant coaching role in part due to her husband Will's death in the OSU plane crash of 2001.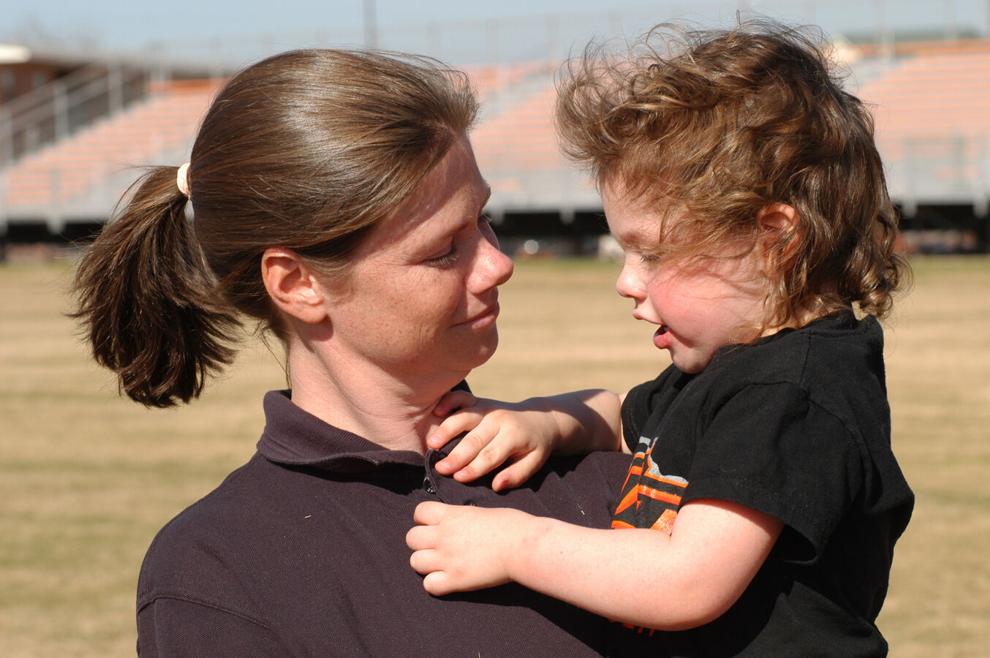 A successful coach at South Alabama, Hancock was offered the job at OSU in '96 when the university decided to field a team. She had worked with Carmichael at South Alabama and offered him a job as an assistant coach.
Originally from Scotland, Carmichael considered staying at South Alabama, his alma mater, but chose to join Hancock.
"I needed a work visa to stay in the United States after college because I was on an international student visa," Carmichael said. "Everything aligned timing-wise for me to get a job, get a work permit and start life."
Carmichael, who would take over as head coach in 2008 after splitting duties with Hancock for two years after the plane crash, packed up his compact Toyota Corolla and left Mobile, Alabama, in August 1996.
He had only been to Oklahoma once and arrived in Stillwater on the first day of preseason. The first OSU soccer game was about one month away and the goal for the coaches was clear.
Scrounge up enough players to field a team.
"Karen had been here for about six months before I got here," Carmichael said. "She'd been recruiting, trying to piece together a team just to have a roster. Not even worried about how good the kids were, just basically saying we need a team."
Hancock used her connections in Tulsa, her hometown, to find players enthusiastic about playing at OSU. Carmichael brought a few players from South Alabama. The '96 team only carried about 24 roster spots (as opposed to 31 currently) and it was enough to cobble a team together.
"It was not hard to fill out our roster," Hancock said. "I think it was difficult to build it and be competitive there for a while but there was no shortage of interest for playing for Oklahoma State."
OSU placed ads in The Daily O'Collegian, the OSU student paper, encouraging women to try out. The roster was full but the overall team skill level was… developing.
"Most of them probably wouldn't be able to be on the team roster today," Hancock said. "But at the time some of them did alright."
The newly-minted Cowgirl soccer team won its first game 8-0 on a Friday night in Stillwater against Oklahoma Christian. The coaching staff had been together for less than a month.
The budding program finished a respectable 10-7-2 its first year, but could not compete with Big 12 powerhouses like Nebraska and Texas A&M that had been established for a while.
"It was rough," said Andi Lute, who played at OSU from 1997-2001. "We didn't have a lot of wins.
"It was an amazing experience still."
Recruiting to eventually topple giants proved challenging. The pitch to prospective players did not center on, well, the home pitch.
"The fields were sloped, the wind was howling, the field was slow, there were no bleachers or anything," Carmichael said. "(Playing) was almost like a glorified club soccer experience."
The Cowgirls' field the first year was an intramural field that featured a noticeable slope from sideline to sideline.
Fans had no bleachers. The 200-odd spectators who would come out brought lawn chairs and had to be on the lookout for a stray Frisbee from the adjoining intramural field.
The Cowgirls moved their field to its current location in 1997, but that was well before Neal Patterson Stadium was built around it. Players, coaches and spectators used Porta-Potties, and halftime adjustments were made under tents.
"There were chairs, and a little whiteboard," Hancock said. "You made it into a makeshift locker room on the field."
Lanzara, an Italian shoe and clothing company, sponsored the Cowgirls in their first year. There is a reason you've never heard of them.
"Those were the ugliest running shoes I have ever worn," Lute said, laughing. "I don't think I ever wore them. They were so bad."
The field at the new site OSU moved to in '97 was a drastic improvement over the sloped intramural fields. They once had a game stopped against LSU because a hapless student accidently turned off the lights on the exposed light post.
The field was so nice, in fact, that the team was forced to make some additions to the fence surrounding it.
"We put barbed wire at the top because the grass was so nice people were always hopping the fence to come out there with their dog and play frisbee," Hancock said. "Because of the chain link and the barbed wire on the top it had a penitentiary feel."
The class that elevated
The first permanent seating around the barbed-wire-protected emerald field was installed in 2001.
It was right after the turn of the century, coinciding with steady improvement to the stadium, when Hancock and Carmichael were able to do some building of their own.
Carmichael said the coaches were recruiting their butts off, and the 2001 class showed the fruits of their labor.
"I think we have four Canadian kids who all played for the U19 National Team," Carmichael said. "We got those kids, which was huge. There's a kid from Houston who was very good. There were three kids that I coached on the Oklahoma State Olympic development team.
"It was a really good group."
Lauren (Spencer) Colwell, who played at OSU from 2002-06, said the '01 class was important on and off the field.
"They had big personalities," Colwell said. "They were super fun, really competitive. That class was the life of the team. You came in feeling they were very welcoming. They were good, too. It was fun to play with them."
Hancock said she remembered getting pounded by the Aggies or Cornhuskers in the early days, throwing out 9-0 as a final score estimate but not knowing for sure.
"We could tell, especially when we brought in that '01 class, which those kids were juniors when we won that Big 12, you could tell we were getting better," Hancock said. "2001, 2002, 2003 — you could just tell we were getting more competitive with everything."
Winning the first Big 12 tournament championship in OSU history in '03 was, at the time, the biggest moment in Cowgirl soccer history. Seeded No. 7 out of eight teams, the Cowgirls upset-filled run ended with a golden goal in the championship on a free kick Nikki Wojtowicz delivered.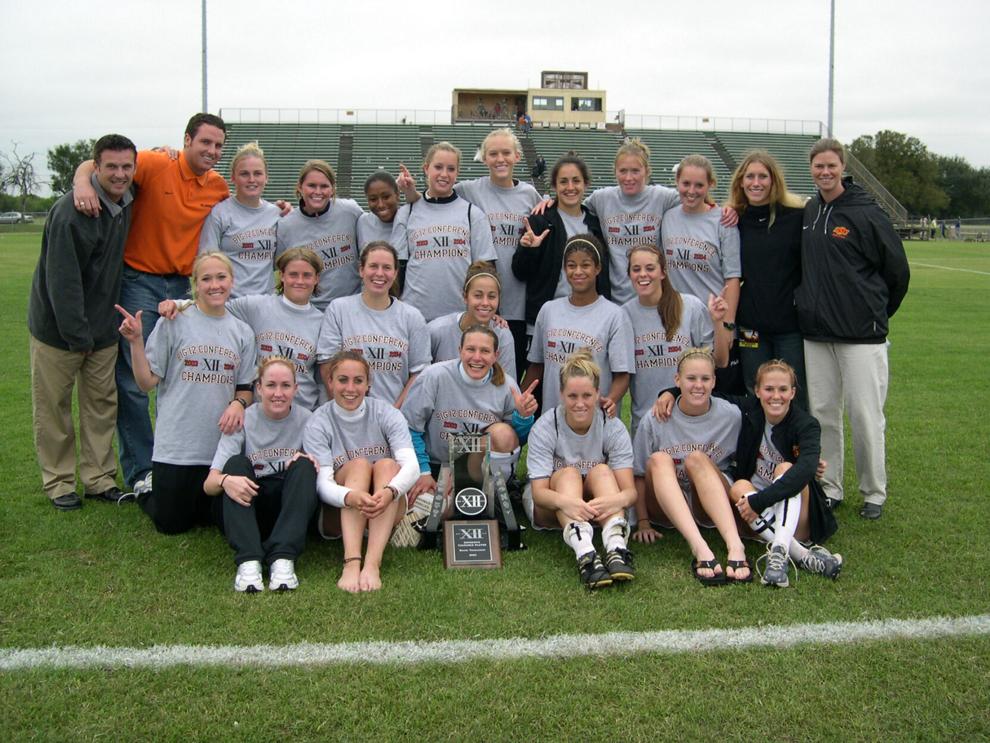 "(It was) very satisfying," Hancock said. "That is what you're striving to do is be a competitive program."
The dogpile atop Wojtowicz, on a championship field in San Antonio, was a moment of validation for the team that had played on an intramural field at Willis and McElroy five years earlier.
"On the heels of that, of course, you can recruit better players," Carmichael said. "Because you have a little bit of success, you win the Big 12, you go to the NCAA tournament it all of a sudden opened up some doors for us to get better players."
Penitentiary to a palace
One Wednesday in 2015, when the then-established Cowgirls were scheduled for a routine practice, Carmichael got a call from OSU athletic director Mike Holder.
Carmichael could ignore any thoughts of a routine rest of the day.
He had never been on a private jet, after all.
"Neal Patterson wants us to go up to Kansas City and meet the architects up there to get some ideas for our stadium that we'd be talking about, and also watch the U.S. Men's World Cup qualifier," Holder said.
Carmichael, Hancock and longtime assistant coach Justin Elkington wrapped up practice at 5:30 and boarded the private plane of Neal Patterson, the owner of Sporting KC.
The group sat right behind the American bench, where the coaches watched the United States Men's National Team's Jurgen Klinsmann coach from a few feet away.
They toured Sporting KC's stadium, the site of the match, but it was Holder, not a tour guide, who said something that floored the coaches:
"You didn't know you were getting $5 million dollars out of this trip, did you?"
OSU athletics matched Patterson's gift in the coming days and a state-of-the-art, soccer-specific stadium was dedicated in 2018.
The Cowgirls first year occupying Neal Patterson Stadium full time was in 2019. While the new stadium was under constructed, the players used the Demaree dorms just a short walk from the stadium
"I kind of got claustrophobic because it smells bad," Senior midfielder Grace Yochum said about her experience in Demaree. "It was so crowded that you couldn't even think."
Instead of making halftime adjustments from the kitchen area of a small dorm with players spread across two rooms seated on old couches, the new stadium provided a place to keep Cowgirl Soccer at the forefront of NCAA programs.
The gleaming clubhouse underneath the shaded orange stadium seating is outfitted with couches, countertops are stocked with fruit and snacks, and a trophy case holds seven Big 12 championship trophies.
A line from the 1989 movie Field of Dreams resonated with Hancock.
"If you build it, they will come."
Originally applied to a cornfield baseball diamond, it can also be said about a $10 million stadium. Or a field surrounded with barbed wire, or a Lanzara outfitted program that practiced on a sloped, not entirely metal-free field.
"We got our freaking butts kicked in the Big 12," Lute said. "But we still practiced every single day. We still put in all the time and all the work and fit it in with our schoolwork.
"It's one of the things I'm most proud of that I did in my life. I'm really proud that I feel a part of this program that now when you mention you played at Oklahoma State people think it's awesome."
More good players came, in 2001 and later. Trophies followed.
Carmichael and Hancock have spent the past 25 years of their lives in a college town, growing up with a program.
Carmichael married and started a family in Stillwater, Hancock stepped back from raising a program to raise her daughter Andrea.
"If I brought some of my friends from Scotland or family members to this, they'd be like, 'Ok, this is a pro team, right?' It would blow their mind," Carmichael said. "Our locker room, training room and facilities would be better than the majority of professional teams in Scotland."
Carmichael said he has to pinch himself when he comes in to work every morning. He enjoys the little things — the manicured lawn, spacious locker room outfitted with modern lighting and the ping-pong table where he claims to exercise dominance.
Oh, and the dark grey press box high above the stadium that houses dozens of media members.
That one was painted in the daylight.