Kasey Dunn felt the need to interject.
He wanted to clarify how Spencer Sanders, OSU's senior quarterback, was feeling when Sanders swapped his black beanie for a helmet and ran onto the frigid Boone Pickens Stadium field where 11 defenders, wanting nothing more than a chance to hit him, stood waiting.
A reporter asked Dunn what it meant for the injured Sanders to take the field in a bid to lead a comeback, despite Sanders playing through some pain.
"Not some," Dunn, OSU's offensive coordinator, cut in. "A ton of pain."
Sanders' competitiveness has been a constant factor in his rise at OSU. His burning desire to win was something he had well before he started a game for the Cowboys, and it has been a central attribute as a four-year starter to racking up 30 wins — two behind Mason Rudolph for most wins all-time at OSU.
And Sanders' availability for Bedlam Saturday in Norman — he insists he'll start — will be vital to the Cowboys' bid to claim a second straight win in the series and keep OSU's faint hopes for a spot in the Big 12 title game alive. 
Sanders' fourth-quarter heroics to propel OSU to a win against ISU is the latest example of his competitiveness.
"It really, I think, instilled confidence in the team and to have a leader like him out there, we all definitely want to have his back and make as many plays and go hard for him," receiver John Paul Richardson said after the game.
His first play upon entering the game for good? A read option. Sanders, listed at 6-foot-1 and 210 pounds, tucked it and ran, trading the yards for a hit.
Classic.
"This man lowers his shoulder every week," defensive end Brendon Evers said earlier this season. "He plays like he's a 300-pound defensive lineman sometimes running the ball. So a lot of respect for him."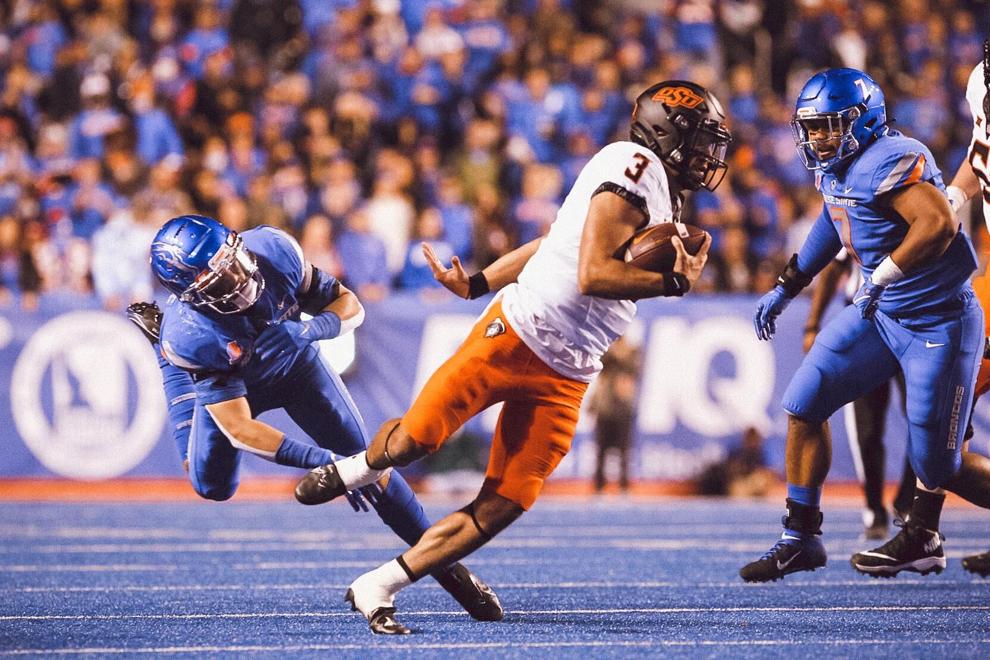 When Dave Henigan was hired as the Denton Ryan High School football coach in 2014, he knew his first task.
Talk to the kid.
"The first day on the job, I went to Strickland middle school to meet Spencer Sanders," Henigan said."
During Henigan's job interview, Joey Florence, the former Denton Ryan coach who hired Henigan, brought up Sanders' name in passing. As the interview wrapped up, Florence made sure his message was heeded.
"(Florence) said, 'Look, if you want this job, don't ever forget this name again. His name is Spencer Sanders,'" Henigan said.
As a kid, Sanders wanted to be a running back. His father David, who coached him as a child, was on board, but made sure Sanders understood the expectations during a tackling drill.
"I said, well you know (running backs) get hit by everybody," David said. "So I put him in line with the biggest kid we had. He wasn't scared."
Even when Sanders transitioned to playing quarterback later in grade school, his running back roots remained a big part of his game.
Sanders started as a 14-year-old freshman for Denton Ryan, something Henigan said is unheard of for the 6A level in Texas.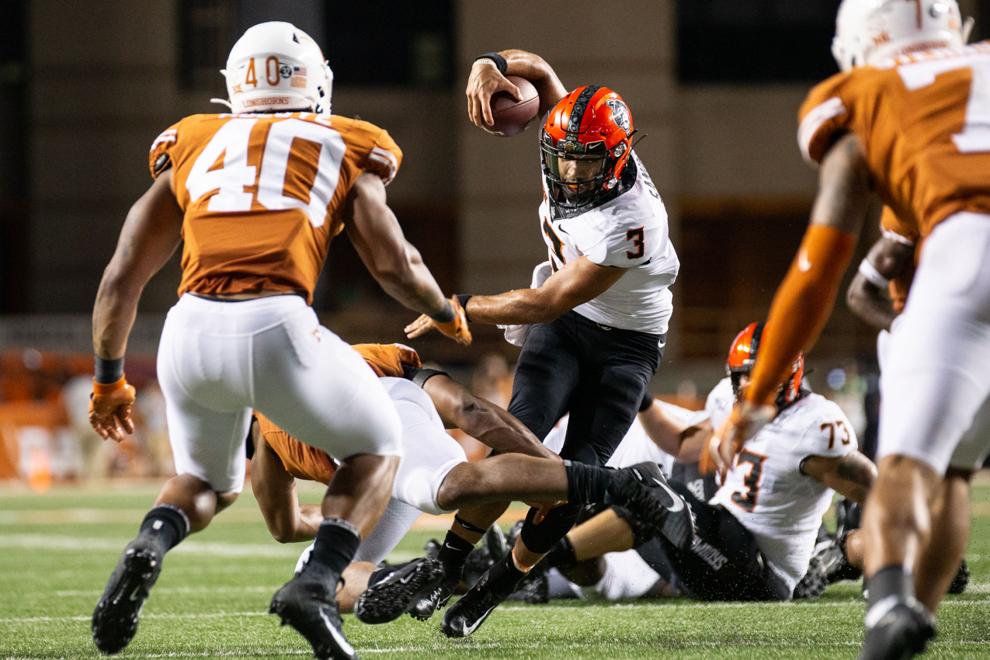 Twice, injuries derailed state championship hopes. Sanders tore both his ACL's in high school, each time the victim of an in-game, non-contact injury. The first time was two weeks after his sister Carissa, an accomplished soccer player at North Texas, was released after tearing hers in a soccer match.
The Sanders family already had doctors and a training program lined up. Four hard months later, Sanders was back healthy.
"They were like, 'Do you want to wear a brace?'" David said. "The doctor told (Spencer and Carissa) they could. But it wouldn't stop from tearing it again."
David said his children's answers were the same.
"They were like, 'Nah, I don't want to wear it. It makes me look crippled," David said.
It connects back to Sanders' competitive spirit. He hates admitting defeat. And it's not something he turns on and off.
"He's quite competitive," sophomore receiver John Paul Richardson said. "It doesn't matter what we're doing. We might be playing basketball, it could be rock paper scissors, it doesn't matter. That's a good mindset for a quarterback."
The Sanders family has a game room upstairs in their house and a basketball goal. Between the four Sanders — all athletes — plenty of battles have been waged at the house.
"It don't matter what it is," David said. "If there was a pro shoe-tying contest, he'd be in it."
Senior safety Jason Taylor II, one of Sanders' roommates, said their house gets loud when they play video games. Call of Duty, Madden, it doesn't matter. The recently released 2K23 is the current game of choice.
Taylor II said Sanders is just as competitive on the couch holding a controller as he is on the sideline holding a helmet.
Both players claim superiority at Madden. Taylor also admits their third roommate, senior receiver CJ Tate, doesn't lose much. And no, that math doesn't add up.
What does add up is the clamor. Sanders gets as rambunctious in the living room during 2K tournaments as he does on the field.
"Especially if he's not making his shots," sophomore receiver Bryson Green said.
Henigan said competitiveness is an ideal trait for a quarterback, even if it cannot be turned off.
"(Sanders) won't probably admit to this, but he just can't stand losing to me in Ping-Pong, which happened pretty regularly back in the day," Henigan said."
When Henigan got the better of Sanders during a team dinner at the coach's house, Sanders claimed his coach had an unfair home-table advantage. When they drove to Sanders' house for a rematch, the result did not change.
"I guarantee you, he'll still want to play coach Henigan to this day," David said. "He's got to get the title back. It's just the way he is."
Competitiveness is certainly not a trait unique to Sanders among Big 12 football players. But some plays Sanders has made separate him from the pack. With 6:20 left in the fourth quarter of OSU's game against Baylor, the Cowboys were suddenly put in a vulnerable position.
Up eight and trying to bleed the last 6:20 from the fourth quarter, OSU freshman Ollie Gordon took a handoff. Running left, Gordon was hit. A Baylor defender squared up his helmet with Gordon's forearm, dislodging the ball.
It spun like a top on the Baylor 10-yard line, free for the taking like a fresh ribeye dropped in the lion's cage at a zoo.
Sanders went headfirst.
"It was like somebody called grenade and he gave up his body for it," Dunn said. "Because he dove straight in there with no regard for safety himself."
Baylor's Cole Maxwell and Gabe Hall, 581 pounds of muscle in pads, dove too, but Sanders was there. He absorbed the blows at the bottom of the pile, clinging to the ball and allowing OSU to kick a field goal.
"There's a lot of quarterbacks who wouldn't do that," Dunn said. "Not just in the Big 12. They're all over the place. Fortunately we don't have one of them. That guy was on it. It was something else.
"I'll take (Sanders) in battle any day."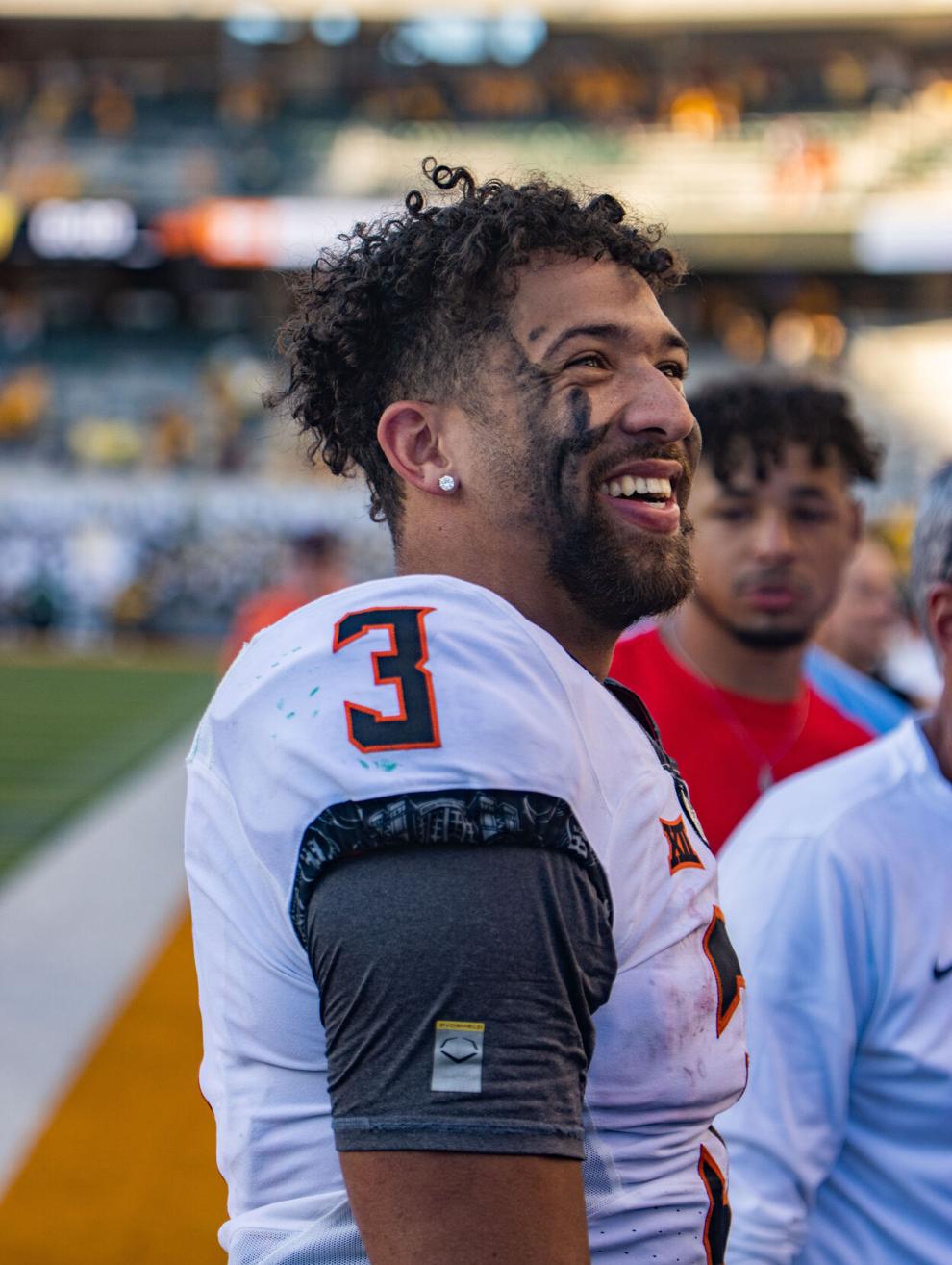 Coach Mike Gundy said Sanders has grown each year, stacking his innate competitiveness with other skills.
"Early in his career, he didn't look anything like he looks now," Gundy said.
Gundy said there was a lot of external pressure to bench Sanders as a freshman. Gundy said Sanders would throw with the third-teamers on Sunday nights and complete 2-of-10 passes.
Gundy said he never considered benching him, even when OSU struggled.
"He just keeps finding a way to win games," Gundy said. "He has a competitive nature, and now he's developed a calmness and a humbleness about him that is hard to replace. He'll be hard to replace."
By winning out this season, Sanders would become the all-time OSU win leader. After OSU's national championship aspirations deteriorated and he was held out of two starts due to injury, some thought Sanders would shut it down. After all, he has a potential NFL career to shoot for, or at least a super-senior season in college to impress scouts.
Now that the roles are reversed, and Gundy is pressured about the soonest Sanders can play instead of the viability of benching him, Sanders said he's not sitting out 2022.
"I'm too competitive for that s***," Sanders said.