Alana Wolfberg bounces the ball three times and serves. It's 7 a.m. and the only sound audible at the Michael and Anne Greenwood Tennis Center in Stillwater is the screeching of shoes and a racket smashing a tennis ball.
Most Oklahoma State University students are likely asleep at this time.
But not Wolfberg, the No. 3 singles player for the Cowgirls.
To fit her busy schedule of 14 credit hours — all science courses and a Division I athlete this is her routine. After practice, she'll go to five hours worth of lab — physiology and ecology. Then, she'll spend the rest of the day studying.
The Cowgirls ended the regular season with four straight wins in a season that started with high expectations and excitement. But with a young roster that features no more than two years of individual college tennis experience, they felt the effects of a tough conference. Wolfberg and the Cowgirls, however, are hot at the right time.With four straight wins, OSU battles Oklahoma at 3 p.m. Friday in the Big 12 Tournament quarterfinals in Waco.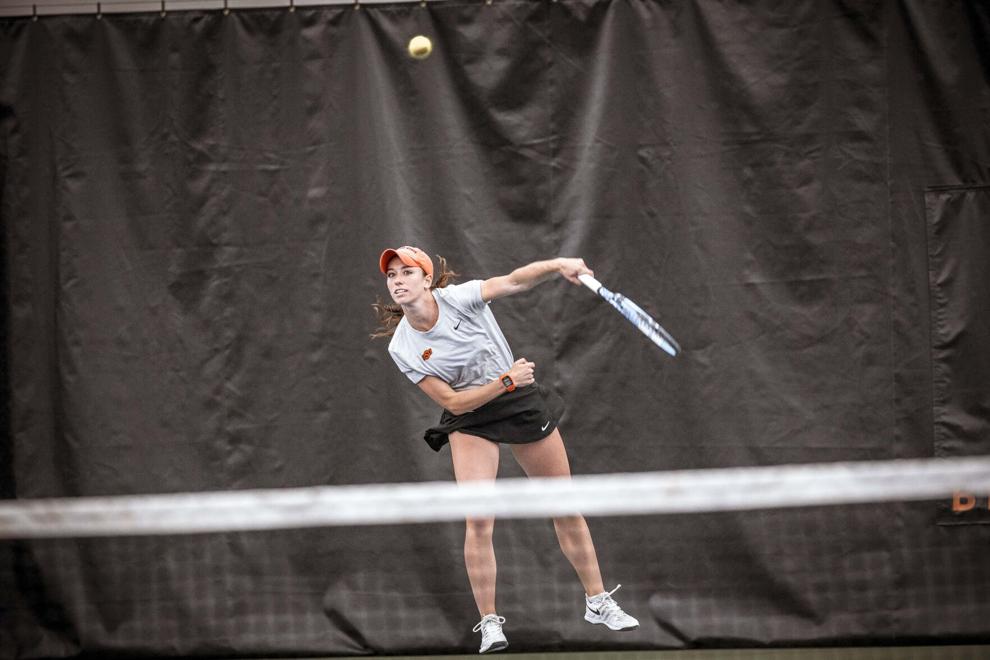 Wolfberg's introduction to tennis didn't involve a racket. Instead, plenty of screaming and laughing. Alana's father, Jeff Wolfberg, would take his young daughter to the courts for playtime. The two would paint funny pictures on tennis balls and chuck them over the fence. Simple father, daughter bonding. For Alana, it was playtime. The fact that she found herself on the court wasn't a coincidence.
"As a player, I always hoped that my kids would gravitate to a sport that I enjoyed," Jeff said. "I'm certainly responsible for introducing her to the game."
Jeff pursued his tennis dreams in college and beyond. He played collegiately at Wilkes University, a small private school in Wilkes-Barre, Pennsylvania, before moving to Florida where he competed in many qualifier-type tournaments. In 2006, after spending two decades as vice president of Tooter's Promotions, a promotional drinkware and liquor company, he opened East Orange Tennis Academy in the Wolfbergs' hometown of Orlando.
As years passed, Alana's tennis abilities accumulated. She quickly became one of the top junior players in the country. In Orlando, she was able to play against world class competition without having to travel much. Her four state titles in high school beat tennis great Chris Evert's three titles. 
"I have no doubt in my daughter's ability," Jeff said. "She was No. 1 in the nation in United States Tennis Association having beaten everyone from Coco Gauff to Caty McNally and Hailey Baptiste."
College coaches quickly flocked to Orlando. Schools such as North Carolina, UCLA and Florida wanted to make Wolfberg its next star. Each coach exchanged pleasantries with Jeff and Alana.
But there was one genuine constant.
OSU coach Chris Young.
 Young took three separate visits to Orlando to watch Alana compete in her high school matches. That dedication didn't go unnoticed.
"Chris is just a good guy that recognizes good talent," Jeff said. "So, when Alana said to me, 'I think I owe him a visit,' I'm like, 'Yeah, I think I you do.'"
Even then, Alana didn't have to visit Stillwater. She didn't have to attend college. She could have gone pro. Alana, however, had a different plan.
She recalled writing a paper in elementary school on her future career. She didn't want to be a pro tennis player. Instead, an oncologist.
"I lost both of my grandparents on my dad's side before I could meet them," Alana said. "Ever since I was little, I wanted to find the cure for cancer."
A high school valedictorian, Alana values academics and leadership as much as tennis.
With the intention of using tennis as a launch pad for oncology, Alana signed on the dotted line in 2018 and was Stillwater bound.
Jeff's time as Alana's coach was finished. In 2020, Young and assistant coach Jaime Sanchez-Cańamares took over.
A few parents may be upset if their child with pro talent moves across the country to take a different route. But not Jeff. He's in awe of his daughter's academic skill.
During the recruiting process and even now during her sophomore year, Alana never lost sight of her long-term plan. She plans on attending medical school.
For anyone, majoring in biology can be a rigorous endeavor. Add that to the physically taxing toll of a Division I athlete and the task multiplies in difficulty. Young and Alana made it work. The individual nature of tennis and Young's flexibility made it work. Each player on Young's roster has varying individual practice times. Young said he only holds team practice a few times a week.
"It's a balancing act," Young said. "Routine is really important. It's a little different from a team sport like football where you're focusing on 100 guys. You can't individualize anything. We have a little bit more flexibility."
 During an OSU match, the "Cowgirl family" is evident. Nine girls from all over the world are bonding as best friends in Stillwater. Alana is the only scholarship American on the roster. She never met a person from Kazakhstan until she moved to Stillwater and met teammate Dariya Detkovskaya. Naturally, Alana is a leader. Whenever the girls need help with English, the sophomore is there to help.
 That's what makes Alana different.
There are some girls as talented as Alana but perhaps, not as bold.
"There are so many different cultures and traditions that I'm learning every single day," she said. "At first, a bunch of the schools I was looking at were all Americans, and I thought that would be the way I would go. It was boring. It's so fun here."
Despite close friendship, the language barrier within the roster can cause difficulty and a lot of laughs. Alana remembers the first time Detkovskaya made dinner for the team. Detkovskaya was excited to share her favorite dish from home — Almaty, Kazakhstan, the country's capital.
"She was going to make chicken p," Alana said. "I was like, 'What the heck is chicken p? What is she talking about?'"
Turns out, when Detkovskaya served up the dish, chicken pie was on the girls' plates.
"She didn't know the word was 'pie,'" Alana said. "We were trying to figure out ,and she finally used Google Translate and I told her it was 'pie' and how stupid the English language is. That was a great memory."
No matter where Alana may end up 10 years from now, she'll always have her OSU family.
"I knew it (OSU) wouldn't be easy," she said. "Nothing worthwhile is ever easy."