Thomas Dziagwa's parents planned to watch him play basketball Thursday in Missouri, but instead, they spent the afternoon waiting to fly home to Florida.
When Don and Mary Dziagwa were leaving their hotel that morning, they expected to grab lunch and then settle into their seats at the Sprint Center in Kansas City for the quarterfinals of the Big 12 Men's Basketball Championship. The previous night, their son and his Oklahoma State teammates had defeated Iowa State in the first round, so the Cowboys were set to face top-seeded Kansas.
The quarterfinal games never happened. Because of concerns about the COVID-19 pandemic, Big 12 commissioner Bob Bowlsby announced Thursday the conference was shutting down the tournament. Thomas Dziagwa, a senior guard, called to break the news to his parents.
"He goes, 'Well, you might want to turn right back around and come back to the hotel because the tournament's been canceled,'" Don Dziagwa said. "And I said, 'What?'"
To prevent further spread of the novel coronavirus, sports have come to a sudden stop. It's a reality student-athletes, their family members, coaches and fans are forced to accept. In March, a month fans typically relish because of postseason basketball, arenas sit empty. At OSU, the Athletic Village has morphed into a ghost town.
Everything changed within a couple of days.
Updates and announcements flooded the internet. About 3 1/2 hours after the cancellation of the conference basketball tournaments, the Big 12 issued a news release stating regular-season competitions, offseason practices and on-campus and off-campus recruiting visits would cease from Friday until March 29. Then the NCAA canceled all winter and spring championships for the rest of the season.
The next day, a Big 12 news release announced no athletic competitions, conference or nonconference, would take place for the remainder of the academic year, and practices would end until March 29.
"It's just the snowball effect," Thomas Dziagwa said. "When one person makes a decision, then the next happens, and then the next happens. I'm no medical expert, so I just listen to the experts. So if they say don't get into big areas with a bunch of people, then we should listen."
Because of this unprecedented situation, Dziagwa's OSU career might have reached an abrupt end, or he and other winter-sport athletes might gain a season of eligibility. Although this topic is under deliberation, the NCAA has ruled student-athletes who play spring sports can have a renewed season of eligibility.
Mike Boynton, the Cowboy basketball coach, said he supports this policy for student-athletes in winter sports and spring sports. He said leaders made the correct choice in canceling competitions, but it's a difficult way for student-athletes to wrap up their careers. After weathering ups and downs, his seniors helped the Cowboys extend their winning streak to four games before the Big 12 Championship stopped.
"I want them to be able to write the end of the story," Boynton said. "And in many ways, I feel like that was the thing that they were robbed of."
For the Cowgirl basketball, Cowboy basketball and wrestling teams, postseason opportunities have ended early. The Cowgirls didn't play one Big 12 Championship game, and the wrestlers couldn't travel to Minnesota for the national championships.
Those who play spring sports are missing not only postseason tournaments but also large portions of their regular-season schedules.
The OSU softball team had been cruising on a 12-game win streak and planned to host the Cowgirl Invitational starting Thursday. Carrie Eberle, a senior pitcher, was in her first season at OSU after transferring from Virginia Tech, and with a team-best 0.46 ERA, she had a chance to lead the Cowgirls to their second straight Women's College World Series.
That dream has been postponed to next year.
Eberle said the Cowgirls and coach Kenny Gajewski hadn't realized there would be no WCWS until they read the news on Twitter.
"Obviously, that day was rough," Eberle said. "Luckily, the next day, they came out with the eligibility waiver, so that made it a little easier, but (it) definitely threw a wrench in this year."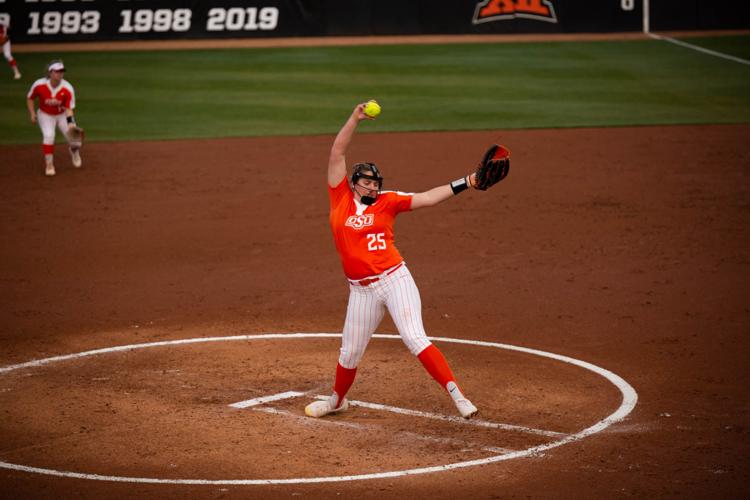 Similarly, the OSU baseball team had a sudden end to an exciting season. The Cowboys had anticipated March 20, when they were set to open O'Brate Stadium with a series against TCU.
Katie Whitfield, a freshman member of the OSU Diamond Dolls, a student group that promotes the baseball program, said the large crowd expected for O'Brate Stadium's debut was the part she had most eagerly awaited. Without games, the newly constructed venue's bright orange seats won't hold fans for a while.
"It's been a lot of disappointment," Whitfield said. "And I know that the boys are really upset because we've all been looking forward to this since the beginning of the year, and some of the upperclassmen, for semesters, it feels like. So it's really disappointing, but I know that we'll also get a chance to do it eventually, so I'm trying to keep my head up about it."
Fans who attend games have had no choice but to change their plans. For Brooks Walker, a 2016 OSU graduate from Oklahoma City, the Big 12 Men's Basketball Championship was an opportunity to not only support the Cowboys but also catch up with three of his college friends. Six months before the tournament, Walker and his buddies had planned to meet in Kansas City, but their reunion didn't last one full day.
Instead of watching all four quarterfinal games as they had intended, Walker and his friend Michael Christopher were listening to podcasts as they drove home Thursday.
"I just keep going back to it being a surreal experience, a time you'll never forget where you were when all this went down," Walker said.
Before Walker entered the arena to watch the Cowboys face the Cyclones on Wednesday, he read on Twitter that the Big 12 would restrict attendance to 125 fans per team the next day. Fans who didn't fall into that narrowed group could receive refunds for their tickets.
Although Walker and his friends weren't allowed to go to the quarterfinal games, student-athletes' close family members, including Don and Mary Dziagwa, could stay.
That didn't matter when the tournament was canceled Thursday. Quinton Lucas, Kansas City's mayor, announced the city was in a state of emergency.
"I didn't expect it to escalate as quickly and as fast as it did in regards to everything being canceled, including the NCAA Tournament and everything else," Don Dziagwa said.
The Cowboys went through a typical pregame routine before their day took a bizarre turn. They reviewed film, discussed their game plan and ate breakfast, expecting to have a chance to upset the Jayhawks. Then Mike Holder, OSU's athletic director, called Boynton to tell him the tournament would not resume, and Boynton relayed the information to his players.
Lindy Waters III, a senior guard, said it was tough for him to grasp the reality of the unusual situation.
"I knew it was a possibility with the NBA suspending their season and other conferences shutting down their tournament," Waters said. "…But whenever that opportunity did come and Coach Mike (Boynton) told us about it, it was just something very difficult to wrap my head around."
Waters is one of four scholarship Cowboys, along with Cameron McGriff, Dziagwa and graduate transfer Jonathan Laurent, whose career would end with a tournament victory but no trophy, unless winter-sport athletes gained extra eligibility. McGriff, a senior forward, said as of Friday, he hadn't mulled over the possibility of continuing his OSU career.
"It's a lot I've been taking in in the past 48 hours, but it's just whatever happens, happens," McGriff said. "I'll definitely put some thought into it, if that were even an option."
Eberle, who is eligible for an extra season because she participates in a spring sport, said she plans to return.
"I came to OSU to play softball, really, and I think everyone deserves to make the most of their senior year," Eberle said.
For now, Eberle is at home with her family in Clearwater, Florida, adjusting to life without softball practices or games.
Coaches also must acclimate to this pause in their normal lifestyles. Typically, they use the offseason as a time to focus on recruiting, but that becomes difficult when they can't visit prospective student-athletes or host them on campus.
Boynton said he was engaged in phone calls for about 3 hours and 45 minutes of his trip back from Kansas City, mostly chatting with recruits and their family members about the strange circumstances. During a time of social distancing, these conversations are central to recruiting.
"A lot of it will be just talking to kids on the phone and getting information as it comes from either our state Department of Health or the NCAA or Big 12 or the university," Boynton said.
Day-to-day jobs have changed for people across OSU's athletic department. Emily Lingenfelter, the sports information director for OSU wrestling, had prepared for the NCAA Division I Wrestling Championships, where nine Cowboys would have competed. With unexpected free time, Lingefelter said she will make early progress on creating a media guide for next season.
"I was putting finishing touches on my postseason guide, getting it ready to print," Lingenfelter said. "And now it's just like, what do you do? But it's very surreal, and it's sad. It's sad for the guys."
Eventually, fans will fill arenas and stadiums again. Batters will hit home runs, basketball players will throw down dunks and wrestlers will pin their opponents. No one can determine when normalcy will return, so until the pandemic subsides, the sports world is oddly dormant.
Although Boynton is empathizing with his student-athletes and offering them support, he is also putting the situation in perspective.
"We're talking about sports, and we're talking about, on the other hand, people losing their lives to something that we don't have an answer for," Boynton said. "This isn't about me. This is about the health of citizens and people who are dealing with this, and, in a lot of ways, maybe sports needs to take a back seat."