Truc Ngo recognizes it's impossible for people to erase what they have said, but it isn't too late for them to consider other points of view.
Although the World Health Organization has advised the public not to describe COVID-19 as a "Chinese virus," the term has continued to pop up in conversations about the disease. Mike Gundy, the Oklahoma State football coach, used that label Tuesday during a teleconference with a limited number of reporters. Ngo, a member of OSU's Asian American Student Association, learned about this when she read a Yahoo! Sports column about Gundy.
Ngo said the phrase "Chinese virus" can fuel prejudice that is directed toward people simply because of their appearances. As a Vietnamese American, she is aware of how this negative stigma can affect not only those of Chinese descent but also East Asian individuals whom others falsely identify as Chinese or associate with Chinese culture.
"I can't change the way I look," Ngo said. "All I can do is change the way people who want to get to know me think about me. I think assigning (Chinese) culture to a pandemic puts a lot of blame on people who look a certain way."
Gundy's use of the term has prompted various reactions from OSU students and others, including those who took to Twitter to either object to his choice of words or defend him. On a national level, many people have pushed to eliminate the phrase "Chinese virus," though others have continued to say it instead of using proper terminology such as COVID-19 and coronavirus.
In the WHO's five-page guide addressing social stigma related to COVID-19, the "Dos and Don'ts" section discourages people from connecting the virus with a place or an ethnicity. Despite this recommendation, President Donald Trump had frequently referred to "the Chinese virus," but he suddenly quit during a March 23 press conference after tweeting about keeping Asian Americans safe.
Fifteen days later, Gundy used the term as he provided a lengthy opening statement on his conference call.
"We really have two different situations here, the first being the Chinese virus and all the people that are involved in trying to stop it and help (fight) it, and so on and so forth," Gundy said. "And then I'll get into the second part of some of the questions which were concerning all the players, personnel, budget, things like that."
An OSU student who preferred to remain anonymous said she did not wish to offer a reaction to specifically Gundy's words, but she offered her perspective as a student from China who has dealt with hearing others also refer to COVID-19 with a geographic label.
"I think it's also really important for us to comply in accordance with the World Health Organization guidelines, in warning that referring to the geographic origin of an illness in names could stigmatize the people there," she said. "So I think it's important to remember just to refer to it as COVID-19 or coronavirus instead of labeling it in association to a geographic origin, and I think that was their original intention of not labeling it as Wuhan virus or Chinese virus."
In his conference call, Gundy expressed his desire for the "mainstream media" to focus on positive news instead of only negative news. This anonymous student emphasized positivity and global collaboration as well.
"I just want to say that I feel like this is the time where we shouldn't be placing blames on a particular group of people but a time to join together in compassion, kindness and commitment to our communities," she said. "And I know that many people, students, Chinese students and students in general, are coping with the situation so positively."
The O'Colly has attempted to reach Gundy for a comment regarding his reference to COVID-19 as "the Chinese virus," but as of Saturday, he has provided only a general statement that was sent to multiple outlets.
"I have been made aware that comments from my press conference have offended some," Gundy said in the statement. "It was never my intention to offend anyone and I apologize. My first priority is and will always be the student-athletes and doing what is best for the program and the university."
In the teleconference, which lasted about an hour, Gundy addressed a variety of topics, including support for Oklahoma governor Kevin Stitt and ideas about bringing the Cowboy football team back to campus.
Pete Thamel, the author of the Yahoo! Sports column Ngo read, described the phrase Gundy used for COVID-19 as "a remark that's both racist in intent and harmful when repeated out loud."
Riley Wells, an OSU student who is Chinese American and Vietnamese American, said she doesn't believe Gundy had racist intentions when he said "Chinese virus" and she didn't take personal offense, though it might have not been "the best choice of words."
"I was thinking about it, and I can see why some other people might be more offended by it," Wells said. "But I think it can be taking it out of context as well."
As the COVID-19 pandemic has disrupted everyday life across the world, Chinese people and other East Asian individuals have carried the additional burden of dealing with discrimination, including physical attacks and verbal abuse. Gundy clearly made no threats or violence-laced statements, but Ngo explained how the use of a phrase such as "Chinese virus" can add to a climate of hostility.
"I just think this puts a lot of xenophobia in the community, especially towards just people who look like this," Ngo said.
COVID-19 isn't the first disease some people have labeled according to the nation where the first case was recorded. Ngo acknowledged that previous pandemics have been stamped with cultural names, such as when the 1918 influenza outbreak was called the Spanish flu pandemic, but she is an advocate for breaking this trend. In 2015, the WHO released guidelines that cautioned against using "geographic locations" in names for diseases.
Ngo and other students are striving to raise awareness of this issue when they use the social media hashtag "#IAmNotAVirus."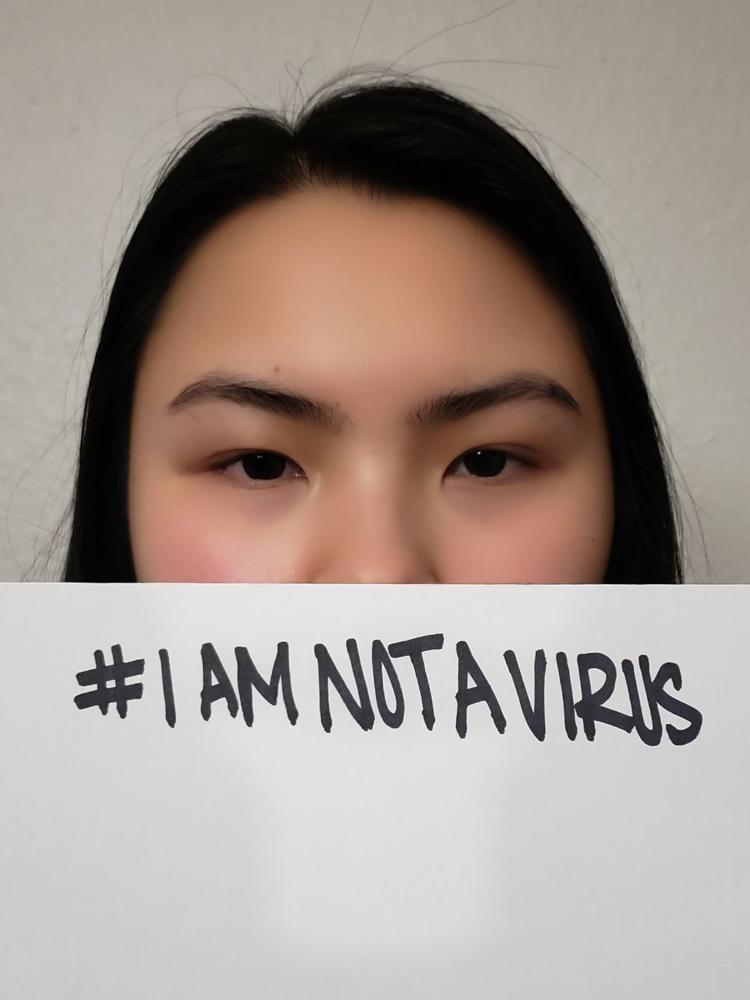 "We're not a disease," Ngo said. "We're not a virus. ... With that hashtag, we're hoping that enough people see it and the people who need to see it will see it."
Ngo pointed to education as a way for people to broaden their perspectives.
"I think that's just what is important about news getting around and spreading awareness," Ngo said. "And understanding different perspectives of this, but also coming to a common ground."