Many of the emergency phone poles located across campus, commonly referred to as "blue lights", are out of service, and students have noticed.
Michael Robinson, OSU's chief public safety officer, said the emergency phones were originally installed on campus so students could contact the police in an emergency situation and receive a timely response. They were installed in 1979.
"The blue phones were installed about 40 years ago, and they were great then, but now everybody carries a cell phone," Robinson said. "They've just outlived their usefulness. Technology has advanced to a point where they don't serve the purpose they do when they were first put in."
Robinson said the emergency phones have been unused by students for some time.
"Since 2007, there has only been three legitimate calls made by students on the blue phones," Robinson said. "The calls that we do get are largely not legitimate, so it actually ends up wasting police services, because we end up responding to a prank call."
Some students, like accounting junior Spencer Webster, have never even noticed the blue lights around campus.
"I would always dial 9-1-1 in an emergency," Webster said. "I feel safe on campus, I don't think the blue lights make an impact on our safety when we have phones that can get us help immediately."
Robinson said he hopes to remove the broken emergency phones in the near future, but they need to get the money to remove them first.
"As the phones break down and require maintenance, somebody has to pay for that," Robinson said. "Then, it's kind of like throwing money down a hole because you're spending money to maintain something that doesn't serve a purpose anymore. The ones that are still working, they're functioning so we'll leave them in place for now, but we won't install or repair more blue phones because it just doesn't make sense."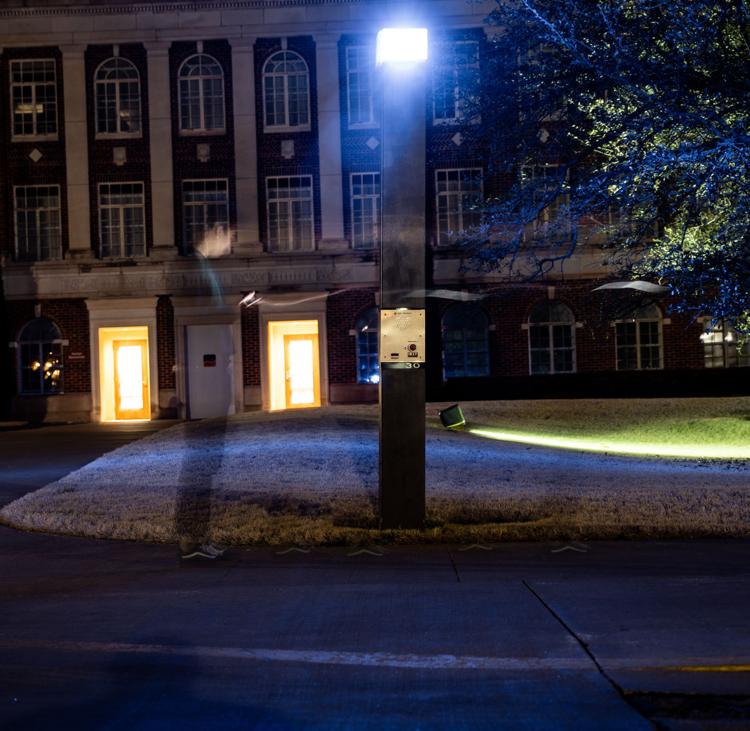 Robinson said the emergency phones cost between $7,000 and $9,000 per phone for facilities management to remove.
"What we're trying to do now is identify funds to remove the phones as they stop working, and we have at least 12 broken phones that need to come out right now," Robinson said. "We've got to pay for the labor to pull them out, and to fix the hole in the ground, and we didn't account for that in our budget this year."
Robinson said students should use their phones to dial 9-1-1 in an emergency before using the Rave Guardian app (the app that replaced Orange Shield) or the blue lights.
"The Rave Guardian app is fine for reporting something you see that looks suspicious, but anytime you require immediate police assistance you should always dial 9-1-1," Robinson said. "That's the fastest way to reach us and get help."
Correction: A previous version of the story stated the app "Rave Guardian" replaced was called "Safety Walk." 
Clarification: Chief Robinson quoted an anecdotal reference used by a dispatcher when stating there have only been three legitimate calls since 2007. That is not an exact number.