Emma Schlebach has wanted to be a teacher her whole life.
Now, with Oklahoma State University and the Stillwater Public School District canceling all in-person classes, Schlebach will miss out on the best experience an aspiring teacher can receive.
Schlebach, a music education major at OSU, is missing out on her student teaching experience.
When Schlebach found out she would not be able to complete her student teaching, a variety of emotions overcame her.
"I cried," Schlebach said. "I checked my email because I had heard some schools were closing, and (the email) said that we were not allowed to come back to our placements until the end of April, and then eventually it was never.
"So, I cried and was stressed because we did not know if we were going to get certified and if that affected graduation and what I say when applying for jobs. And then I realized about two weeks later that no one really knew what was going on because no one has been in a situation like this before. There was a lot of uncertainty."
Student teaching was not Schlebach's first experience teaching. She has conducted the First New Methodist Church Children's Choir since 2018 and has experience teaching her peers as a section leader in OSU's Concert Chorale. She even had the chance to lead the Concert Chorale, which encompasses about 55 members.
The student teaching experience was supposed to show Schlebach what is in store for her once she enters the workforce as a music educator.
"Student teaching for me was an incredible practice of living in the moment," Schlebach said.
Schlebach did her first day of student teaching at Edmond Memorial High School while the choir there was getting ready for the Oklahoma Music Educators Association Conference. While the choir was preparing, Schlebach was observing and taking notes on the director's teaching.
"Then we had a plan after Martin Luther King Jr. Day that I would have a certain amount of responsibility," Schlebach said. "Then, the drama teacher resigned, and my cooperating teacher took on a lot of extra responsibility outside of their own choirs. So, I would just show up every day and say, 'OK, what do they want me to do today?' I never really knew, but I was ready to do anything."
Not being able to complete student teaching leaves some perspective teachers feeling as though they will be at a disadvantage when entering the workforce.
Katie Eddings, a human development and family science major, said missing certain experiences, such as parent teacher conferences, harms her experience for the workforce. She will have to experience what parent teacher conferences are like for the first time as a certified teacher.
"It'll definitely put me at a disadvantage," Eddings said. "I feel like, for the most part, I am prepared for going into the career. There are just things like parent teacher conferences, testing and different things like that I do not feel like I am really ready for."
Eddings jumped among a few majors before deciding to go into education. Now she is finally doing what she loves.
Interacting with kids every day was one of Eddings favorite part about student teaching.
"I was getting pretty close with the students," Eddings said. "I would come in, and I would get hugs every day.
"I was gone for a couple of days at the beginning of the semester, and when I came back, they all freaked out. Being a teacher, you grow this really big connection with your students, and I really miss them. I think I influenced them a lot and helped them meet some different goals in their educational and developmental achievement."
The coronavirus cut Eddings experiences with her students short on March 12 when OSU announced its intentions to hold classes online for two weeks after spring break.
On March 18, it announced students would finish the semester online. Student teachers were not allowed to go back to the school placements, even if the Public School Districts opened again.
The Stillwater Public School District began its distance learning program April 6.
Robert Graalman, president of the Stillwater School Board, said Stillwater was prepared for the challenge of moving all of its Pre-K–12th grade learning online.
"I was not surprised (when the schools closed)," Graalman said. "The school board has an enormous range of policies that cover every possible emergency, it seems. Some of these policies would go back to other similar crises such as the SARS virus. So, we were equipped with plans that, for the current situation, just needed to be refined a little bit so that we can move ahead."
Graalman said he is always impressed with the teachers, principals and school board members in Stillwater, but there are only a few times he has been overly impressed with their efforts in his five years on the board. The last time was during the teacher strike two years ago.
"I would say that what we have gone through the last two weeks is at least (at the level of the teacher walkout) if not beyond in terms of the quality of our personnel and how passionate they are about getting young people educated," Graalman said.
Some student teachers are concerned about what the implications of distance schooling could have for the home life of students.
Mattie Awtrey, a human development and family science major, is worried some kids might not have their safe space anymore.
"I really miss being in the classroom with the kiddos," Awtrey said. "We think about kids that we might know that are not in good homes or do not have the resources they need like food or a good place to stay. For a lot of students that I have known and that I have interacted with, school is their safe space. So I think the hardest part for me has been knowing that a lot of those kids are not in their safe place anymore."
Awtrey comes from a family of teachers. Teaching is something she has always wanted to do.
Most education and human science students have to complete field experience hours before they begin their student teaching, but Awtrey said that field experience does not compare to student teaching.
"It is normally like one day a week in the field (when getting field experience hours)," Awtrey said. "So being there every day of the week with them in the field, in a classroom, all eight hours of the day was a whole new ballgame. Some mornings you are tired and the kids are tired and nobody wants to do anything, but I really liked it. I felt like I got to teach them more and see them grow more and I really got to just get to know them all more."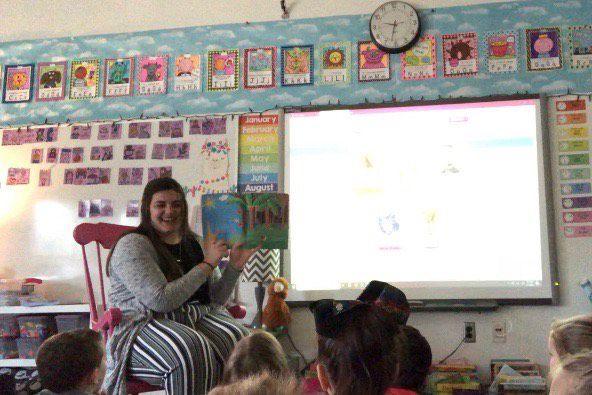 Some student teachers are working with their cooperating teachers in an online setting to acquire more experience in the field.
Elementary education major Avery Ogle said while her and her cooperating teacher were waiting on Stillwater Public Schools to release their distance learning program, the two would set up Zoom meetings with their first grade students to check in on them and continue some learning. Ogle said it's one of the funniest things she has ever seen.
"Their Zoom task last week was to show us something that they built or made from home, and they were so excited," Ogle said. "Getting to see just how excited they were to talk to us and how much sometimes we just take that for granted. Being at school and seeing that excitement about learning and being together even if it was on Zoom was sweet, and it is definitely something that I will not take for granted."
Schlebach has also been able to continue some teaching online, using Facebook to stream live videos to her students from home.
Despite all of the uncertainty and confusion regarding how student teachers will gain more experience in the field and get their certification, the most difficult part for some has been not being able to say goodbye to their students.
Anne Maggio, an art education major, said she was devastated she did not get to say goodbye to her kids.
"I did not know it was going to be the last time I would see the kids," Maggio said. "For me that was probably the most upsetting part is that I feel like my kids deserve a proper goodbye."
Ogle, however, was thankful for the goodbye she got to have with her kids.
"I got to hug each and every one of them," Ogle said. "Now, looking back, I am so incredibly grateful for doing that because I had no idea it was going to be the last time."