Like spring flowers, new apartment complexes are popping up in Stillwater to meet the demand for amenity-flush living from students willing to pay top dollar while challenging local landlords to stay competitive and modernize.
Many Oklahoma State University students have demonstrated their willingness to pay increasing rents, which in some cases have doubled from two years ago, for apartments within walking distance of class and budding with modern furniture, updated appliances and other amenities. Even students faced with higher rental rates, many of whom are looking to keep their student debt low, say they see the benefit of better housing along with incentives from landlords.

Longtime property owners are absorbed in fierce competition, a touchy subject after years of foregoing maintenance and upgrades because of little competition in the neighborhoods near campus. They must now spend thousands on new bathrooms and kitchens or see their units go empty, they said.

Even OSU is adjusting housing rates, offering Apple Watches and free parking to returning students and touting its amenities, including the Colvin Recreation Center, trying to fill dormitories. But many students are opting for an upscale experience close to campus that allows them to embrace the freedom of off-campus living.

Colton Strabala, a computer engineering junior, said he chose to live at one of the newer apartment complexes, Prime Place, because of its proximity to class as well as restaurants and bars on The Strip. Prices at the complex near Fourth Avenue and Hester Street range from $529 to $859 per month for one bedroom, bills included, compared to renting a bedroom in an older house nearby for about $400.

"This is the best location I can find right now," Strabala said.

He said his scholarships and parents help pay for his two-bed, two-bath apartment, which he shares with a roommate. Strabala said he has already signed a lease for next year and would consider paying an increased rate because of the convenience to campus.

STILLWATER SETS STAGE FOR BOOM

Stillwater is one of many cities across the country that private developers have targeted in recent years for student housing development, adding almost 281,000 beds to college town markets from 2012 through fall 2016, according to Axiometrics, a student housing research firm.

In 2012, Stillwater, not wanting to be left out, adopted its Corridor Redevelopment Plan to link its booming downtown with the area around OSU's campus and to encourage investment from commercial builders of dense, urban-style housing, among other goals.

The 30-page plan covers 512 land parcels to the south and east of the OSU campus and allows for mixed commercial, retail and residential uses of land in the campus area.

In the past two years, there have been 10 commercial housing projects in Stillwater. In 2016, the value of commercial permits topped out at more than $100 million, according to City of Stillwater data.

Tom Coots, a Stillwater planning assistant, said those projects would result in an additional 2,200 beds in Stillwater. He referred to the time period as "record breaking" for commercial development but said he doesn't expect the same for 2017.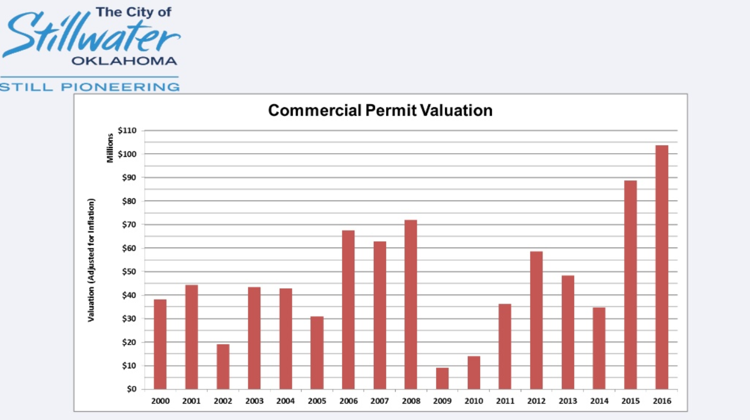 Larry Brown, a One Broker Place realtor associate, specializes in commercial residential properties in Stillwater and has worked with Aspen Heights, Progress405, Avid Square and Brookside Stillwater.

He said the investment in high-rise student housing complexes across the nation, and now Stillwater, boils down to economics. With greater density, land can hold more housing units than before, delivering a profitable return on investment for the high price of land and construction near campus.

"An investment of $20 (million) or $30 million has to have a certain return before it becomes economically viable, and one of the ways that (developers) do that is try to maximize the number of bedrooms with the number of units per acre," Brown said. "If you can't go horizontally, the alternative is to go vertically."

UPS AND DOWNS OF DEVELOPMENT

For 12 years in Stillwater, collegiate housing developer EdR has operated The Reserve apartments on Perkins Road, 2 miles outside the campus area. After looking at the city's plan and seeing steady enrollment at OSU, EdR's officials decided to invest in another multimillion-dollar complex.

Last summer, the Tennessee-based company began construction on a 198-unit apartment complex, Avid Square, near Fourth Avenue and Hester Street that is set to open in August.

Rodney J. King, EdR's vice president of real estate development, said in an email proximity to OSU, recent construction and amenity options influenced the company's decision to build a second development in Stillwater.

Avid Square is expected to include study lounges and an outdoor pool and fire pit, among other amenities. Prices range from $399 to $960 per bedroom for a range of one- to four-bedroom apartments.

Monthly rents creeping close to nearly $1,000 a month for a one-bedroom apartment have caused some students to seek out older, inexpensive housing that remains within walking distance to class.

Bethany McLemore, a management senior, said she chose to live in a dated complex near campus her junior year because she could afford the rent. The Prime Place apartments, she said, were outside her student budget.

To appeal to renters like McLemore, landlords are offering incentives and spending heavily to remodel old apartments and homes near the new complexes, said David Beers, co-owner of property managers Beers & Sites Enterprises.

Although he acknowledged the competition overall has been good for students, he said some mom-and-pop landlords are struggling. Owners of many older properties who don't want to invest $30,000 to $40,000 to remodel their housing are selling their real estate, Beers said.

But for some OSU students, living a contemporary lifestyle is more essential than saving a buck. A few years ago, students had to go 3 miles or more from campus to find conveniences such as a washer and dryer included in their unit.

Kelsy McGuire, a sales and marketing specialist at Aspen Heights, which has operated in Stillwater four years as one of the newer complexes farther from campus, said the increase in student housing has had an impact.

"Each time a (complex) is built they are the new exciting thing," McGuire said.

OSU STAYS COMPETITIVE, TOO

Landlords aren't the only student housing players striving to stay in business. In February, OSU Housing and Residential Life rolled out its On-Campus Housing Renewal Package, offering to waive tuition and housing for one student who commits to living on campus next fall.

"We've got to compete," said Leon McClinton, OSU Housing and Residential Life director. "There's a balance of stabilizing rates but also providing high-quality services."

McClinton said the department is proposing a minimal increase in some housing prices for the fall. However, he said students living at University Commons will see a $245 per semester decrease in rates. Students currently pay between $445 and $890, depending on whether they live in a shared room in Drummond or a two-bed, two-bath in a dormitory north of campus.

The proposed rates will be presented for approval at the OSU A&M Board of Regents meeting April 21, he said.

Last year, students saw a 3 percent increase in OSU's student housing rates mainly because of a rise in the university's utility prices, McClinton said.

He said many of the amenities the newer apartment complexes advertise are available on campus. Students, for instance, can take advantage of the exercise equipment, fitness classes and pools at the Colvin.

The new housing "really created a competitive atmosphere for the tenant, for the customer," said Brown, a One Broker Place realtor associate. "Students still have options; the complexes just give them another one."

investigations@ocolly.com