Some Oklahoma State University students and a theater professor claim the exploration of transgender and other gender issues caused their production to be moved from the main stage.
Students in a fall 2015 devised theatre class were developing a play based on "A Doll's House" by Henrik Ibsen, which raises questions about gender roles and relationships in society. The play was scheduled to be performed in the Vivia Locke Theatre this weekend.
Jodi Jinks, an assistant theater professor, said her students were in the early stages of developing scenes of "The Politics of Dancing," which included transgender monologues and other gender-related issues, when the class was told it would have to change the direction of the play or perform elsewhere.
"At that point, I believe that there was an infringement on my academic freedom of speech, and there was an infringement on students' freedom of speech," Jinks said.
Students began reading and devising the play in August and started discussing transgender issues prevalent in the media, Jinks said.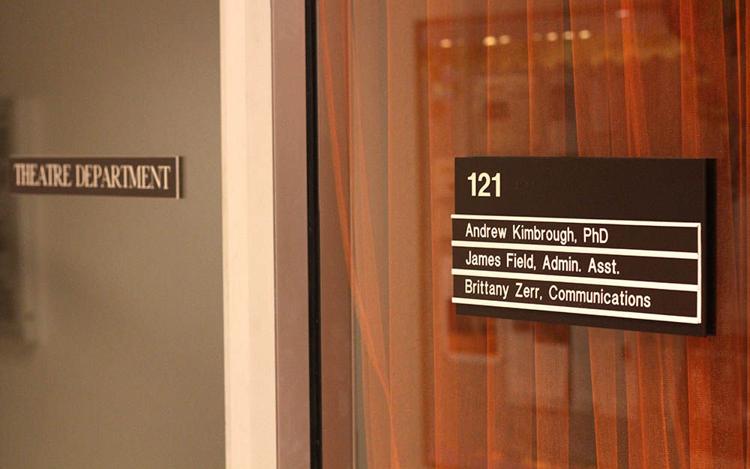 Andrew Kimbrough, head of the OSU Department of Theatre, said he thinks "it would be incredibly inaccurate to characterize this department as anything but supportive of every human being who's out there." Photo by Kurt Steiss/O'Colly
---
In mid-October, Jinks presented drafts of scenes that depicted the writing style the students were going for, she said. Andrew Kimbrough, head of the OSU Department of Theatre, as well as costume designers and the stage manager attended the meeting.
Jinks said the scenes were read, and the next day, Kimbrough told her she could not produce the show as it was on the main stage.
"(Kimbrough) was afraid we would offend the donors and lose money for the department because we depend on our ticket sales to keep this department afloat," she said.
Kimbrough, who has worked at OSU for more than two years, said when the scenes were presented in the meeting, it seemed there was a disconnect between the original proposal and the direction the devised play was moving.
"When the work was presented to the production team, we saw that in the slate of scenes that were to be presented, we were not seeing an exploration of relationships," Kimbrough said. "Instead, what we were seeing was an exploration of gender identity and gender politics."
Thursday, Jinks said Kimbrough gave her until the end of the day Monday to stop her efforts to publicize the story with the O'Colly.
"It was another attempt at squelching freedom of speech," Jinks said.
Kimbrough said he requested Jinks to dissolve the story.
"I think it would be in the best interest of the department if there was no negative publicity of this incident," Kimbrough said.
Jinks said about a year ago, she was asked to provide the name of the play and a short description of what it would entail for marketing purposes.
The theater department advertised the play as a production that "examines the mating rituals of our planet's most advanced and complicated species," according to a department brochure.
"I was seeing an evolution of work that was, one, not on the topic that was proposed, (and) two, that tended to be one-sided in its address of transgender issues," Kimbrough said.
Kimbrough said he visited the class and requested that if the students continued with "The Politics of Dancing," they keep in mind the type of audience they would be performing for.
"Even though they were moving in a new direction, they were never asked to abandon the topic but simply to proceed from the vantage of mid-October with our current audience in mind," Kimbrough said. "And I believe when you're running a business, this is the No. 1 rule. You must create work that has your audience in mind."
Jinks said the department was set up to fail when the students were asked to write a play for an audience "over 50, white and Republican."
Kimbrough said the description of the audience transpired from a conversation with the class. He said he asked the students to be specific about the demographics of the department's audience.
"There was a pause in the room and then about five students spoke all at once and said 'old people' and then a voice chimed in afterward and said 'conservative old people,'" Kimbrough said. "I did not disagree with them because I believed the students' assessment of the audience was accurate."
Jessica Smoot, a theater senior, said the class was also told changes would need to be made to the proposed scenes before they could be performed on the main stage.
"(Kimbrough) told us that edits would have to be made to what we were saying and that we definitely would have to change some of the scenes we had initially proposed," Smoot said. "He basically gave us an ultimatum. Either we change our material and get to perform on the main stage or we do a black box show."
Smoot said the students were told they could perform the play as they wanted in the Jerry L. Davis Studio Theatre with full technical support. The students took five days to decide how they wanted to proceed and chose to perform in the Davis Studio.
Smoot said by the end of October, the students were informed the show would be a workshop performance and would receive no advertising or technical support within the department.
"I know (Kimbrough) has to make hard decisions," Smoot said. "The thing is, it's in educational theater institution.  I mean, yeah, the money's important, but we should be able to have the freedom to say things without it being primarily business."
Smoot said she believes she and her classmates were censored when they were asked to modify the content for the main stage.
"Immediately, when you're told you have to say something to suit a certain crowd, that's censorship," Smoot said.
Jinks received the Mary Lou Lemon Endowed Professorship for Underrepresented Voices, which serves the purpose of giving a voice to populations that don't have one.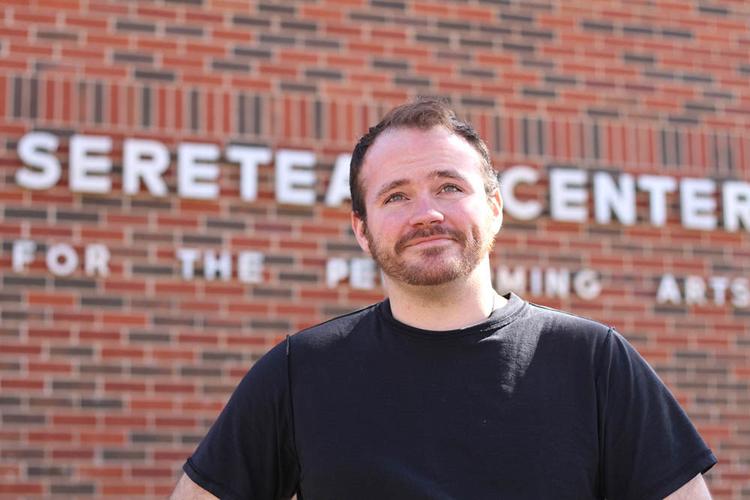 Josh Arbaugh was part of the production of "The Politics of Dancing," and he says he was heartbroken when he found out about the decision. Arbaugh is also Kimbrough's mentee. Photo by Kurt Steiss/O'Colly
---
Josh Arbaugh, a theater junior who identifies as transgender, said he was humiliated and heartbroken when he found out about the department's decision. He said he took a risk writing about his personal experience for the play and as a result ended up feeling like a "freak of nature."
Arbaugh, who is also Kimbrough's mentee within the theatre department, said he never expected a play about transgender issues to be a problem on a university campus that has many diverse clubs and organizations.
"I pleaded with (Kimbrough)," Arbaugh said. "The day he came to class, I said, 'This is really happening. It's relevant, it's happening now, it's happening to us.'"
Arbaugh said Kimbrough seemed afraid of the play's content.
"He seemed like it was going to embarrass the department and that it would potentially ruin us as a department if this kind of content was seen by our donors," he said.
Arbaugh said he and his classmates weren't willing to compromise on a subject they believed should be talked about. The class performed the play "This Title Has Been Censored" during finals week in the Davis Studio.
"It wasn't finished, but we said what we wanted to say," Arbaugh said.
Arbaugh said theater students aren't being protected and that the department's image should be a reflection of the students.
"Censoring who we are to protect an image is too costly," Arbaugh said.
The department has never shied away from staging work with LGBTQ characters and topics, Kimbrough said.
Shows such as "Almost Maine," "Cabaret" and "Beyond Therapy" showcase the department's diversity, he said.
"I think it would be incredibly inaccurate to characterize this department as anything but supportive of every human being who's out there," Kimbrough said.
In the past three months, Jinks has met with OSU administration officials, including Gary Sandefur, the provost, to express her concerns regarding the students' rights and her right to academic freedom.
"What I am feeling is that there is a disregard for my feelings around an infringement of academic freedom of speech and freedom of speech and it feels as though it's being swept under the rug," Jinks said.
Sandefur said no report has been issued with findings regarding this situation.
"I think there was just an honest difference of opinion about the accessibility of the performance and its appropriateness for the season and the main stage," Sandefur said.
OSU abides by the American Association of University Professor's definition of academic freedom, a portion of which states, "All faculty members are entitled to freedom in the classroom in discussing the subject of the course, but they should be careful not to introduce into their teaching either controversial matter that has no relation to the subject or actions that violate the rights of students," according to the OSU Faculty Handbook.
Sandefur said he believes academic freedom is one of the most important values in higher education.
"You want a college campus to be a place where ideas can be freely exchanged and shared and heard with one another even if some of those ideas we might personally find disagreeable," Sandefur said. "If you can't have free and open exchange of ideas at universities, on college campuses, you're not going to be able to have it anywhere."
Jinks has not filed a complaint with the university as the OSU grievance policy does not list academic freedom issues on its grievance checklist. Sandefur said he has endorsed the AAUP's call to re-examine OSU's grievance procedures and revise the policy so that it is in line with the AAUP's recommendations, if faculty council feels it is appropriate.
The OSU chapter president of AAUP said there is nothing binding about what faculty council does.
"There's no guarantee that a revision, if it's proposed, will be accepted," Shelia Kennison said.
Smoot said there was a general feeling that the money and donors were more important than what the students had to say.
"We went into this knowing that not everybody's going to like what we're going to do, but that's part of art," Smoot said. "Sometimes you have to make people slightly uncomfortable in order for there to be a change."