TULSA — The Oklahoma State University-Tulsa campus is under construction.
Much like the City of Tulsa is improving the boulevard that leads to campus, administrators within the OSU A&M system are making adjustments internally, hoping to turn OSU-Tulsa into a "healthy, vibrant place."
At an OSU Faculty Council meeting in August, Gary Sandefur, OSU provost and senior vice president of academic affairs, presented a list of concerns regarding OSU-Tulsa as well as a plan to remedy those issues.
The main concerns were declining enrollment and faded connections between the Stillwater and Tulsa campuses.
"OSU-Tulsa has been struggling for some time with its enrollment," according to the faculty council meeting minutes. "Politically, it is not possible just to close it. There is a role it can play, but we are currently sorting this out."
Enrollment at OSU-Tulsa, which opened in 1999, has steadily declined since 2012, according to OSU data. OSU-Tulsa President Howard Barnett told the O'Colly the campus saw an increase in enrollment after the Great Recession but has struggled since those students graduated.
As a part of the legislation passed in the late 1990s, OSU-Tulsa inherited the campus formerly known as the University Center at Tulsa, which offered upper-division and graduate courses from OSU, the University of Oklahoma, Northeastern State University and Langston University.
As part of a political and legal agreement, OSU-Tulsa can't offer any freshman and sophomore courses and is prohibited from offering the same majors as Langston-Tulsa.
"Accounting hurts; psychology hurts; those are our two most inquired about programs that we don't have, but it's the law," Barnett said.
Sandefur told the O'Colly closing the Tulsa campus is something that has been talked about but not seriously considered.
"We have a commitment to Tulsa, and we'd like to carry through with it," Sandefur said. "We're trying to expand and grow enrollment there. It's not as high as we would like it to be. That's why we're making some of these administrative changes, but there are no plans to close OSU-Tulsa."
Making changes
At the meeting, Sandefur announced the solution would be administrative changes and possible program expansions at the Tulsa campus.
Effective Sept. 1, Pamela Fry, OSU associate provost and associate vice president for undergraduate education, became the interim provost and vice president for academic affairs at OSU-Tulsa. Fry will maintain her role at the Stillwater campus.
Raj Basu, who served as vice president for academic affairs at OSU-Tulsa, is now working part time as the vice president for student affairs and spending more time in the classroom. Raman Singh, who was an associate dean in Stillwater, is moving to serve as the head of engineering programs at OSU-Tulsa.
Fry, who served as the OSU interim provost in 2013-14 and as the dean of the College of Education for six years, said her first order of business is to concentrate on communication and coordination within and outside of OSU-Tulsa.
"I'm focusing immediately on making sure we have updated transfer agreements," Fry said.
She said one of the most pressing issues is communication with students and area community colleges about which credits are transferable. Working with Tulsa Community College and OSU-Tulsa's 10 undergraduate advisers to ensure students can transfer the credit hours they have already earned is a top priority, she said. 
"Certainly, the increased communication about what the options are there, both undergraduate and grad, is the immediate action, I think, to grow the (enrollment) numbers," Fry said. "We have the capacity, in some courses, to increase the numbers without needing to increase faculty.
"There is some capacity to grow, and from that increases revenue, which then we can reinvest back into the programs."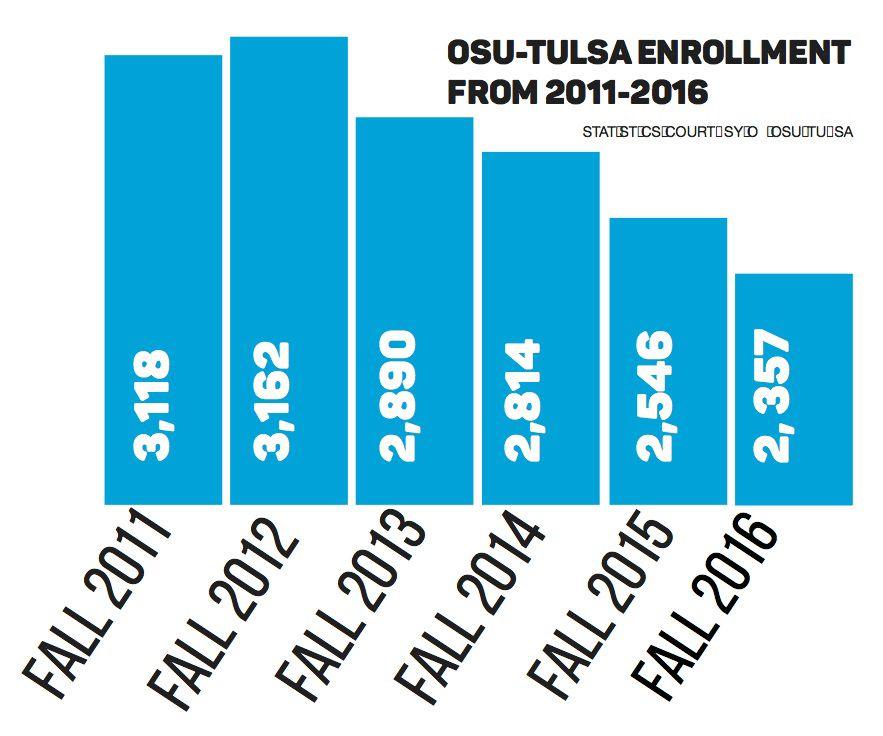 Taking a closer look
In addition to losing about $1.6 million in state funding this year, OSU-Tulsa has operated at a deficit for the past five years, according to OSU budget data.
Barnett said the campus was forced to impose nonfaculty layoffs and reduce the amount of sections offered this year. He said the cuts "pushed everybody to do the bare minimum."
The campus is in the midst of a soft hiring freeze, he said.
"It's just your basic business situation when you know your revenues are down, you've gotta make your expense side fit the mold," Barnett said.
In an email, Barnett said the Tulsa administration "put moratoriums on several declining enrollment/high cost programs further reducing enrollment but saving money" in response to the deficits noted in the budget.
Barnett attributes OSU-Tulsa's struggles to a lack of careful examination of the 80 degree programs it offers.
"We have not done, in the time I've been here, a complete thorough review of our program offerings with a sharp pencil," Barnett said. 
He said since 1999 the campus has shifted from largely catering to graduate students to focusing on undergraduate education school.
Fry, who spends Mondays and Tuesdays at the Tulsa campus, said she is working with a consultant hired to analyze what degree programs are vital to the Tulsa marketplace. Fry said the consultant will look at other colleges in the area and identify the gaps that need to be filled to effectively serve the community.
"We're really trying to look at this in a data-driven way as to what programming exists and needs to exist in the Tulsa market," Fry said. "What's most popular, most viable, most needed — we'll continue to work on that."
The analysis is in its beginning stages, and Fry said it will be a few weeks before OSU receives the initial results.
Closing the gap
Sandefur said one issue the administration needs to work hard at is making sure OSU-Tulsa resident faculty members feel as if they are a part of OSU-Stillwater.
"I think going forward, we all think that having the provost at OSU-Tulsa also having an appointment at OSU-Stillwater will improve the channels of communication and make it easier for the two campuses to cooperate with one another," Sandefur said.
Since she took on her new role, Fry has worked to individually meet with all OSU-Tulsa faculty, which is about 60 people, and said she plans to conduct student focus groups. She said she also hopes to get input from students involved in organizations on the OSU-Tulsa campus about academic changes they would like to see.
Barnett said Fry brings relationships with administrators in Stillwater, which will potentially help the administrations at each campus establish better working relationships with each other.
"With Dr. Fry now over there two to three days a week, we're not out of sight or out of mind, and we're at the table," Barnett said.
He said the biggest issue is OSU-Tulsa being represented when policy discussions are taking place.
"Some things that work in Stillwater policy-wise, may not work here," Barnett said.
For example, Barnett said he had to request an exemption from block tuition rates at the OSU-Tulsa campuses because the campus was designed to serve nontraditional students, not necessarily students taking a full course load each semester. 
"Hopefully, now with Dr. Fry, she would be at the table with that issue early on, and that would never come up," he said.
The vision
When OSU-Tulsa opened in 1999, former OSU President Jim Halligan's vision was to have 20,000 students enrolled at the campus by 2020.
With its current enrollment at 2,400 students, it's unlikely the campus will meet the proposed goal.
"That was my vision at the time, and indeed the probability it will be realized by 2020 is indeed remote," said Sen. Halligan, R-Stillwater.
Halligan said he supported the creation of OSU-Tulsa because he believed OSU needed a "vibrant" presence in Tulsa for the city to succeed.
"In order for Oklahoma to succeed, both Tulsa and Oklahoma City must succeed — they are the economic engines of the state," Halligan said.
He said he believes making OSU-Tulsa larger is one of the keys to Tulsa's growth and prosperity. In the future, he would like to see more of a focus on biomedical engineering and majors tailored to healthcare, he said.
"That, to me, is a real opportunity for the future," Halligan said.
Likewise, Barnett envisions OSU-Tulsa growing and accommodating younger students.
"I see (OSU-Tulsa) growing," Barnett said. "And I see our student body, if we do this right, maybe getting a little bit younger."
He said no further administration changes at OSU-Tulsa are being discussed.
Although it might not be feasible to enroll 20,000 students at the Tulsa campus in four years, OSU administrators are undoubtedly hoping these changes will help spur revitalization at OSU-Tulsa.
"I don't know that we'll ever have 20,000 students there," Sandefur said. "Right now it's viable. It's OK. But I think we can make it a vibrant, alive place."