Helen Clements stared at the empty cubicle next to hers.
She noticed the little collectables that embodied the life of the man who once sat there: a calendar with a Van Gogh painting, a small Buddha statue from a friend's travels, piles of books and an Allied Arts calendar.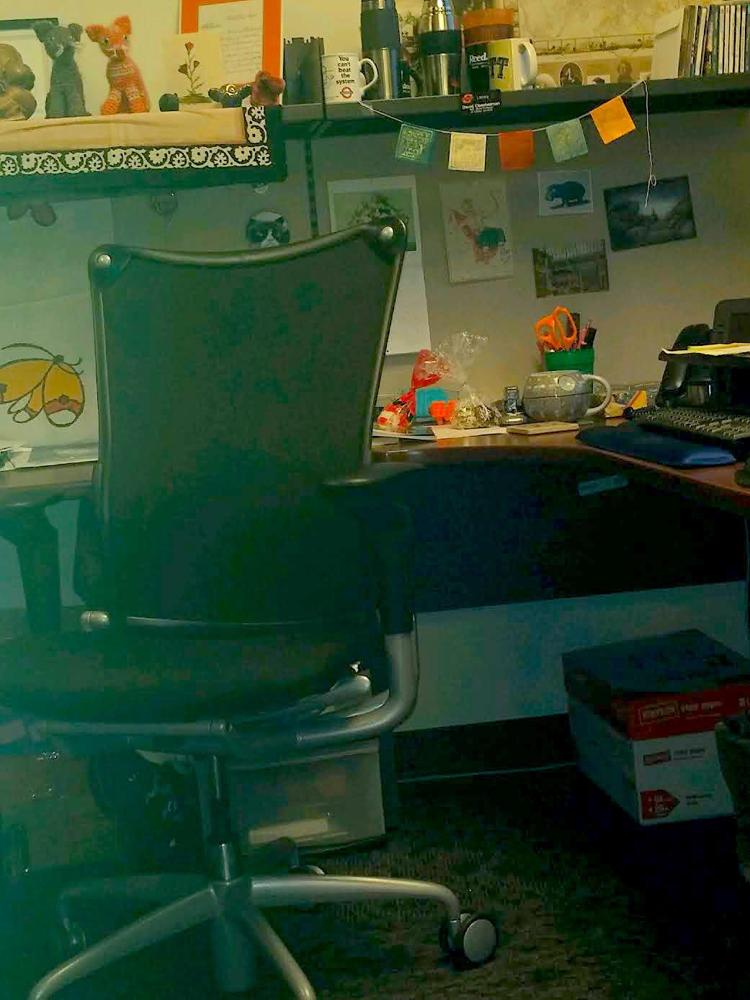 Helen reflected, thinking of the countless conversations and laughs she shared with her friend and colleague David Oberhelman, who used to sit in the now-empty chair next to hers for nearly 20 years.
David, W.P. Wood Professor of Library Service at the Edmon Low Library at Oklahoma State University, died Thursday at 51 because of complications with the flu, according to those who were close to him.
Helen and David worked together in Edmon Low Library. The two met in 2000 after Helen was hired at the library after meeting David's father, Harley, at Texas Tech University when Harley was a professor in the foreign language department.
"I used to always mess with David and say that he asked his dad about me and that's why I got hired," Helen said. "I've enjoyed knowing him from the beginning. We used to always go out to Joseppi's, and he was always so welcoming."
David and Helen shared a love for classical literature and history, especially J. R. R. Tolkien's "Lord of the Rings."
William Decker, professor and head of the English department, sent an email to staff and students Friday afternoon about David's death.
"It deeply saddens me to report that our friend, colleague, and liaison librarian, David Oberhelman, has died from flu complications," William Decker said in the email. "Ever responsive to our specialized needs, David was practically our departmental colleague. He understood us only as a librarian with a Ph.D. in English perhaps can. He was (a) generous, convivial and lovely man. This is a great loss."
Barbara Miller, another one of David's colleagues and close friends, said David also loved Charles Dickens, classical music, ballet and opera, which helped him in his position as the liaison for the English, Music, Political Science, Theatre and Foreign Languages and Literature History departments at OSU.
"We liked going to operas, getting ballet tickets and a lot of cultural things," Barbara said. "It was really nice to have a colleague who enjoyed doing those things because not everybody does. He was scholarly but very open to people."
Along with David's dedication to the library, he also served on OSU's Faculty Council and pushed for more extensive research opportunities and grants.
"He's been one of the best faculty council representatives we've had," Barbara said. "I worked on the faculty council for years. … And it's so important to get back to faculty what goes on at those meetings. We've had some that aren't that good, but David was always really good and reporting back."
David attended Lubbock High School in Texas and received a bachelor's degree from Rice University and a doctorate degree from the University of California at Irvine, as well as a Master's Degree in Library Science from the University of Pittsburgh.
Bryan Jones, an English professor at OSU, said he enjoyed working with David and he was shocked and saddened when he heard that David died.
"It's hard to express how much he mattered to our English department," Bryan said in a Facebook post. "His commitment to students and his mastery of research was stunning. It's rare to be around someone so good at what they do. He was amazing. He could take a research project that wasn't much more than a topic and a question and deliver some leads that really helped students get going on their papers."
Bryan said he remembered a time when he was speaking to David and the two went from Shakespeare to Native American culture to "Star Trek." Bryan said David told him about Russell Bates, a Native American writer who worked on an episode for the "Star Trek" animated series that played on Shakespearean quotes and went on to win an Emmy.
"He could always tie all these different threads into one thing," Bryan said. "It was amazing. By the end of our conversation, he had a conference paper for Pop Culture. He was a great guy. He will be missed."
Helen, Barbara and David would frequently attend operas, ballets or movies together and would also watch each other's cats or homes while the others were out of town.
"My family lives out of town; David's family lives out of town," Barbara said. "A lot of our friends don't have family who live here, so we became kind of family for things."
Barbara and Helen are in the process of searching for a home for David's two cats, Ginger and Nutmeg, whom David loved dearly, Helen said.
David's brother Richard Oberhelman and sister-in-law Susan Berry said David always had a deep love for his family.
"David never missed anything," Susan said. "He made it to every one of our kids' graduations. David never married or had kids, so he was really close with our family."
David called his parents every night and frequently drove to Lubbock to spend time with his father, Susan said.
Along with his love for family and literature, David always made efforts for his friends, Barbara said.
Several of David and Barbara's close friends would gather during the holidays for "Dickens Dinner," during which they'd gather at Barbara's house, eat a Victorian-style dinner and fight over which Christmas movie to watch, Barbara said.
"He was a very engaging person," Miller said. "He appreciated friends and getting to know people. He loved traveling and visiting old friends. He took also very good care of his father even though he was far away."
One of the most memorable gifts Barbara received from David was a first-edition copy of one of her favorite books: Dorothy Sayer's "Gaudy Night."
"He cared a lot about people," Miller said. "He would make an effort to think about people and what they like, and he was great at giving gifts."
Whether it was olive salad and pralines from New Orleans or Metropolitan Opera memorabilia from New York, David always tried to be a good friend and brought back gifts, Barbara said.
Visitation is from 9 a.m. to 5 p.m. Wednesday, and a memorial service will be held at 5 p.m. Wednesday at the chapel of the Dighton Marler Funeral Home in Stillwater.  
"I'm really going to remember the good times," Miller said. "David was always willing to go do something. I loved that ability to do that. It was his idea to start the Dickens Dinner. It's just this collection of over 20 years of being able to be there and having good times. When my father passed away, David and my other friends got me a shrub for outside to remember him. We'd all do things like that for each other, and I think that was important."