Just because it's the middle of a pandemic doesn't mean that romance is dead. But with all the typical date night activities are closed, it can be hard to keep the flame alive. Cooking a date night dinner at home but not everything is available making this whole thing harder than it used to be. So to keep the romance alive, here are some pantry friendly and delicious date night meals.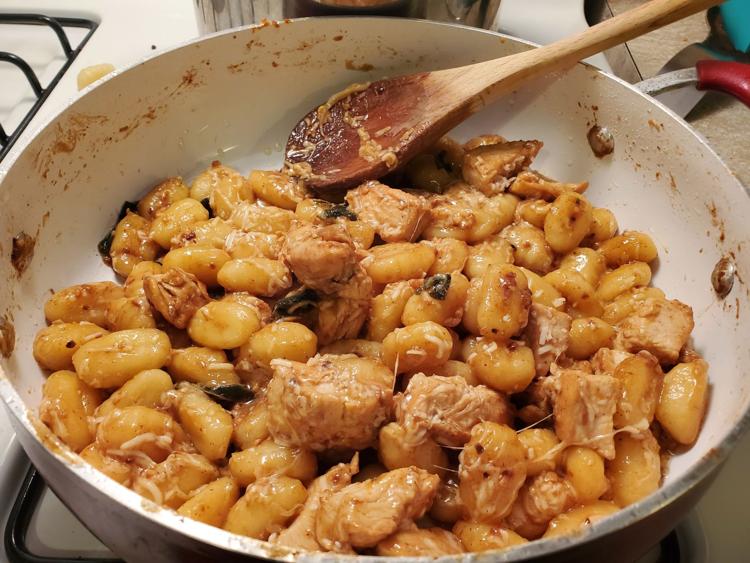 Chicken and Gnocchi with sage butter sauce
Sounds very fancy and feels that way too but it is extremely easy and affordable. Gnocchi is basically soft pillows of potato that make the meal feel like a special occasion. It's also nice because this dish only uses two pots.
Ingredients: Chicken breast, prepackaged gnocchi (since no one really knows what it is, it's always in stock in the pasta aisle), fresh sage, unsalted butter, minced garlic, splash of olive oil, parmesan cheese (you can go fancy or go Kraft, whatever is in your budget).
How to make it:
Start by getting a medium pot of salted water to boil, this will take a few minutes so you can start on the chicken. Season the chicken with salt and pepper (maybe some granulated garlic if you have some) and cook over medium heat with a lid for roughly 10 minutes in a pan with a tablespoon of olive oil. Flip occasionally to avoid burning. When ready, take the chicken out and cut into chunks that are roughly the same size, if there is a little bit of pink left, don't worry, it's going back in the pan. Save the gunk in the pan, that's going to add flavor to the sauce. Hopefully by now, your water is boiling so put in the gnocchi the boiling water. When it floats, that means it's ready.
While the gnocchi is cooking, start the sauce at medium heat by adding two tablespoons of butter, 5-10 rinsed and dried sage leaves, and how ever much minced garlic you want. This is for date night so it might depend on what's happening after dinner and dessert. Add the chicken back into the sauce and let it finish cooking. The gnocchi is done when it floats to the top of the water so when that happens transfer it to the pan, add a little bit of the starch water with each spoonful of gnocchi to help thin the sauce to coat everything. After 5 minutes of cooking everything, add a healthy handful of the parmesan cheese, this thickens the sauce and who doesn't love a cheesy sauce. Plate and top with a little more cheese. If you are watching your waistline, subbing out the chicken for mushrooms or no meat at all works too. For the mushrooms, rinse and cook until fork tender (~8 minutes).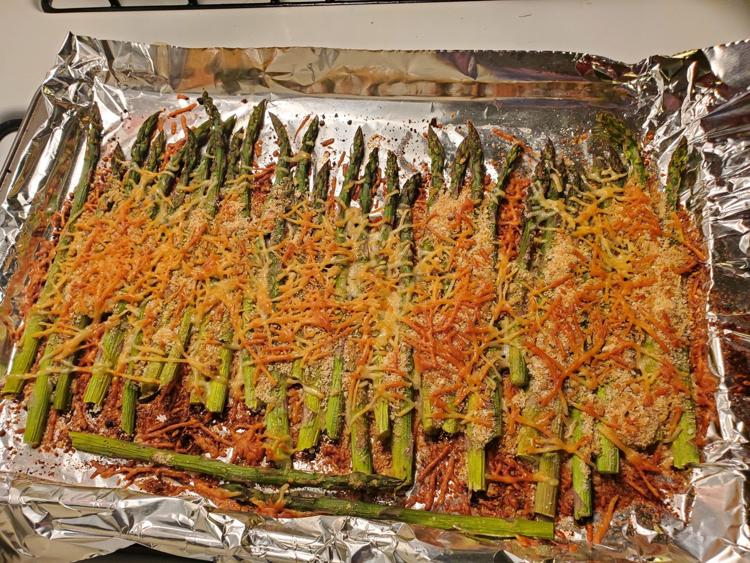 Roasted asparagus with crispy cheese
Veggies are an important thing to add to any meal and since there is already meat and potatoes, a green vegetable is appreciated.
Ingredients: A bunch of asparagus, minced garlic, parmesan cheese, Italian breadcrumbs..
How to make it:
Preheat the oven to 425 degrees. Rinse and dry the asparagus before laying on the cutting board. The ends of asparagus are very fibrous and not fun to eat so simply break off the ends, where it naturally breaks is the end of this unenjoyable part. Lay flat and even over an aluminum lined baking sheet before covering in roughly a half cup of shredded parmesan and ¼ cup of breadcrumbs. Spread some minced garlic over the top and pop it into the oven for 15 minutes. Out comes crispy cheesy asparagus that's a perfect compliment for your dinner.
Nutella Cookies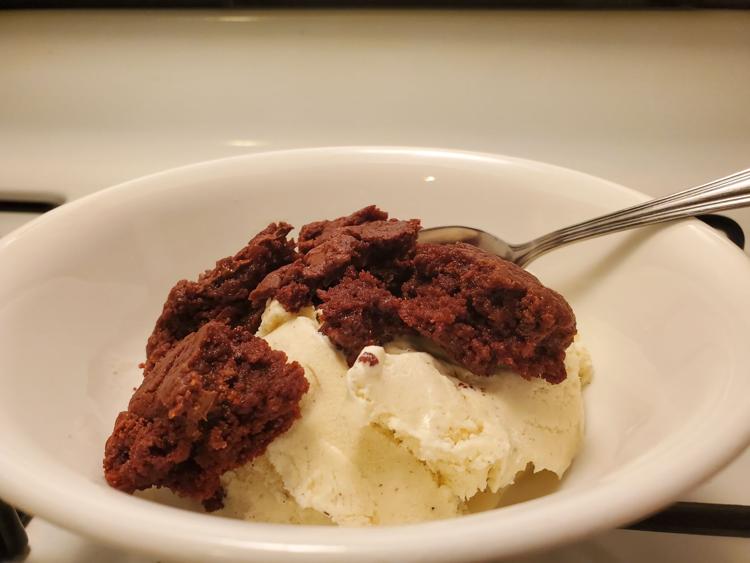 While on their own, cookies don't sound very romantic but these can act as those fancy chocolate lava cakes that you can get at fancy restaurants with only three ingredients. 15 seconds in the microwave and served over ice cream makes for the perfect way to end this dinner.
Ingredients: AP flour, 1 large egg, a whole jar of Nutella (yes a whole jar).
How to make it:
Using two spoons scoop out some Nutella and maneuver into one inch roughly spherical shapes (nobody's perfect so don't worry if they look more like blobs than balls) on a lined baking sheet. It might be easier if the Nutella has been in the fridge for a few hours. Next put the tray into the freezer for at least three hours but overnight works better. The dough is just adding 1 cup of flour, egg and a cup of Nutella to a bowl. Work the ingredients together until no flour can be seen and the consistency is similar to modeling clay. When the Nutella balls are completely solid, scoop a little bit of the dough into your hand and mold it around the solid ball. Set back on the tray and repeat until you've used all the dough, it's ok if some of the cookies are different sizes, it's not like Paul Hollywood is judging you. If you are extra fancy add some flaky salt to the top of the cookies. Bake at 350 for 12-15 minutes, just until the top is starting to have a matte finish instead of a shiny top.