It has been almost one month since the World Health Organization declared the coronavirus outbreak a pandemic, and it has been a little over a week since Stillwater's Shelter in Place order went into effect. Many people are starting to get restless in their homes and are looking for new ways to occupy their time.
One fun way to pass the time at home is to learn how to cook new things.
While my roommates and I shelter in place at our house, I have decided to learn how to cook some more traditional Hispanic foods. I reached out to a couple of my aunts and my host mom from Spain, and I got some simple recipes for some truly delicious dishes. So, if you're interested in learning how to cook new things, here are some recipes to try while you stay home.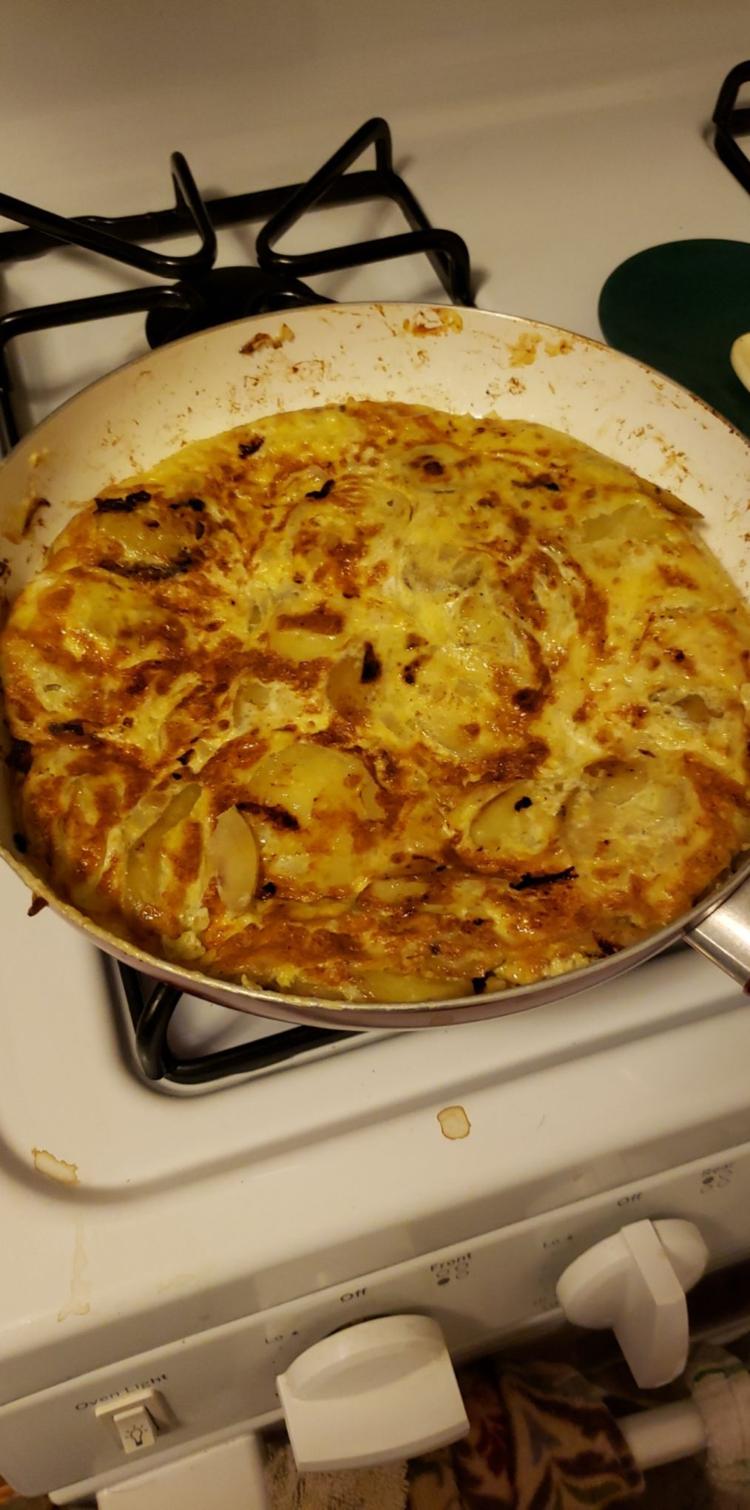 Tortilla de patata (Spanish tortilla)
Tortilla de patata is a traditional Spanish food eaten commonly for tapas. When I studied abroad in Spain, my host mom made tortilla at least once a week, sometimes substituting green beans or jamón iberico for the potatoes. It's a simple and delicious dish, but flipping the tortilla can be a bit tricky. I recommend getting someone to help you flip it the first time you make it.
Ingredients: 500 grams of potatoes (about two to three medium potatoes), one medium onion, six eggs, olive oil, salt and pepper
How to make it:
Thinly slice the potatoes and dice the onion. In a frying pan, fry the onion and potato in about two tablespoons of olive oil. In a large bowl, beat the eggs and add salt and pepper to taste. When the onions and potatoes are done cooking (the onions should be clear), pour them into the bowl with the eggs. Mix the potatoes and onions until everything is completely covered in egg. Add two more tablespoons of olive oil to the frying pan, then pour the egg, potato and onion mixture into the pan. Let it cook for about five to eight minutes or until you can see the egg on the sides has fully cooked. Take a large plate and place it on top of the frying pan, then flip the tortilla over onto the plate. Slide it back into the frying pan so the other side can cook for another five minutes. Put it on a plate and serve.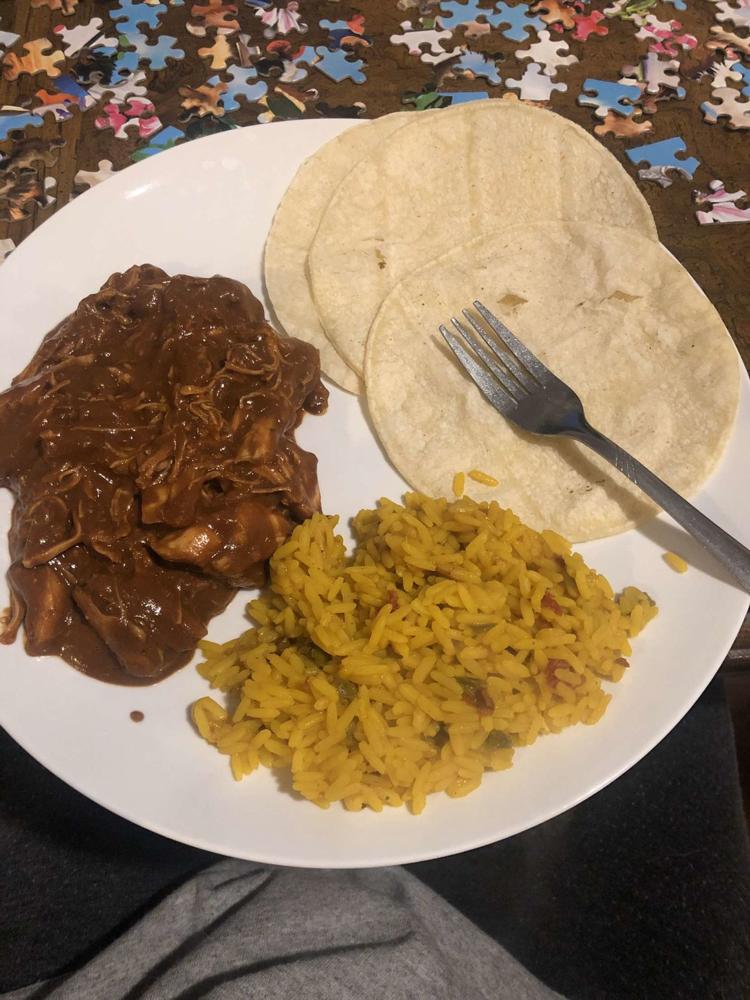 Mole chicken
This sweet and spicy dish is eaten in several parts of Central and South America. Although chicken in chocolate sauce seems like an odd combination, it's actually delicious. I like eating it by itself and on nachos, but there's lots of ways you can enjoy it. I recommend serving it with rice and corn tortillas.
Ingredients: one cup chicken broth, one can of tomato paste, two to three Mexican hot chocolate drink tablets, one guajillo chile (diced green chiles can be used as a substitute), peanut butter, cinnamon, salt, sugar, garlic, bread crumbs and one pound of chicken
How to make it:
Cook and shred the chicken, then set it aside. In a pot, mix the chicken broth and tomato paste over medium heat. Chop up the chocolate drink tablets and add it to the mixture. Dice the chile guajillo and add it to the mixture. Add about one tablespoon of peanut butter to the mixture. Add ¼ cup of bread crumbs. Add cinnamon, salt, sugar and garlic to taste. Add the shredded chicken and let it simmer down. Eat it while it's hot.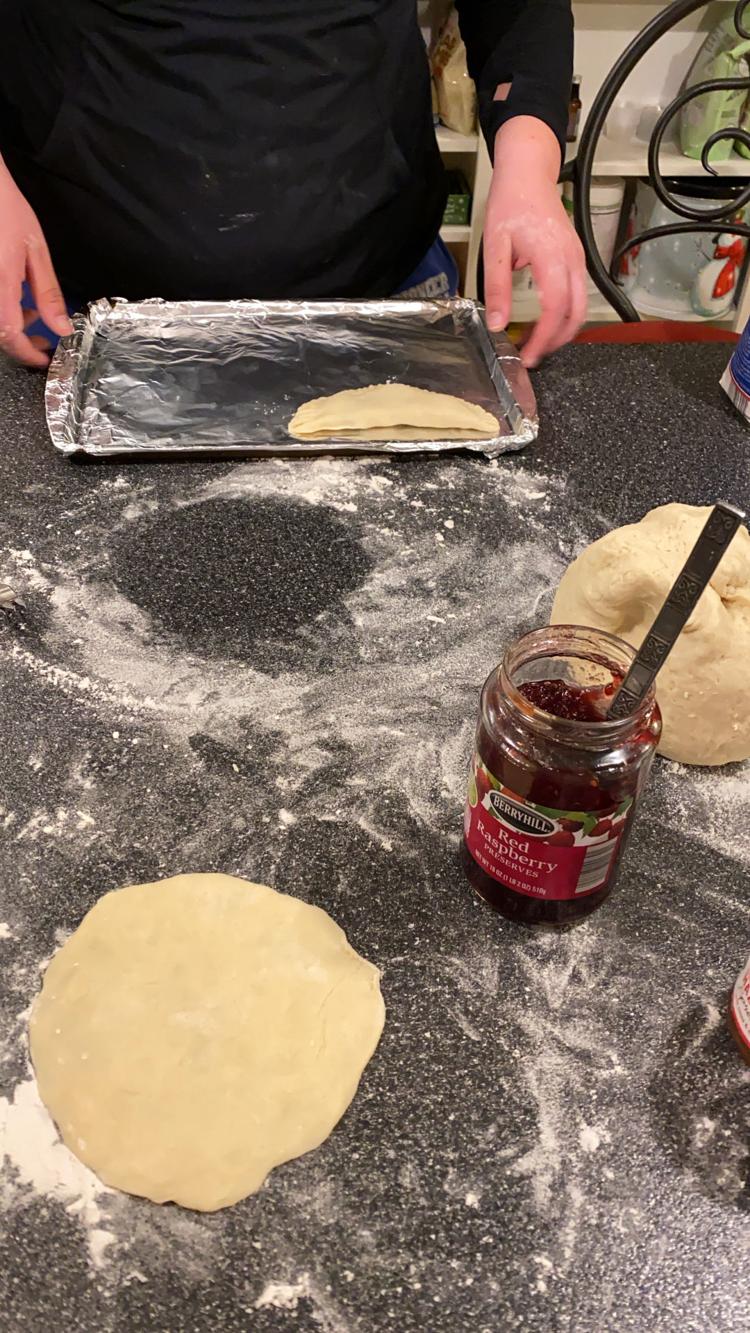 Empanadas de fruta (fruit empanadas)
Empanadas are half-moon shaped pockets of deliciousness that are consumed in many Hispanic countries. There are lots of different ways to prepare empanadas, but my favorite type are fruit empanadas. The older I get, the more I realize that fruit empanadas apparently aren't that common, but they're delicious. I usually make them with strawberry jam, but it doesn't matter what fruit you choose.
Ingredients: four cups of flour, four sticks of butter, one bar of cream cheese, ½ cup of sugar and one jar of either fruit preserves or jam (your choice on what fruit to use)
How to make it:
Soften the butter. Mix the flour and sugar together, then add the cream cheese. Once, the cream cheese is fully incorporated, add the butter. Knead the dough a little bit and then refrigerate it for about 15 minutes. Separate the dough into golf ball sized balls, and then flatten it out with your palm until it's about ¾ centimeter thick. Scoop a spoonful of the fruit preserves onto the middle of the dough, and then fold the dough over the preserves. Press the edges together and then go around the edge of the empanada with the tines of a fork to seal it. Bake at 350 degrees Fahrenheit for about 15 minutes or until the edges of the empanada are golden brown. Let cool and then serve.
Important note: You cannot substitute jelly for the jam or preserves. It will melt in the oven and make a huge mess.