While the Oklahoma State soccer team walked onto the field for a routine warm-up, a group of fans had their pregame preparation outside Neal Patterson Stadium.
After spending about an hour tailgating and rehearsing the game plan in the parking lot, Justin Rubio and his friends carried scarves, a big drum, OSU flags and buckets-turned-to-rhythm-drums to the student section.
Rubio then took a walk around the student section to meet students who sat there and gave them stickers.
Each sticker read "Orange Outlaws."
"A voice of the people"
It was a rainy night during OSU's 3-1 victory against California on Sept. 7, but it didn't prevent the Orange Outlaws and more than 900 others from coming to watch the Cowgirls play. As soon as referee Landis Wiley blew the first whistle, they became rowdy.
"We love ya, we love ya and wherever you go to, we follow, we follow," they sang five minutes into the match.
With the construction of Neal Patterson Stadium, the student section, also known as the Cowgirl Corral, expanded from a mini retractable spectator stand to a grandstand that runs along the north side of the field.
Because of the Orange Outlaws, it has become the rowdiest place near the pitch. In every home match, Rubio, who had a list of 10 songs that he signaled the students to yell as loudly as they could, made sure the section wouldn't go idle as long as the soccer ball kept rolling.
"This is supposed to be more like a voice of the people," Rubio said. "So you hear that going on, singing almost, and that has always been the traditional soccer (atmosphere). It sounds pretty whenever you have 100 people singing it because it is like unity."
Neal Patterson Stadium is designed European-style with the grandstand running close to the pitch instead of having a track separating them. This gives fans increased opportunities to get involved.
Along with chanting songs, the group had several handheld speakers and drums to incite the fans' enthusiasm. The drums never stopped throughout the games, and they grew louder whenever the Cowgirls had a corner kick opportunity. In that situation, half of the students stood up and yelled, "Go, go, everybody", while the other half rocked the drums as hard as they could.
Rubio, a passionate fan who grew up watching European soccer and attending FC Dallas games at Toyota Stadium, said he is glad to bring that excitement to college soccer.
"If I can support anybody who is playing for my school, of course, I am going to do it, like, 'Why not?"' Rubio said. "If I just get absolutely crazy when they score a goal and know that they appreciate our support, that is OK for me."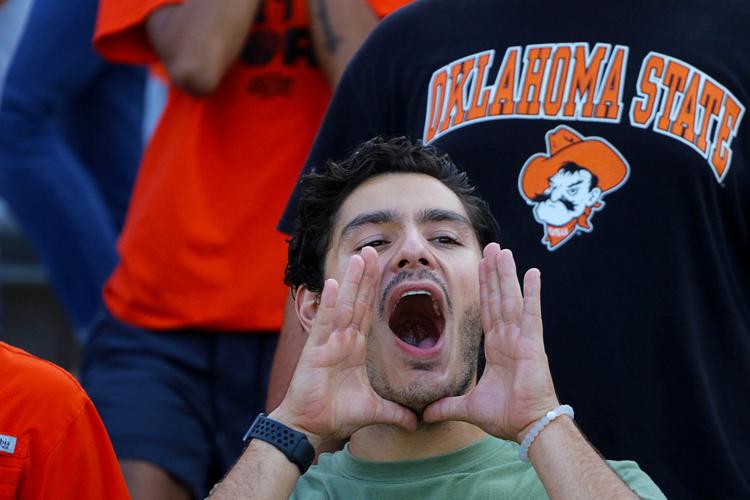 The first step
The Orange Outlaws formed when four people met at Panera Bread in March.
Rubio, Sam Brown and Detrick Bombarger, three passionate soccer fans, waited there after receiving an email asking for the possibility of creating a supporter group.
The person who sent the email was OSU coach Colin Carmichael.
 "When Coach (Mike) Holder and Mr. (Neal) Patterson and everybody got together at the stadium, we talked a little bit about the atmosphere of the Sporting (Kansas City, Major League Soccer club)," Carmichael said. "They have the Cauldron up there as the supporter group, and it is awesome.
Carmichael said he shared the idea with Rubio, who liked it and wanted to get involved.
The late Patterson, who owned Sporting Kansas City, was an OSU alumnus and donated $10 million for the stadium that later carried his name. Rubio said he wants to carry on Patterson's legacy at OSU, though he didn't know Patterson.
"What I do know from what people told me, (Patterson) was so invested into soccer in general," Rubio said. "The fact they have blue seats over (at Sporting KC) and orange seats over here shows that (soccer) is more than just a sport. It unites everybody's passion together to come and watch soccer."
Every supporter group has to have an identity. At that meeting in Panera Bread, the first step on the checklist was marked.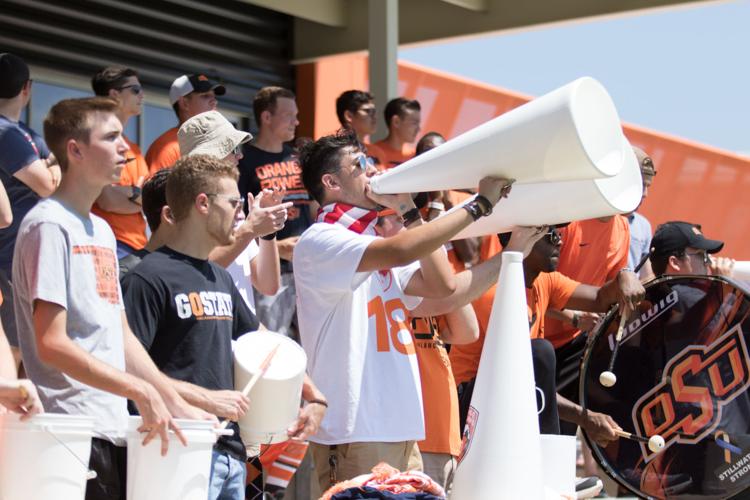 "I originally told (Carmichael) (the name) Orange Army because it was coming back to my high school," Rubio said. "We had something called Red Army for the soccer team."
But Orange Army didn't last. Rubio made a new suggestion.
"I kind of just dropped the Orange Outlaws name," Rubio said. "And it became stuck because it made sense of what we had."
Welcome to Bedlam
OSU was set to host Missouri on Aug. 10 for an exhibition match. For the players, it was the final preparation before a season with high expectations. For the group, it was the only opportunity for some practice before the season officially started rolling at Neal Patterson Stadium, as most of their rough ideas were pitched via phone call during the summer.
A delay in construction forced the game to move to Kansas City, Missouri, setting up the Bedlam matchup for the opening night. It was a fitting opponent for a new era, but it was also the worst-case scenario for the group.
"I was at work (when I heard the news), and I was like, 'Oh, crap,"' Brown said. "I knew we needed that (exhibition) game to practice and get a run-through even if it was literally just us three and nobody else. At least we can practice our chants, when do we want to do things and get a feel for it."
But they didn't have a home exhibition match for practice. The Orange Outlaws had to introduce themselves in an intense Bedlam atmosphere.
Soon, it was Aug. 19, the opening night of the season. Outside Neal Patterson Stadium, a nervous Brown was still trying to piece everything together. Although the kickoff was a few hours away, he was trying to figure out what to do during the game. Some of the group's regular chants and routines were decided during that matchup, Brown said.
"I was really nervous about the game because I was nervous about the thing that was uncertain," Brown said. "I felt like, 'Crap, I don't know if that is going to work. What if we have no people?'
Brown didn't have to worry about a small crowd.
The match set the record attendance at a Cowgirl soccer game with 4,122, the number of people who witnessed the supporter group's debut. Most of the fans sitting in the student section at the OU game have become members of the Orange Outlaws, Brown said.
As the Bedlam match progressed, the Orange Outlaws dropped their uncertainty and found their collective voice.
"At the start of the game, we were like, 'Shoot, should we start right away, should we go with the drum?'" Brown said. "But then after 10 to 15 minutes we grew into it and did more chants, opened up and started yelling more."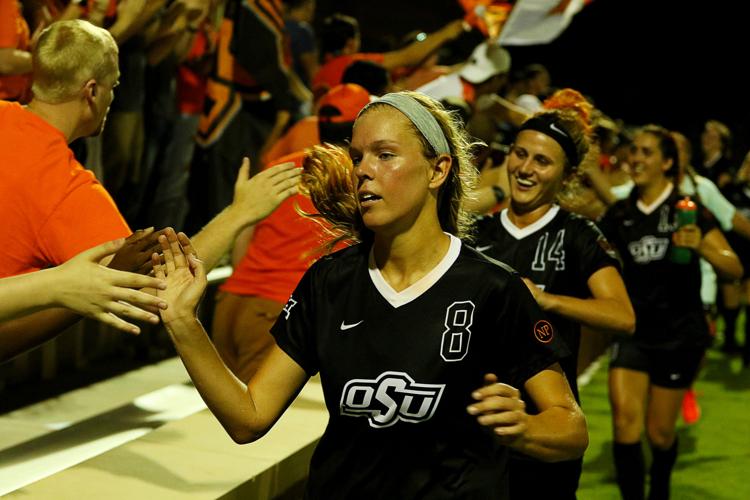 Passion connects the supporter group and the players.
The Cowgirls had an 18-game undefeated streak at home, six at Neal Patterson Stadium, before a 1-0 loss to Texas Tech snapped it on Oct. 5.
Carmichael said the energy from the student section boosted the Cowgirls to success at home.
"When you have the atmosphere, No. 1, it boosts your team a little bit and gives us a little confidence," Carmichael said. "No. 2, it can affect the other team negatively because it can put a little pressure on them. The atmosphere those guys help to generate in the stadium definitely helps us win."
After a dominant start, the Cowgirls faced struggles in their first season at Neal Patterson Stadium. Injuries plagued them, and they missed the Big 12 tournament after they lost to TCU at home.
But the Orange Outlaws stayed loyal.
Junior defender Elise Hawn cited the group for giving her the energy needed to compete against tough opponents.
"When we were dragging on and the game was getting tense, it was the extra five percent that we need," Hawn said. "If we hear their chant, we want to go, and that gives us a little more energy. They are everything to us, and we appreciate everything they do."
Most Cowgirls have never played in that atmosphere in their careers, and they have grown to embrace the group. Some of them gave back to the Orange Outlaws long before Neal Patterson Stadium was unveiled.
In April, the Orange Outlaws hosted a kick-around on Library Lawn as a promotional event. When Brown tried to hand out flyers to passers-by, Jaci Jones and Cami Huddleston provided the assists.
The two ran around the Student Union handling out fliers and told everyone to follow the group on social media, Brown said. Jones appeared in a 15-second video promoting the group on social media.
"I, along with everyone, was so excited to have our fan group," Jones said. "Orange Outlaws was trying to get people involved, and I wanted to help in any way possible."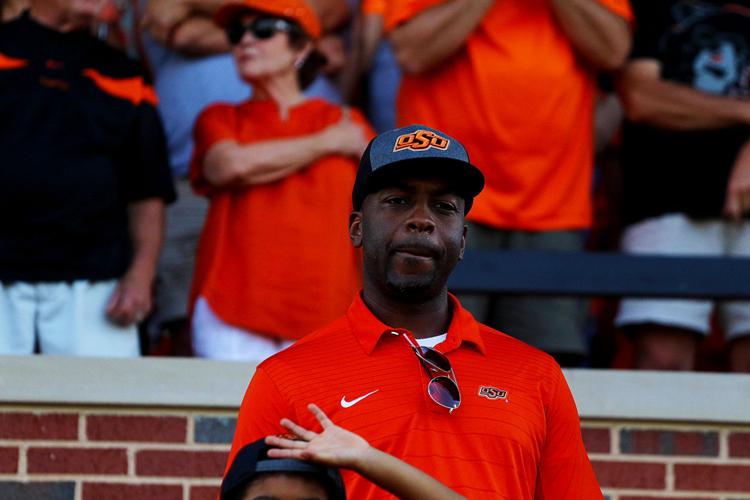 "A surreal feeling"
The group's popularity has grown enough to attract a special supporter.
During the Cowgirls' game against Florida, one fan walked toward Bombarger and asked to take over the drum.
He was OSU men's basketball coach Mike Boynton.
When the Cowgirls had a corner kick opportunity, a video showing Boynton, along with others in the student section, beating the drum was recorded and uploaded to the Orange Outlaws' Twitter account. It went viral, attracting more than 20,000 views, and kick-started the Orange Outlaws' process.
"Honestly, it has been a surreal feeling," Brown said. "At the start, we really don't know if it would work at all. We weren't sure if people would come and chant with us. I really never thought of what we have become after that, such a short amount of time."
The Orange Outlaws have taken Neal Patterson Stadium by storm. Rubio, Brown and Bombarger will graduate from OSU in the spring, requiring someone to receive the torch. No matter who the new leader is, Rubio said the chemistry between the supporter group and the team will lead to success.
"I expect to go nothing but up," Rubio said. "Especially with the support of the girls and how well they accepted us and how much support Coach Carmichael and staff (have) been contributing as well. I think there is a hunger for it, and people don't know it yet."