The scoreboard's skeleton stands behind the green right-field wall in the modest ballpark brimming with history.
Josh Holliday, the Oklahoma State baseball coach, stared toward the outfield and pointed toward the frame as the memory of a milestone rushed to him. When the black posts supported a scoreboard instead of three large company logos, Holliday, then 13, hit his first out-of-the-park home run. Holliday had discovered how to bat left-handed, emulating his OSU hero Robin Ventura, and he showcased his new talent at baseball camp. The ball drifted above the right-field wall and clanked against the scoreboard in the ballpark that raised him.
Holliday has revealed little emotion about leaving Allie P. Reynolds Stadium, careful to keep his focus on steering the Cowboys through the season, but nostalgia seeped into his words as he described his boyhood memories. He grinned as if the eager child who was determined to hit like Ventura had reappeared.
"...When you've been here as many days of your life as I have, this place will never leave who you are," Holliday said.
The No. 13 Cowboys are reaching the end of their last season at Allie P. Reynolds Stadium.
Their final regular-season series in the humble but historic venue will start at 6:35 p.m. Thursday against No. 12 Baylor. Holliday is moving out of a home his team has outgrown. He drives past O'Brate Stadium and notes the progress, happily anticipating its debut in 2020, but, as he pointed out, the Cowboys' future wouldn't be possible without the legacy built at Allie P. Reynolds Stadium. 
Holliday spent his childhood in the ballpark while Tom Holliday, his father, worked as pitching coach and recruiting coordinator under Gary Ward from 1977-1996 before he followed Ward as coach from 1996-2003. A young Holliday practiced in the batting cages, watched former Cowboy legends like Ventura and mischievously grabbed bubblegum from Ward's desk drawer, he recalled.  
"Those were the markers in your brain as a little kid of why you came to the field," Holliday said.
Allie P. Reynolds Stadium, named after a legendary Cowboy athlete and six-time World Series champion with the New York Yankees, opened in 1981. Although O'Brate Stadium, with its towering lights and expansive seating, will overshadow its predecessor in grandeur, Allie P. Reynolds Stadium is a scrapbook in ballpark form. The classic venue's simple wooden dugout benches and compact press box are symbols of baseball in an earlier era, before the flood of new technologies and concert-like game environments.
For each player, it evokes a unique set of memories. Joe Lienhard, a senior pitcher, reflected on visiting the venue when he was a high school student and celebrating with his teammates after walk-off victories. Andrew Heaney, a Los Angeles Angels pitcher and Cowboy Baseball Hall of Fame member, recalled painting the left-field wall for a work study assignment.
Matt Smith, another 2019 Cowboy Baseball Hall of Fame inductee, keeps a piece of the ballpark in a bottle.
Smith threw 13 strikeouts in a complete-game shutout of Texas Tech on May 12, 2000, in Allie P. Reynolds Stadium. Then a junior, he set an OSU record that night with 346 career strikeouts, passing Dennis Livingston's 344. Team doctor Donald Crawley scooped a chunk of dirt from the mound into a bottle, a time capsule from the monumental day, and gave it to him.
"I still have it to this day," Smith said.
Although souvenirs like Smith's are rare, OSU fans have received items such as T-shirts and bobble heads to commemorate Allie P.'s farewell season. Giveaways during the Baylor series are Allie P. Reynolds Stadium replicas for those who have season tickets, "All-Time All-Allie P. Team" shirts and trading cards. Along with promotional items, OSU icons have contributed to the nostalgia. Individuals including Ward, Pete Incaviglia and members of the 1959 championship team flocked to Stillwater for games, and more former Cowboys are expected to arrive this weekend. Lienhard said Steve Lienhard, his father and a Cowboy pitcher from 1984-87, will return, honoring his senior son and his former stadium.
"There's gonna be a lot of alumni back, and that's awesome because they definitely put this place on the map," Lienhard said.
Allie P. Reynolds Stadium ushered in the Cowboys' glory days. OSU advanced to the College World Series seven times in the 1980s under Ward. The Cowboys' ballpark has aged, but some factors are stronger than time. Bryce Carter, a graduate transfer catcher/designated hitter, said during his first and only season at Allie P., he has noticed the constant crowd support.
"In my opinion, it's the fans that make this place great," Carter said. "Out of all the parks that I've been to, there's only been a handful of fan bases that have come out and supported like the Cowboy fans do."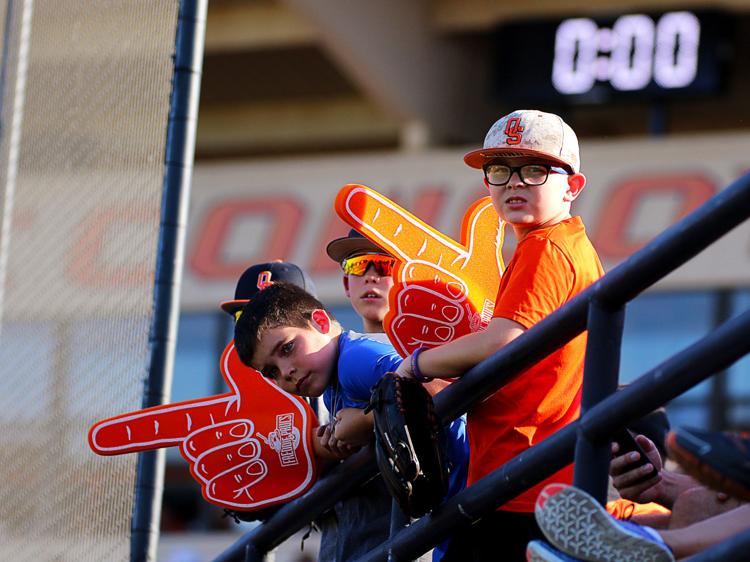 Future plans for the soon-empty ballpark haven't been disclosed. Sports reporter Nathan Ruiz wrote that in a letter to athletic director Mike Holder, Stacey Reynolds-Peterson, Reynolds' granddaughter, proposed an idea for kids to play in the stadium, continuing its legacy as a place where young athletes thrive.  
When the Cowboys finish the Baylor series Saturday, they won't know whether their time at Allie P. Reynolds Stadium is done. Lienhard said he hopes OSU can do something it hasn't accomplished in his time as a Cowboy, adding a sweet conclusion to Allie P.'s rich story.
"About the only thing we haven't really done since I've been here is host (an NCAA) regional in this park," Lienhard said. "So that's definitely something that we've got our eyes on and we're shooting for, and I definitely think that'll be the cherry on top to everything."
Although no one can predetermine the moment it will happen, Allie P.'s story will end soon, signaling the arrival of an era many have awaited.
"It's just a new beginning," Heaney said.
The sound of a baseball cracking against a bat will echo in the ballpark for the last time. The last pitch will whizz toward home plate. The scent of the last burgers sold at the concession stand will waft through the air. Fans will rise and sing "Take Me Out to the Ball Game" during the last seventh-inning stretch.
For the last time, Holliday will watch his Cowboys in the place that fed his love for baseball, the place where his dad worked, the place where numerous dreams have morphed into realities.
The memories, like the enthusiasm of the boy who coaxed the ball over the outfield wall for the first time at camp, never leave.
"What I really want to do is capture the essence of this season with this group of players, whatever that is," Holliday said. "And this will always be part of Oklahoma State; it'll always be part of all of us."