This year, Stillwater's premiere music festival, Calf Fry, will have less beer can throwing and more enforced safety regulations.
The lot on the southeast corner of Lakeview Road and Country Club Road will be used for overflow parking at this year's Calf Fry Music Festival. RCB Bank is the owner of the lot, and in previous years, the lot was home to tailgating before and during the event.
Philip Randolph, the general manager of Tumbleweed Dance Hall and Calf Fry Music Festival, said the owners of the lot have requested it be used for parking only. Tumbleweed Dance Hall does not own the land, and did not control the parties taking place.
Several rules and guidelines were listed in a photo posted on Calf Fry Festival's Facebook page on March 25, including "no groups larger than 10 people, no amplified sound systems permitted in the parking area, no household furniture or large items permitted in the parking area no glass bottles or containers of any kind and no tossing or throwing of any items or disorderly conduct that could result in the injury or damage to others or their property."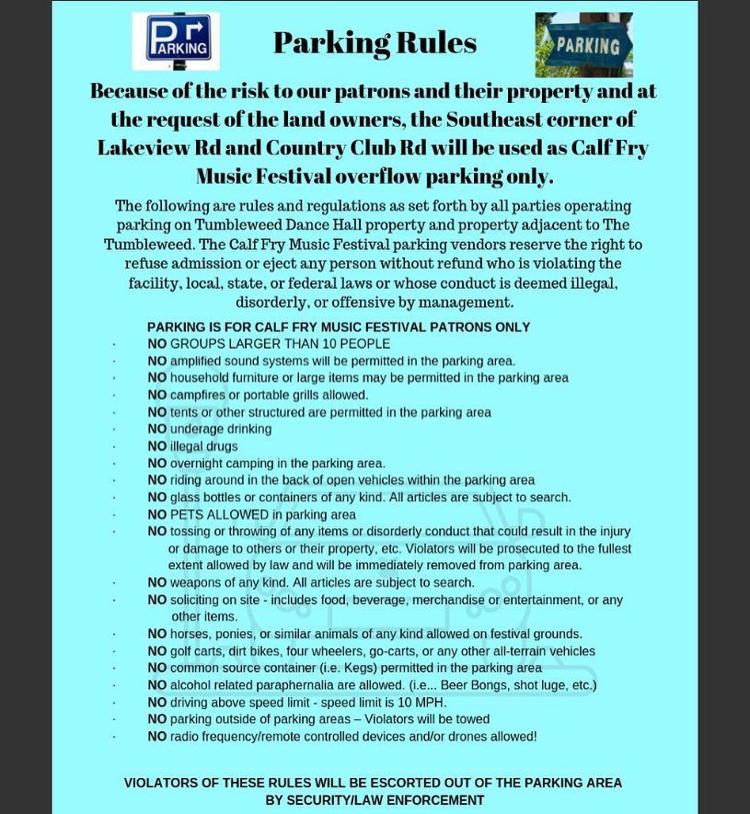 Randolph said safety was the reasoning behind the owner's request, and the unsupervised events happening on the lot were a major liability for all parties.
"We want people to come have fun, hang out and have a good time with their friends," Randolph said. "The party and tailgating that happened didn't have anything to do with us, and what was happening just wasn't safe."
Calf Fry Music Festival brings thousands of visitors to Stillwater each year, and will take place May 2-4. Randolph said Calf Fry has a bigger impact on Stillwater's economy than Oklahoma State football games.
Randolph said amid the social media outrage, he is working to continue to make Calf Fry a fun and memorable experience. Calf Fry will implement new ways for visitors to enjoy the festival aside from attending the concerts.
"We are adding camping this year," Randolph said. "You can buy an RV spot and sleep in your pickup overnight."
Randolph said Calf Fry Music Festival will continue to be a place where people can come and have a great time, but safety will be a major concern. Calf Fry is working with multiple organizations to further ensure safety and enforce rules.
"We work with the Payne County Sheriff's Department, the Highway Patrol and the ENDUI Program," Randolph said. "We run buses from town out here for free, and we started working with the Payne County Substance Abuse Coalition. We want to have the safest event possible."
Randolph said he and his team dealt with some of the safety concerns that prompted the rule enforcement. Randolph said most of the people who attended the tailgate in the lot didn't buy a ticket to the concert, and won't have an effect on overall profit or attendance.
"My employees found someone at 4 a.m. passed out in a ditch over there," Randolph said. "If we would've had a storm, those ditches fill up no matter how much it rains, and that person wouldn't have made it. You cannot have people die at these things."